Innovations in Glass
2018 Glass Magazine Award winners showcase complex designs, improved performance and advanced technologies
Most Innovative Glass Floors or Stairs
The Pierce Boston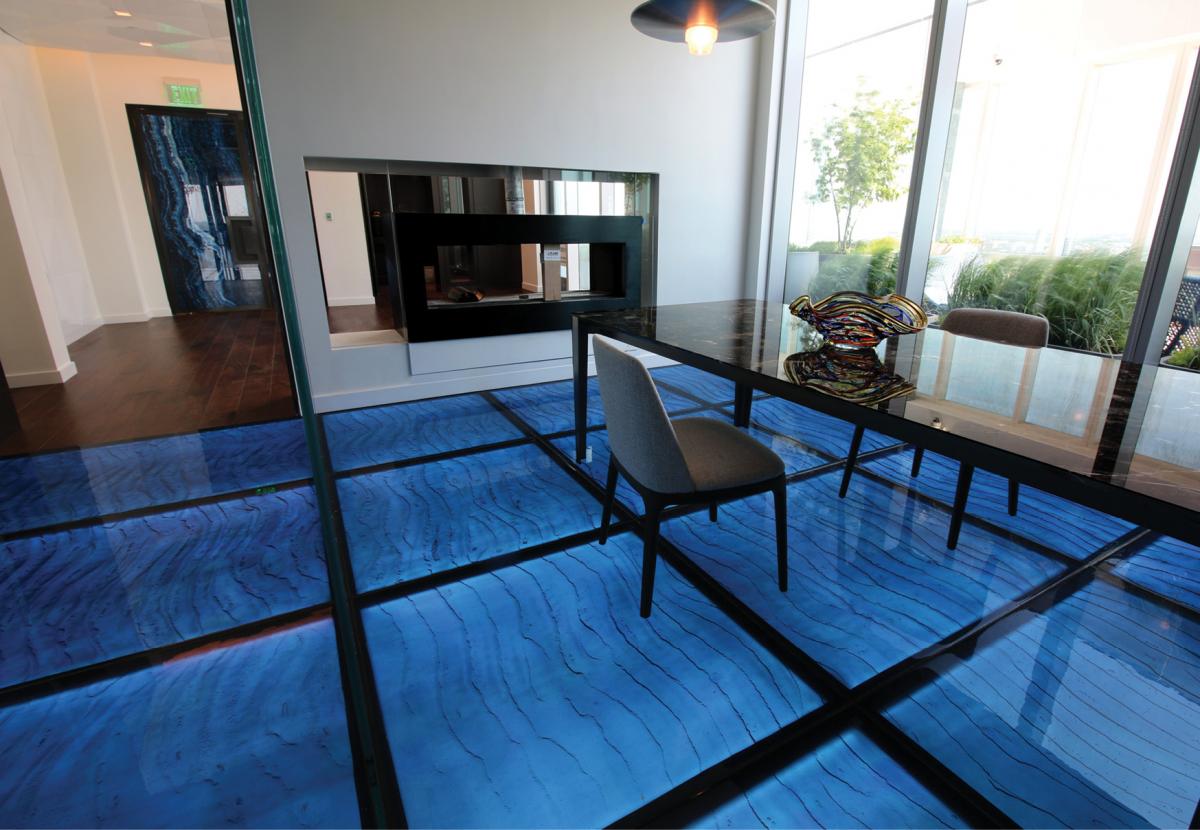 Photo by Chris Dearborn, Oasis Specialty Glass
Units on the top floor of the Pierce Boston, a new 30-story luxury tower of 240 apartments and 109 condos, feature a glowing glass dining room floor and wall with a rippled texture and piercing blue color. Oasis Specialty Glass collaborated with Lucid Glass Studio to fabricate a decorative glass system that would meet the design vision of the architect, CBT Architects. "[The architect] wanted glass that would have an appearance of water flowing down the wall and under the dining room floor," says Rachel Douglass, specialty glass division manager, Oasis.
Fabricators at Lucid Glass created multiple samples of varying textures and colors to match the aesthetic and the blue Pantone of the interior design, says Jim Zingg, director of sales and marketing, Lucid Glass. To match the pantone perfectly required layering blue and green interlayers, and testing each sample with the LED backlighting to ensure a perfect rendering of the color. In all, Oasis supplied 12 square-shaped panels, measuring about 4 feet by 4 feet. The wedge-shaped footprint of the building posed a further challenge and required the team to fabricate four tapered, trapezoid-shaped panels of approximately the same size.
Oasis supplied 1.25-inch thick kiln-formed glass for the glass floors, fabricated by Lucid Glass in three layers. The bottom layer is composed of Lucid's 3/8-inch low-iron glass, featuring the studio's "Riptide" pattern which simulates organic wave lines. The middle layer of 3/8-inch low-iron glass was added for strength and visual depth, says Zingg, lying underneath the multiple layers of PVB film in various colors. A kiln-cast walking layer features micro-bumps that add necessary friction to be slip-resistant.
John Moriarty & Associates was the general contractor. Diamond Iron Works provided the floor framing. Evo-Lite, manufactured the LED lighting system, which was supplied by Lucid Glass. Oasis completed installation of both LED lighting and glass systems.