Inside OSHA's Silica Rules
How new safety regulations will affect glazing companies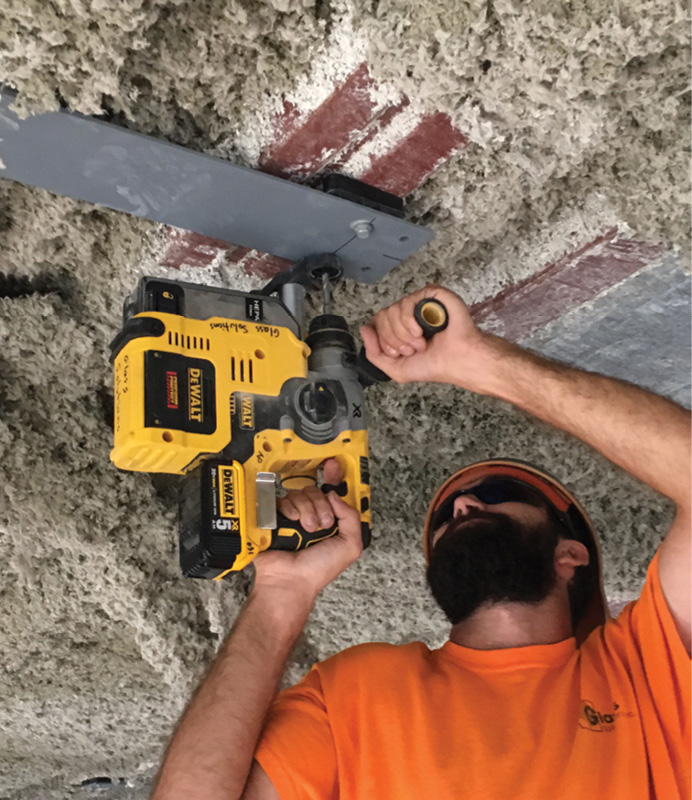 An employee from Glass Solutions Inc. uses a DeWalt hammer drill with vacuum system tool to meet new OSHA silica standards. Photo courtesy of Glass Solutions Inc.
Visit GlassMagazine.com/December2017 for links to OSHA silica resources, including: OSHA Respirable Crystalline Silica in Construction Standard; OSHA silica page, with resources for large and small companies; OSHA guidelines, including the agency's Small Entity Compliance Guide; and A downloadable version of Table 1, a guide to compliant tools and methods.
In 2016, the Occupational Safety and Health Administration, issued new standards to protect workers from exposure to respirable crystalline silica. One OSHA silica standard issues requirements for the construction industry, and the other standard addresses general industry and maritime. Enforcement of the construction rule, OSHA's Respirable Crystalline Silica in Construction Standard, began Sept. 23. Requirements for the general industry/maritime rule will go into effect June 23, 2018.
The agency offered a 30-day good-faith compliance window, along with compliance assistance and outreach. To that end, the agency has published a variety of resources to assist both small and large companies in complying with the standards on the OSHA silica page.
The standard is not without controversy. The National Association of Home Builders referred to it as "the most far-reaching regulatory initiative ever finalized for construction with an industry-estimated cost of $5 billion per year—roughly $4 billion per year more than OSHA estimates." The standard's requirements have been compared to a clean room-level of adherence, and the NAHB has filed a legal challenge to the standard. But as of this writing, the rule is in effect.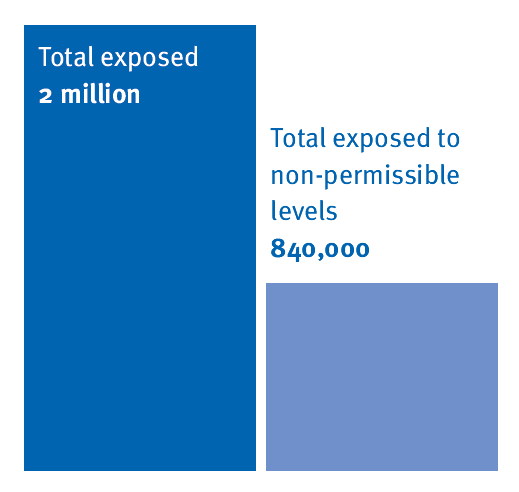 Construction Workers Exposed to Respirable Crystalline Silica
About two million total construction workers are exposed to respirable crystalline silica. OSHA estimates that more than 840,000 of these workers are exposed to silica levels that exceed the new permissible exposure limit.
Why it matters
Silica is a naturally occurring substance that exists in soil, stone and granite. The many processes on a construction site, including drilling, sawing and sanding of materials such as tile, concrete, brick and other materials, create dust, which in turn becomes an exposure issue for workers.
According to OSHA, about two million construction workers are exposed to respirable crystalline silica in over 600,000 workplaces. OSHA estimates that more than 840,000 of these workers are exposed to silica levels that exceed the new permissible exposure limit. Exposure to respirable crystalline silica can cause silicosis—a disease marked by inflammation and scarring in the upper lobes of the lungs—lung cancer, other respiratory diseases and kidney disease.
How to comply
The standard features a new permissible exposure limit, or PEL, of 50 μg/m3, stated as 50 micrograms of silica per cubic meter of air, averaged over an eight-hour day. The standard offers companies some flexibility in how they choose to comply, which OSHA has stated may be especially useful for small employers.
Companies can either use "Table 1," a reference that specifies tools and methods used on the jobsite and the mitigation required for each, or they can measure workers' exposure to silica and independently decide which dust controls work best to limit exposures to the PEL. Access a downloadable version of Table 1 at GlassMagazine.com/December2017.
Table 1 provides a comprehensive list of machines that, when used on the job site, can potentially create silica exposure above the PEL. The list includes a variety of saws, drills, jackhammers, chipping tools, grinders and more. For each machine listed, Table 1 matches construction tasks with dust control methods, giving employers a precise chart of what they need to do to limit worker exposures to silica. Methods might include using water to keep dust from escaping into the air, or using ventilation to capture dust. For some operations, respirators may also be needed. Companies that follow Table 1 correctly are not required to measure workers' exposure to silica and are not subject to the PEL.
Companies that do not utilize Table 1 must measure the amount of silica that workers are exposed to, if it may be at or above an action level of 25 μg/m3 averaged over an eight-hour day. They are also required to protect workers from silica exposures above the PEL of 50 μg/m3 averaged over an eight-hour day. To do this, they are required to use dust controls to protect workers, and provide respirators to workers when dust controls cannot limit exposures to the PEL.
Courtney Little, president of Ace Glass, and vice president of the American Subcontractors Association, says his company has been re-gearing some of its construction equipment, based on the standard requirements. "We've been buying hammer drills, because that's the biggest exposure for us," he says. "When you drill into brick, concrete slab or pre-cast, concrete sills on a window, those kinds of things, that's where your exposure is."
While the new equipment can be more expensive, it does not affect productivity, Little says. "You have a more expensive piece of equipment that operates at the same speed, which means you're not losing any productivity there. You do have to take the time to dump the filter in a special process so that it goes from an encapsulated HEPA filter into an encapsulated vacuum or trash bag," he says. The silica-laden dust must always be contained, "so that's your additional cost—the cost of equipment, and more time to get rid of waste," he says.
Required by all
Regardless of whether employers use the Table 1 method or independently measure exposure levels, the standard requires that companies adhere to a number of new practices, including:
Establish and implement a written exposure control plan that identifies tasks that involve exposure and methods used to protect workers, including procedures to restrict access to work areas where high exposures may occur.
Designate a competent person to implement the written exposure control plan.
Restrict housekeeping practices that expose workers to silica where feasible alternatives are available.
Offer medical exams—including chest X-rays and lung function tests—every three years for workers who, as required by the standard, wear a respirator for 30 or more days per year.
Train workers on work operations that result in silica exposure and ways to limit exposure.
Keep records of workers' silica exposure and medical exams.
Get started
Complying with the new standard can be a daunting prospect. The first step is to determine whether a company's employees and work may be impacted. OSHA's guidelines, including the agency's Small Entity Compliance Guide, offer more information on the standard.
Little recommends that companies evaluate the substrates they are going to be working with and anchoring into, whether they are slab, brick, wood or pre-cast concrete. This will help to immediately establish the potential silica exposure level. If a company is impacted, the standards require a company "expert" to evaluate how to address the potential risk. This may mean a full-time position or an outside consultant.
"The standard is not going to change anytime soon," Little says. "If this truly is a safety hazard for our people, the best you can do is get ahead of it, and figure out the most cost-effective way to meet the standard."