Insider Tips for Tradeshow Talk
Companies from all parts of the glass and glazing industry have implemented innovative, out-of-the-box ideas to improve business from the ground up. Here's an Idea… showcases these sometimes small behind-the-scenes ideas that can make a big impact on a company's bottom line. If you have an idea that you would like to share, contact Bethany Stough.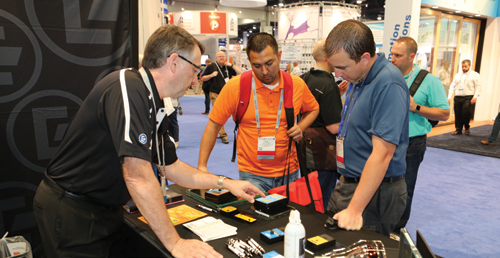 As GlassBuild America 2017 rapidly approaches, exhibitors and attendees are anticipating a lot of networking and education from the event, held Sept. 12-14 in Atlanta. With such a packed schedule, it's important to prepare for fast-paced—but meaningful—conversations on the tradeshow floor. Below are some insights from tradeshow experts on maximizing the impact of tradeshow conversation by being present: before, during, and after the event.
Come prepared
Before the show, become familiar with your entire range of products to show that you have a solution the customer needs, says Ann Greco, sales operations manager and CEO, Salem Flat Glass & Mirror. "Know your machinery or product offerings inside-out and upside-down," she says.
Listen and learn
Exhibitors should resist the inclination to give leads a spiel suggests Polly Aluff, vice president of marketing for business communication firm Insert, insert.io. "Those walking by...may say, 'oh, I've heard that story before."
Instead, listen first and talk later. "Ask booth visitors as many questions as possible, and listen to the answers," says Greg Koch, vice president of sales and marketing, Deceuninck North America. "If you can zero in on the prospect's real needs, you have a much better chance of suggesting real solutions."
Listening first is especially important because the lead probably knows their needs best, says Andrew Haring, vice president of marketing, C.R. Laurence Co.-U.S. Aluminum. "There's a darn good chance that they know more about their business and industry than you do," he says.
Close the loop
Koch also advises exploring the expo to continue the conversation—with your own team. "Take time early in the show to review other booths and products" he says. "Note new developments or trends in the industry. After the show, you can compile the insights and discuss them with your team."
Post-show, continue the conversation by following up with promising leads. Greco suggests sending each a thank-you email before the end of the show, and then following-up again within about a week.