Integrated & Automated
Tracking the trends of the advancing glass fabrication facility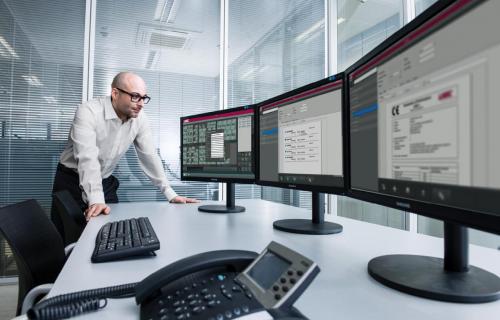 Industry 4.0 is "the fusion of the words Internet of Things, Smart Factory, transparency, intelligent control circuits and self-learning systems. [It is] a continuous integration over the whole value and process stream between the different stakeholders, from customers, across production, all the way to the actual products and delivery. The most important point is to find out ...the purpose ... this revolution plays... in the different areas [throughout the plant.]" says Filip Miermans, head of corporate communications and marketing for Lisec. Pictured, Lisec Industry 4.1 Strategy IT solutions, which are designed to bring the Industry 4.0 concept into glass processing.
The last decade has seen a transformation in many glass fabrication plants. Computers, once reserved for the front office, line the floor. Lifting devices, and in some cases handling robots, load and unload glass. Automated production lines reduce the number of employees on the floor. And fabricators tout a growing suite of equipment to meet market demands, often for increasingly complex glass types.
"The plant of the past will rapidly become antiquated, outdated and will not keep up with more progressive plants," says Mike Rosato, machine sales engineer at Salem Distributing Co. "The plant of five to 10 years ago still incorporates manual loading, manual adjustment, more data input, more human interface, which in the end will produce much less product with increased inputs. In these times of fierce competition, companies need an edge and right now that edge is … automated and integrated 'Smart Systems.'"
Glass plants today are more sophisticated, more efficient and safer, in large part thanks to advancements in automation and plant integration, industry officials say.
"Anything and everything in a glass fabricator's facility must be as automated as much possible. It is absolutely the way of the future," says Michael Spellman, owner of IGE Glass Technologies Inc. "Innovation pertaining to fabrication equipment is happening now in our industry. The industry must keep a keen eye out on all types and solutions for more innovation with regards to automation. Labor is the main problem and this problem can only be solved with automation."
Fabricators looking to improve production efficiency and meet market demand for more complex products have found solutions in more sophisticated equipment and software technologies, they say.
"There are many more glass options and many more fabrication options. There are a lot more SKUs for glass, and that requires a lot more equipment," says John Dwyer, president, Syracuse Glass Co. "This makes these orders pretty complicated, and we need information technology to help us track it all."
This article identifies the primary areas of change in a highly advanced glass fabrication factory environment—one that maximizes the use of automated machinery, and uses software, such as an enterprise resource planning platform, to connect all processes and create a fully integrated factory environment. It looks at changes from order entry to delivery, and addresses the evolution of the factory workforce. Additionally, it provides guidance from industry experts on implementing new technology on future advancements to track. •
People
Perhaps the most obvious change advanced equipment and software brings to the fabrication floor relates to people. More automated equipment and more integrated processes reduce the number of workers required for line operation.
The advanced technologies offer "a drastic increase in production with fewer employees—fewer people needed to load, unload and adjust machinery," Rosato says. "These employees can be repurposed to other positions that will be needed due to the increased production capacity."
The digitalization of the factory floor also requires a higher level of technical knowledge from operators. To keep up with technological advancements, fabricators are training existing staff to operate the more complex systems and hiring new employees with computer and engineering backgrounds.
"The people are different as the equipment becomes more complicated and as the ERP is implemented. All of this would fall by the wayside without people who are capable, and able to be trained in the operation and usage," says Jim Gulnick, vice president, director of operations, McGrory Glass Inc. "Take the ERP systems. These were not developed for simple shop floor integration. They were not developed for the factory worker of 10 to 15 years ago."
When McGrory Glass integrated its system-wide ERP, it focused on training staff when possible, and on recruiting new types of glass plant workers, mainly engineers, Gulnick says. "We have people who … we continue to train to do more complex things. Periodically, we need to seek talent that has experience and education with things that would take years to pick up [on the floor]," he says. "I was the first engineer on staff. Now, we have five degreed engineers from various fields—industrial, mechanical, chemical."
Order entry
Moves toward a more advanced factory floor require a more advanced front office as well. This happens first at order entry, with a move toward digital orders. The digitalization of the ordering process offers efficiency and quality benefits to fabricators and customers. Fewer points of entry for order information save fabricators time and limit the potential for mistakes that lead to incorrect orders and expensive remakes, sources say.
While some customers continue to fax, email or call in their orders, many are shifting to digital orders. More and more contract glaziers utilize their own software for ordering. Some fabricators have also created online ordering systems to accommodate customers who have yet to move to digital orders.
"A lot of contractors use software when they do material takeoffs," Syracuse Glass' Dwyer says. Orders "can be formatted in Excel and sent right to us. We can easily download and use that to optimize glass sizes. That interface with all that information saves a huge amount of time in our office."
Additionally, Syracuse Glass offers an order entry portal through FeneVision Online, part of FeneVision, the fabricator's ERP software platform, provided by FeneTech Inc. "Simple orders are very easy to enter into FeneVision Online," Dwyer says. "Up to one third of orders are directly entered by customers."
Product Tracking
More sophisticated machines and integrated software systems allow for not just order tracking throughout a plant, but individual lite tracking. This information allows managers to check the status of each piece of an order at any given time. Additionally, it provides feedback on operations throughout the plant, making it easier to identify backlogs, sources say.
"We are tracking piece by piece. This is one of the biggest changes today," McGrory Glass' Gulnick says. "Instead of job tracking, you're piece tracking."
Such tracking is only possible through labeling. Many glass fabricators have improved and increased their product labeling as a result.
"We went from stickers that would travel with jobs, to peel and re-stickable labels," Gulnick says. "Every piece of glass is labeled. If the label needs to come off the glass for a process, another printer after the process prints a new label. We also use laser marking, and that laser marking is scanned through the rest of the process."
Syracuse Glass adopted laser markings through the plant, Dwyer says. "We mark our glass with laser marking, and that eliminates a lot of labels in our work process," he says. Traditional "labels can wash off in the washer or fall off the glass. We don't have any other way to identify the glass and might have scrap if you lose the label. The laser marking is a big help."
Machinery
Much of the conversation about advancements in glass machinery has surrounded automation, which has been a game-changer for the glass industry. However, machinery has made equally game-changing advancements in its ability to improve quality and produce more complex products.
"The complexity of design, the complexity of configurations, is much greater today," Gulnick says. Glass sizes are increasing, out-of-square orders are more common, and decorative products are more in-demand.
The trend toward more complex glass systems has pushed many fabricators to expand their production capabilities. This can lead to a ripple effect, as fabricators then make upgrades to other processes to accommodate the new equipment. "I might get a piece of equipment that can do great things, like a CNC piece of equipment for cutouts. Now, I've got to handle that perfectly from one [process] to another," Gulnick describes. "I have to be able to temper it, so I have to upgrade my tempering line. Then it might go to decorative or laminating, where I will need to have upgrades as well. It all becomes more complex."
In addition to complexity, the market also demands increased quality. "There is increased customer scrutiny on glass appearance," Dwyer says.
Some fabricators have added scanners at various stages of fabrication to ensure quality. "We have two tempering furnaces here with optical scanners on both of them that give us a Doppler radar-like picture of any deviation of flatness," Dwyer says. "With this laser labeling technology, we are able to retain the scanner information. It's actually traceable down to the piece of glass."
Delivery
Consumers are accustomed to fully transparent product delivery, thanks to advancements brought by UPS and FedEx. Some glass companies are working to bring some of those advancements to their own companies with more trackable transportation and delivery services.
Syracuse Glass introduced a number of advancements to its delivery process to further improve efficiency and provide additional transparency to customers. "When we load the truck, we scan what is loaded. We use iPads and paperless delivery software," Dwyer describes. "Our driver wears a lanyard with a scanning device on it. He scans the labels or he scans a piece of paper on the side of a crate. That indicates the crate was delivered. Through Bluetooth, this connects to the iPad, where the customer can sign. If there is cell service, that information will go right into the business system, and the customer can receive a faxed or emailed signed delivery receipt. It happens automatically."
A web interface allows customers to track their order histories, Dwyer says. "They can see when the order was accepted by us, when it was delivered, who delivered it. They can see a scan of the signature of the person who received the order," he says.
Maintenance
In addition to production improvements, more advanced, smarter glass machines also offer maintenance benefits. New machines are entering the market that provide maintenance feedback to operators, helping fabricators with regular upkeep.
The feedback also allows users to identify and address potential problems before they arise. Some machines even offer self-maintenance benefits.
"General managers want machines to be smart enough to self-diagnose," says Morgan Donohue, vice president of sales and marketing, Erdman Automation Corp.
"We have several newer machines that have sensors that help with maintenance," Syracuse Glass' Dwyer says. "We have a machine that will self-lubricate or tell the maintenance workers that this is too hot, or this requires attention. We used to do all of that manually."
All industries are moving toward more real-time maintenance feedback, Dwyer says. "Users want to move beyond just working off scheduled maintenance. They want to be able to respond to specific needs," he says.
Next Steps
Implementing advancements
Creating a heavily automated and integrated advanced manufacturing environment doesn't happen overnight and isn't without its challenges. In addition to the capital investment of new machinery and software systems, companies must make improvements to their processes and flow.
"Obviously, a glass company won't be able to upgrade all of their equipment and software at once. Together with the customer, we decide on the most advantageous place to start," says Filip Miermans, head of corporate communications and marketing, Lisec. "This fact is the basis for the industrialization roadmap for the customer. Usually a robust software platform is one of the first steps to define the foundation. Most of our customers ask for potential machine layouts that take future automation possibilities into account."
Additionally, fabricators should work to get employees on board and heavily invest in training to ensure the addition of new machinery, or the implementation of an integrated software platform, is a success.
"The integration of ERP is all or nothing," says McGrory Glass' Gulnick. "It has to be done rapidly, and it has to include everything from order entry to shipping. … The transition from doing things manually to using these systems is going to take time and effort and convincing people that these things, in the long run, will become time savers, rather than paperwork-producing barriers." Salem's Rosato agrees, saying the critical elements to a successful plant upgrade are a "willingness to change; coaching and onboarding employees to accept the change; and being willing to embrace and make the automated-integrated leap."
Planning for Industry 4.0
In addition to implementing existing advancement, fabricators should also prepare for future developments, mainly, the introduction of Industry 4.0.
"Everyone is talking about Industry 4.0. All of the major players are developing something with this. In a couple of years, it will be a reality," says Jorma Vitkala, chairman of Glass Performance Days, which held its 2017 conference in June in Tampere, Finland.
Industry 4.0 was a major focus of the 2017 GPD conference, where representatives from across the glass industry looked to the future of glass production. During the event, Alex Ochoa, business development Latin America for FeneTech described the nine fundamental principles that make up Industry 4.0: autonomous robots, systems integration, Internet of Things, simulations, additive manufacturing, cloud computing, augmented reality, big data and cybersecurity. Those principles combine to create a secure, efficient and fully optimized manufacturing environment that will carry all industries, including glass, into the next phase of manufacturing, Ochoa said during GPD.
"Industry 4.0 is the fourth industrial revolution," says Salem's Rosato. "The first industrial revolution was mechanization; the second, mass production; the third, automation by computers. The fourth, Industry 4.0, is a major turning point encompassing integration of all. The outcome is cyber- or data-physical mechanical systems, 'Smart Systems,' which lead to 'Smart Factories,' capable of never-seen-before mass production."
Key to Industry 4.0 is complete integration, Rosato says. "The tenets [of Industry 4.0] are the creation of integrated systems of production automation—'Functioning Automated Cells.' These systems integrate, link and marry computer technology and databases with mechanical glass processing and movement equipment. They form nearly self-sufficient computer-automated mechanical systems that communicate with other equipment and software to get fabrication direction."
The glass industry isn't far from Industry 4.0. The manufacturing philosophy combines the technologies the glass industry has already embraced and takes it one step further. "You have the fusion of the words Internet of Things, 'Smart Factory,' transparency, intelligent control circuits, self-learning systems," adds Miermans. "It is a continuous integration over the whole value and process stream between the different stakeholders, from customers, across production, all the way to the actual products and delivery. The most important point is to find the purpose ... this revolution plays in the different areas [throughout the plant.]"