Inventory Communication
Three useful tools for supply chain management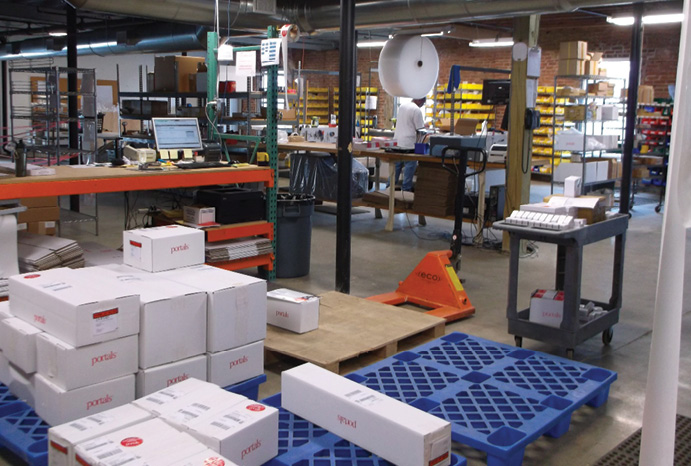 Behind-the-scenes of the packaging and shipping process at the Portals warehouse in Kansas City, Missouri.
Supply chain management is a massive part of doing business. Yet, for many managers, it does not get the focus or appreciation it truly deserves. And, with supply oversight comes inventory—a scary process for many.
The process of maintaining inventory can bring an absolute panic to those who don't have systems or regular checks of goods and materials in place.
Siloed business approaches where each group fails to ensure everyone needed in the process is involved from the start are far too common. Why is it so important to communicate constantly, even over the most basic of details? Because making organization and communication a priority when it comes to supply and inventory leads to business success.
The amount of inventory Bohle America keeps on hand is massive—over 3,600 SKUs in its Charlotte, North Carolina, facility and a little over 4,800 in the Portals warehouse in Kansas City, Missouri—and used by a wide-ranging customer base.
With thousands of products, many with different requirements for shipping and stocking, it would take an army to maintain the correct stock levels in the warehouse. But technology can make this much easier. Having the right software is the key to reacting quickly to fluctuating inventory demands and managing the supply chain successfully. What makes it possible?
Global ERP System. This is the foundation of a successful supply chain strategy. It helps to remove communication barriers and information silos. It allows all stakeholders real-time oversight and communication around products coming in and going out. The purchasing team can provide the sales team with up-to-date, accurate information on backorders and maintain stock levels. Working with people and sourcing products from locations across many time zones, the availability of information is essential to a successful supply chain strategy. It eases communication between vendors and the purchasing department and provides real-time information necessary to plan for efficient and cost-effective freight forwarding.
Shipping Software. Once the product has been turned over to the freight forwarder, companies should not lose track of the shipment and hope for a safe and efficient arrival. Companies can instead use the OzLINK System, which connects the internal ERP system to multiple freight carriers for seamless interaction and tracking.
Label Printer. The final step to ensuring a smooth and successful supply chain process is proper product labeling. While it may seem like a minor task, by adding the labeling process to Bohle's supply chain strategy, the warehouse team has increased efficiency in picking and shipping; and error rates have dropped, easing the identification of product in the shipping process. Each label includes a bilingual description, an article number, a color image of the product and a barcode.
Inventory will always be a grind, even more with many products. However, it is crucial to be consistent and stay on top of it. Cutting corners on the inventory management process only makes other procedures harder down the line.
Obviously, this is not an exact science. Every company gets stuck with materials it struggles to move or is short on materials when orders exceed expectations. By maintaining consistency with the process and constantly communicating and updating all involved, companies can minimize those situations.