Loretto College School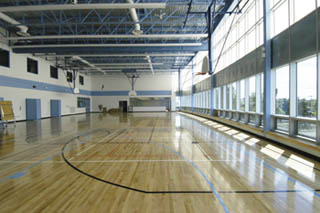 Members of the Toronto Catholic District School Board wanted natural light to flood the gymnasium of the Loretto College School. Designers from Scott Morris Architects Inc. in Toronto fulfilled this requirement for the local private girls' secondary school with a two-story, west-facing glass curtain wall lining the side of the gym.

That solution, involving 3,271 square feet of glass, created several lighting and thermal problems, including glare, shadowing, heat gain and poor light penetration, says Douglas Milburn, president of Advanced Glazings Ltd. in Sydney, Nova Scotia, and the daylighting consultant on the job.

"The design mandated extensive use of glass to connect school to community," he says. "But you're going to end up with problems from the sun. We saw in our computer models that with plain old vision glass, you would have shafts of bright light and shadows in a pattern."

Initially, the architects were considering installing a shading system. Milburn instead directed them to Advanced Glazings' translucent glass product called Solera, designed to diffuse light and evenly disperse it.

Milburn says he used the models to demonstrate to the architects how translucent glazing on the top half of the wall with traditional vision glass would provide even, natural light without compromising the requirements of the board. The school could also save money by not relying on as much artificial light because of the large size of the curtain wall, he says. "With the translucent glass, even at the end of the day, when you walk in it's a wash of gentle sunlight," Milburn says. "It is a lovely space that still looks accessible to the community."

The 1-inch insulating Solera units feature a honeycomb insulation sandwiched between two lites of tempered flat glass and fit into traditional curtain walls.

The designers also chose to use Solera in the school's atrium area.

The $8.3-million, 78,000-square-foot school was completed in September 2005. Cedar Ridge Glass & Aluminum of Grand Valley, Ontario, served as the glazing contractor, and North York, Ontario's Derbtile Construction was the general contractor.