Machine Maintenance
Creating a culture of maintenance for specialty glass fabrication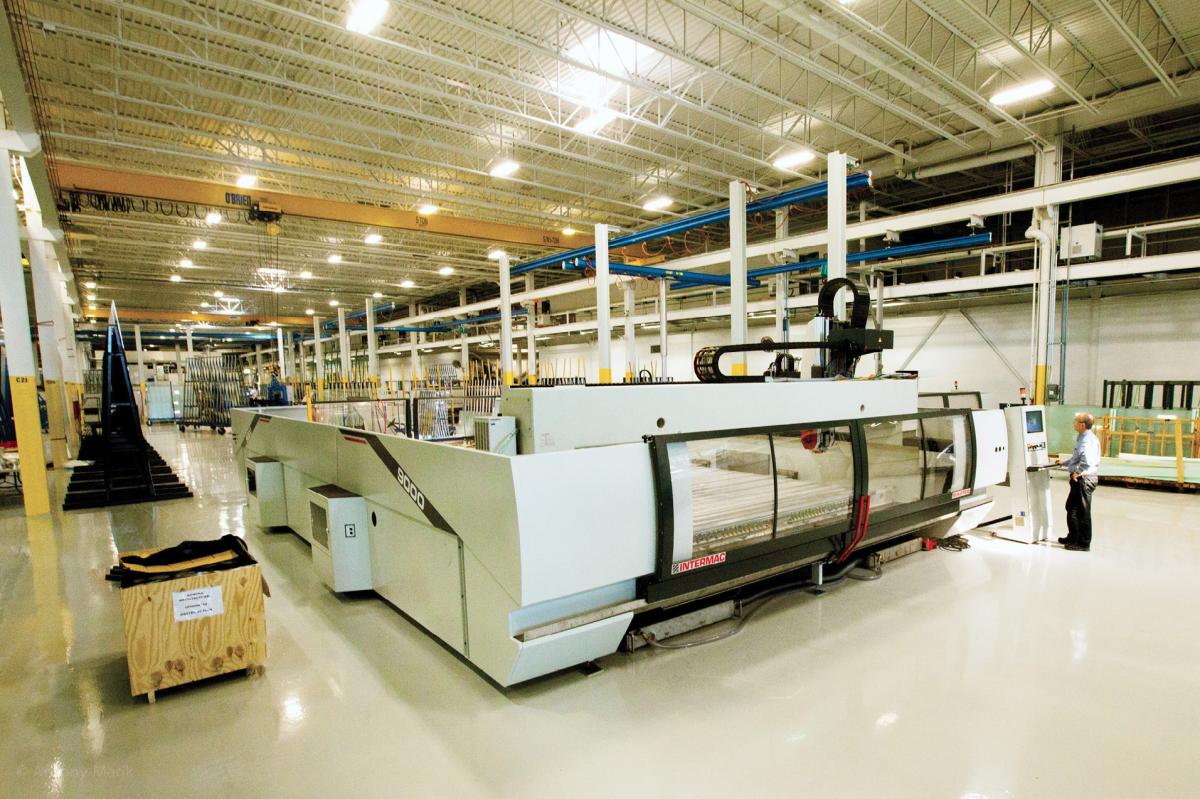 Louis Moreau, tech specialist for AGNORA, inspects the Intermac 9000. Photo courtesy of AGNORA
Two types of maintenance
Preventative maintenance: based on knowing the needs and requirements of the equipment and following those requirements closely and diligently.
Predictive maintenance: a proactive approach to maintenance by tracking the history of the equipment, being knowledgeable about the history of the equipment and planning ahead by doing the maintenance before there is an issue.
Top Takeaways
Invest in spare parts
Build strong relationships with machine suppliers
Address machine malfunctions immediately
Create a dedicated maintenance position or team
Ensure frequent, direct communication between operators and leadership/management
Have a maintenance checklist for every machine
Consider creating your own machine maintenance manual
Invest in employees through training and wages
When it comes to machine maintenance, an ounce of prevention is worth a pound of cure. This can be especially true for decorative and specialty glass fabrication machinery, some of which can be more complex to operate and maintain than more traditional fabrication equipment.
Demand for short lead times for specialty products makes the need for functioning machines especially imperative. "If you have a customer like Apple in need of replacement glass and losing revenue every hour its doors are shut, you are going to want to help them out by expediting glass as fast as possible. Every hour is critical on the floor," says Richard Wilson, president, AGNORA.
Nonetheless, some machine failure is inevitable. "You'll never get away from the fact that the unexpected will happen," says Rick Dominguez, president and owner, Jordon Glass Machinery. "Stay ahead of the curve, so that it won't pile up."
But performing consistent machine maintenance is a challenge, especially since fabricators want machines operating as much as possible to keep up with workload. "Some plants are so busy that they don't have enough machines to do maintenance," says Bernard Lax, CEO, Pulp Studio. "In a smaller shop they may just have a couple polishers, and can't afford to take them out of service to do proper maintenance."
This article presents best practices and advice from industry officials for crafting and sustaining a culture of maintenance for decorative and specialty glass equipment.
Build a maintenance plan
Industry officials agree that maintenance has to be proactive and constant. René Govers, process engineer for AGNORA, cautions against completing maintenance all at once or in one day. "We've learned to not attempt to do too much at one time. If you do too much at once, you might miss something, or not be as thorough," he says. He recommends breaking maintenance into smaller sessions, to be performed by the maintenance team or machine operator.
Another challenge can be the decision to have a staff member, or members, dedicated to maintenance. "If a fabricator begins to grow in size, from one to two machines, to five or six machines, there's a point at which the company should consider adding someone on staff who can monitor or do maintenance on the machines," says Jordon Glass' Dominguez. "You need someone with a mechanical mindset to address the machinery—an operator knows how to operate the machines but may not know how to resolve problems."
AGNORA has implemented two maintenance tracks in its factories: preventative and predictive maintenance. "Preventative maintenance is based on knowing the needs and requirements of the equipment and following those requirements closely and diligently," says Govers. "Predictive maintenance is a proactive approach to maintenance by tracking the history of the equipment, being knowledgeable of the history of the equipment and planning ahead by doing the maintenance before there is an issue." (For more detailed machine maintenance tips for specialty fabrication, see page 32.)
Another part of preventive maintenance is stocking spare parts, say industry officials. "If you can't be down, then you need to have key parts, like a pump or motor; parts that allow you to act on it if machines fail," says Dominguez.
Govers also emphasizes the importance of stocking parts, especially if an equipment supplier is in another country, making ordering more difficult.
Another part of this preventive plan is building a partnership with suppliers. AGNORA, for example, partners with Dip-Tech for digital printing. The collaborative partnership is especially important for maintenance challenges and for troubleshooting customized demands, says Govers. "[Dip-Tech has] had to modify parts and customize the machine to accommodate our unique and specialized projects, which in turn, modifies the standard maintenance requirements," he says.
Industry experts also recommend implementing maintenance checklists for machines. Dominguez suggests having a laminated checklist attached to each machine, with illustrated instructions clearly outlining maintenance steps.
AGNORA, which has implemented the use of maintenance checklists, also created its own company-specific manual that reflects machinery maintenance procedures, as well as the company's own best practices. "For the Dip-Tech printer and digital printing, we have published our own manual specific to our own procedures between maintenance and operations," says Govers. "Our manual is always evolving and it builds on experience, taking into account previous maintenance issues, and how best to prevent them from happening in the future."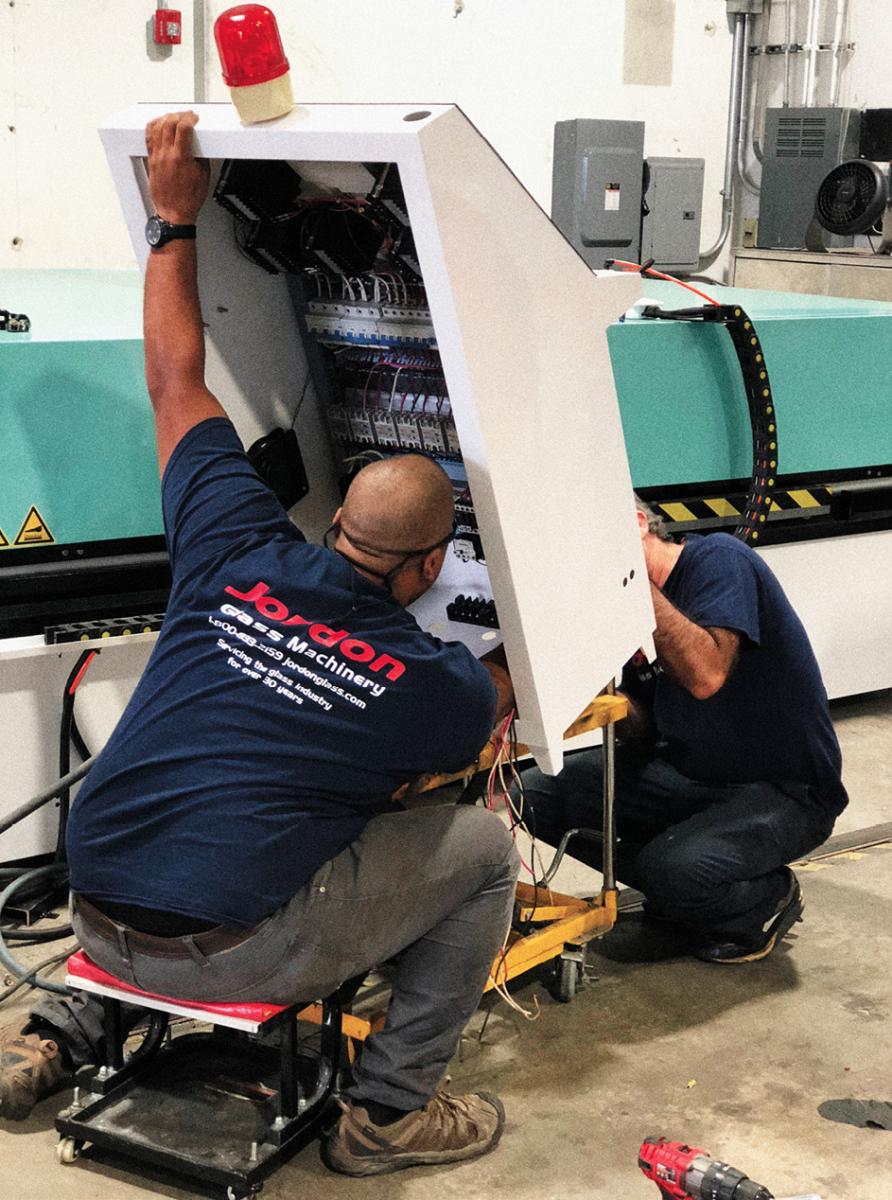 Kenny Rodriguez (left) and Gerardo Espinosa, in-house technicians at Jordon Glass Machinery, perform maintenance. Photo courtesy of Jordon Glass.
Invest in machine operators
Pulp Studio's Lax underlines the need for company leadership to set an example in creating a culture of maintenance in their facility. "If the owner of a company is concerned about cleanliness and maintenance, it influences everyone all the way down to the machine operators," he says.
He also underlines the need for company leadership to invest in employees as well as machines in order to effect a consistent maintenance strategy. In his career, Lax says he has seen a relationship between an employee's pay rate and his or her ownership in maintaining machines. "In a perfect world, every employee would be concerned about maintaining their machine," he says. "But many people working in plants don't always share that same concern."
Operator buy-in is vital, as operators are the first line of defense against machine malfunction. AGNORA's Govers says a common misstep he has seen is operators who fail to alert the maintenance team of a machine malfunction the first time it happens. Continuing to operate the malfunctioning machine can worsen the issue, ultimately requiring even more machine downtime, he says.
Training, as well as a culture of open communication, can help secure operator buy-in and create a more proactive approach to consistent maintenance, says Govers. AGNORA has an open-door policy, allowing plant staff direct contact with senior management, including monthly lunches where operators can speak one-on-one with the CEO to discuss issues and possible solutions. "This style of communication has empowered the team strengthening their integrity to act more responsibly for their department and take ownership of their machinery," says Govers.
Maintenance checklists for decorative and specialty glass equipment
Decorative printing and coating
For non-digital printing, such as screen printing, roll coating and spray coating, "cleanliness is important, more than anything else," says Douglas M. Canfield, owner, Casso-Solar Technologies, cassosolartechnologies.com. Basic maintenance requires following manufacturer guidelines, as well as keeping machines and inks clean, he says.
Screen printing
Change the screen out periodically, depending on the model
When storing excess ink after use, make sure it is filtered properly
Mix inks properly, and make sure to close containers
Store inks at the correct temperature­—changes in temperature affect viscosity
Work with ink supplier on best practices to store and apply inks
Roll coating
Clean the rollers when changing colors
Ensure that the gaps are set properly
Replace rubber heads when damaged
Spray coating
Some systems are auto-cleaning. If not, clean the system out when you stop spraying
Prevent overspray (outside the glass being processed) on the conveyor belt. Operators can either put a larger piece of glass or a paper strip underneath the painted glass in order to catch the excess
Dryers/ovens
Keep clean and follow manufacturer instructions
Lubricate machine parts when required
Digital printing
Digital printing requires an even greater degree of cleanliness than screen printing, including the creation of a clean environment, says Bernard Lax, CEO, Pulp Studio, pulpstudio.com. "Some people don't understand that digital printing is an entirely different industry than glass processing," says Lax. "Digital printing must be done in a clean, climate-controlled environment."
General environment
Make sure the machine and environment are clean
Consider the climate of the space. Humidity and temperature must be controlled so as not to affect the inks or pump systems
Ink quality
Change filters
Clean nozzles and all devices attached to the printer
Energy source
Consider getting a backup generator; the pumps on some machines have to continually circulate ink and can be disrupted in the case of a power failure
Heavy/thick glass fabrication
Maintenance best practices for the fabrication of heavy and/or thick glass include a few special considerations. "When processing heavy glass, it is important to understand heavier loads create more stress on equipment, as well as lower tolerance for error," says Pete de Gorter, vice president, De Gorter Inc. He says it is important to maintain systems that hold glass in place as it passes through the machinery or equipment. "Regardless of processing in a vertical edger, double edger or CNC station, it is critical this system does not allow the glass to move and that the glass is exactly where the equipment believes it to be."
General practices
Operators should be aware that processing speeds for heavy glass have to be adjusted down—the machines will run slower
Perform maintenance about every 200 working hours for a track system. If consistently processing heavy glass products, service every 100 working hours
Perform a visual inspection of track pads for damage, tighten conveyor belts and inspect glass supporting racks
Recalibrate PLC readings: re-zero track thickness, miter tables and beveling degree
Lubricate drive and idle chains, shoe-pad bearings and the track thickness adjustment
Check grinding/polishing wheels more often if grinding larger glass—wheels wear out faster when grinding bigger glass sizes
Change coolant tanks more often, as processing heavy glass results in more glass residue. In larger facilities use of solid separators, such as centrifuges, should be considered to recirculate the water and reduce the impact on the environment and cost
CNC machine maintenance
Visually inspect vacuum cups daily to ensure glass does not slip during processing
CNC machines maintain tighter tolerances and should be serviced more frequently according to manufacturers' recommendation, including recalibration of spindle and axes
Laminated glass
Dress (clean) polishing wheels more often if used on laminated glass, as the wheels will pick up interlayer waste. This is especially important when post-polishing decorative laminated glass
NOTE: Maintenance recommendations are general guidelines. Glass fabricators should check maintenance manuals and work with their equipment suppliers to determine the precise maintenance requirements for specific machines.
SOURCES: Decorative printing section from Douglas M. Canfield, owner, Casso-Solar Technologies; digital printing section from Bernard Lax, CEO, Pulp Studio. Heavy/thick glass fabrication section from Pete de Gorter, vice president, De Gorter Inc.; Rick Dominguez, president and owner, Jordon Glass Machinery; and Bernard Lax, CEO, Pulp Studio.
The October 2015 issue of Glass Magazine ran maintenance checklists for seaming, washing, tempering, insulating, sealing and laminating fabrication machinery, as well as general maintenance. Download those checklists.