Make Glazing Great with Good Photography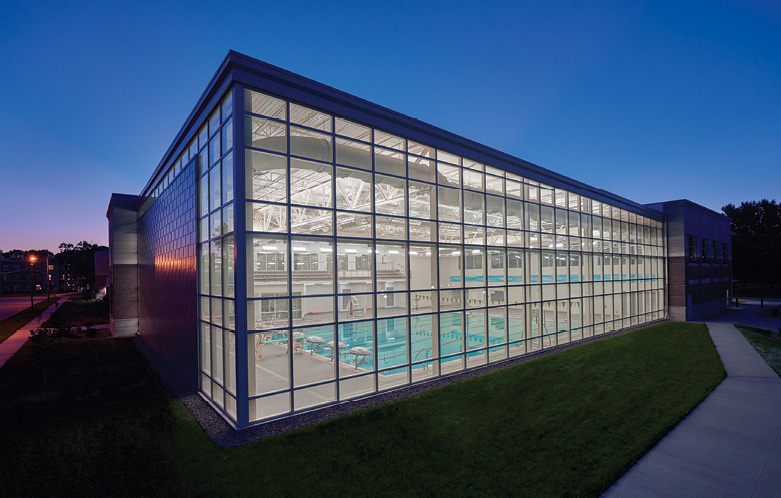 The Mulva Family Fitness and Sports Center at St. Norbert College, De Pere, Wisconsin, with glazing by H.J. Martin and Son. Photo by Gary D. Parker.
Marketing and publicity are part of every business, and good photography is usually part of every marketing campaign. It's no different in the glass industry: good photos of glass and glazing projects are essential to really showcase and celebrate the contributions of this industry. Often glaziers on the jobsite are the best candidates for securing images of the final product, but getting good photos may not be top-of-mind.
"Contract glaziers are interested in getting off the jobsite as quickly as possible," says Andrew Haring, vice president of business development at the National Glass Association and former vice president of marketing at C.R. Laurence Co. "They like the publicity, but they're not thinking about it at the end of the job; the building may not be clean and landscaped by the time they're finished."
Nonetheless, Haring underlines the need for glass industry companies—even small- or mid-size firms—to acquire good photography of projects that showcase their contributions. It elevates the profile of both the company and the glass industry in general, he says. "Many people don't know what glaziers are," says Haring. "Having great photography of glazing projects helps raise awareness of the industry."
Plan
Haring recommends that glaziers create a strategic plan for what photography they would like to obtain. Planning ahead allows companies to budget for the cost of licensing good photography, especially if they don't want to hire a photographer themselves.
Haring also recommends that companies prioritize good photography of projects that are more high-profile, have an interesting or challenging backstory, or that showcase their work well. "Be selective in the projects you get photography for; aim for the projects that will have broader context and appeal." he says. A large project like a stadium would be good for glass industry companies to be associated with, he explains.
Communicate
For glaziers that know they want photography of a specific project, the first step is to ask the general contractor of the job, in part for permission and coordination with the owner, but also to see if photography is already planned. "Costs for professional photography are often split between the architect, [general contractor] and subcontractors," Haring explains.
Glaziers can license a few select photos that the photographer takes, rather than contracting their own photographer for an entire shoot, providing a cost-effective opportunity for high quality, professional images. But it helps to speak with the general contractor early in the process to request that the photographer capture specific glazing scopes of the project, says Haring.