Most innovative commercial window
700 Series Historic Steel Replica, Universal Window and Door LLC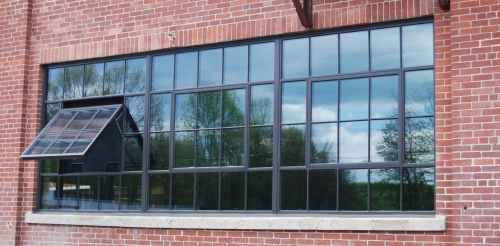 The 700 Series aluminum Historic Steel Replica window from Universal Window and Door LLC, Marlborough, Mass., maintains the appearance of existing steel window openings at a fraction of the cost of either restoration or new steel replacements. Its narrow sightline makes it ideal for historic buildings without compromising its structural integrity. The 700 Series provides heavy commercial performance and meets stringent Federal National Park Service, state and local historic requirements. "It offers a smart and attractive solution to a common problem, in a standard system," says Rob Struble, Crystal Achievement Award judge and manager, business communications, growth initiatives and performance glazing for PPG Industries, Pittsburgh.

A frame-integrated grid eliminates the need to tape grids to the exterior of the glass. Glass can be completely replaced from the building interior while the grid, nested into its routed grooves within the window frame, stays in place. The result is a more efficient and cost-effective way of replacing glass and grids.

"Having the ability to replace glass and grids from the interior of a building is a distinct advantage, especially after project completion when lifts are not readily available," says Charlotte Broussard, owner and CEO, Universal Window and Door.

The 700 Series also features a slide-on heavy-duty tie back clip (strap anchor) to replace old clip-on tie backs. The clips do not add to the narrow sightlines of the historic replica windows and allow for a structurally sound installation without the need for through-frame anchors.

The aluminum thermally broken frame and sash, along with a 1 1/8-inch triple glaze capacity, have a .23 U-value in fixed applications and .35 U-value in vent windows. The 1 1/8-inch units also allow for dual-laminated systems, providing superior sound, impact and security performance.