Most Innovative Commercial Window
Suntuitive, Pleotint LLC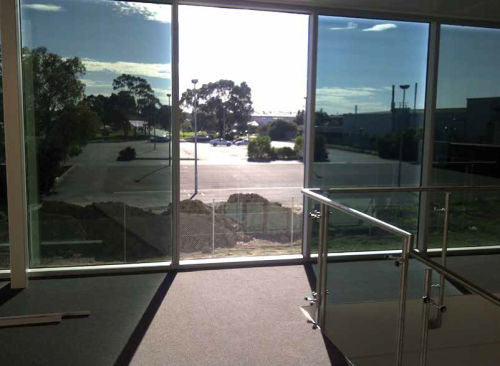 Pleotint's proprietary Suntuitive interlayer technology enables architects, building owners and building professionals to specify an environmentally adaptive window system that transitions seamlessly between light and dark—and does so affordably without the threat of failure caused by faulty wiring, poor electrical connections, broken circuits or temperamental computer systems, according to company officials.
The environmentally interactive architectural glass interlayer lightens and darkens by itself—with no mechanical intervention—according to changing levels of ambient temperature and sunlight. The patented polyvinyl butyral system darkens gradually in response to rising temperatures caused by direct sunlight and then cools as the sun moves across the sky, returning to a clear, neutral state in cloudy or dark conditions. When direct sunlight shines on the window the interlayer warms and tints naturally to balance the sunlight. The more direct the sunlight is on the window, the darker it will become.
As part of a dynamic window system, Suntuitive can help manage a building's changing needs for passive solar gain, solar control and natural daylight transmittance. Ultimately, that can lower costs associated with heating, air conditioning and artificial lighting, which together can represent up to 70 percent of a building's total energy consumption, according to Pleotint.
In May of this year, Pleotint announced a distribution agreement with Innovative Glass Corp., to incorporate Suntuitive interlayer technology into IGC's proprietary SolarSmart insulating glass unit. Currently, Pleotint's certified laminators include Thompson I.G., Craftsman Fabricated Glass and Prelco, all of which can supply laminates or IGUs with the Suntuitive interlayer. In addition, Pleotint has a marketing alliance with PPG Industries, under which the glass manufacturer helps promote Suntuitive along with its other high performance window solutions.
Suntuitive creates synergy within a window by building upon and utilizing existing glass technologies, including a low-E coating. This creates a window system that features low U-values and low solar heat gain coefficients that will meet or exceed nearly every building code, according to Pleotint. When combined into an IGU with a tinted exterior pane and a triple-silver low-E coating, a SHGC as low as 0.11 can be achieved, the supplier reports.