Most Innovative Decorative Glass Project, Residential
Twin Peaks, Private Residence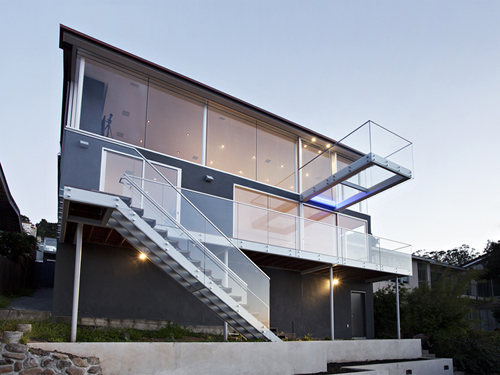 Photography by Mariko Reed
Wilson Glass, wilsonglass.com
"I love this house. It shows you the architectural power of glass to both get out of the way and create drama," says GMA Judge Rob Botman, general manager of Glassopolis, about a private residence in the elevated Twin Peaks area of San Francisco.
Wilson Glass completed the installation of an all-glass balcony, including a glass floor deck, for the home, as part of a major renovation of the residence. The designer was Jensen Architects, Jensen-architects.com, and the contractor was Jetton Construction Inc., www.jettonconstruction.com.
"The Twin Peaks residence jumped out at me, literally, because of the extremely unique balcony," says GMA Judge Mandy Marxen, Vice president of marketing for Gardner Glass Products Inc. "I'm sure you feel exhilarated every time you walk out along the glass plank. Only the strength and beauty of glass could have achieved that."
The all-glass deck features 2-inch stainless steel standoffs drilled and tapped into steel; low-iron glass railings; a stainless square-cap rail; and a glass floor deck. The railing glass was ½-inch Starphire from PPG Industries, www.ppg.com/corporate/ ideascapes. C.R. Laurence Co., www. crlaurence.com, supplied the stainless steel crisp cap rail and 2-inch diameter standoffs mounted in steel.
The glass deck flooring consists of three layers of ½-inch low iron tempered glass laminated together with the white ceramic frit etched in a pattern to cover the steel beams. Paragon Architectural Products, www.glassengineer. com, supplied the specialty glass and systems for the project.