Most Innovative Energy Efficient Glass Project
David and Lucile Packard Foundation Headquarters, Architectural Glass & Aluminum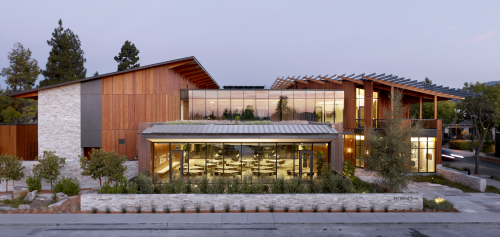 Photo by Jeremy Bittermann
Designed by the EHDD architecture firm, the David and Lucile Packard Foundation headquarters building in Los Altos, Calif., is the largest Net Zero building in the state, according to contract glazier Architectural Glass & Aluminum. The design of the LEED Platinum project emphasizes sustainability via the use of post-consumer products as well energy efficient cladding that relies on curtain-wall and window systems to provide natural ventilation, sound reduction and high light transmission. Light sensors automatically dim in order to optimize the effect of the natural light.

The building's glazing systems also provide a high degree of thermal insulation. AGA engineered, fabricated and installed the glazing systems. Glazing infill was assembled by Serious Materials, and consisted of Cardinal low-E glass and Southwall Technologies' Heat Mirror suspended film, creating two argon-filled cavities. Given the emphasis on recycled content, the plate metal panel systems that AGA provided were produced with 39 percent post-consumer content.

Other project features include a 292-kilowatt photovoltaic array that covers the roof. The SunPower SPR 320 PV system is connected to the grid and provides 100 percent of the carbon-free energy needed to operate the facility. Rainwater collection systems also are integrated throughout. The building uses water collected in aquifers to flush toilets and to water its extensive drought-tolerant gardens. A green roof on portions of the building provides natural habitat for indigenous birds while insulating the building and collecting rain water.

DPR Construction was the general contractor for the project.