A New Type of Glazier
From glass contractor to building enclosure builder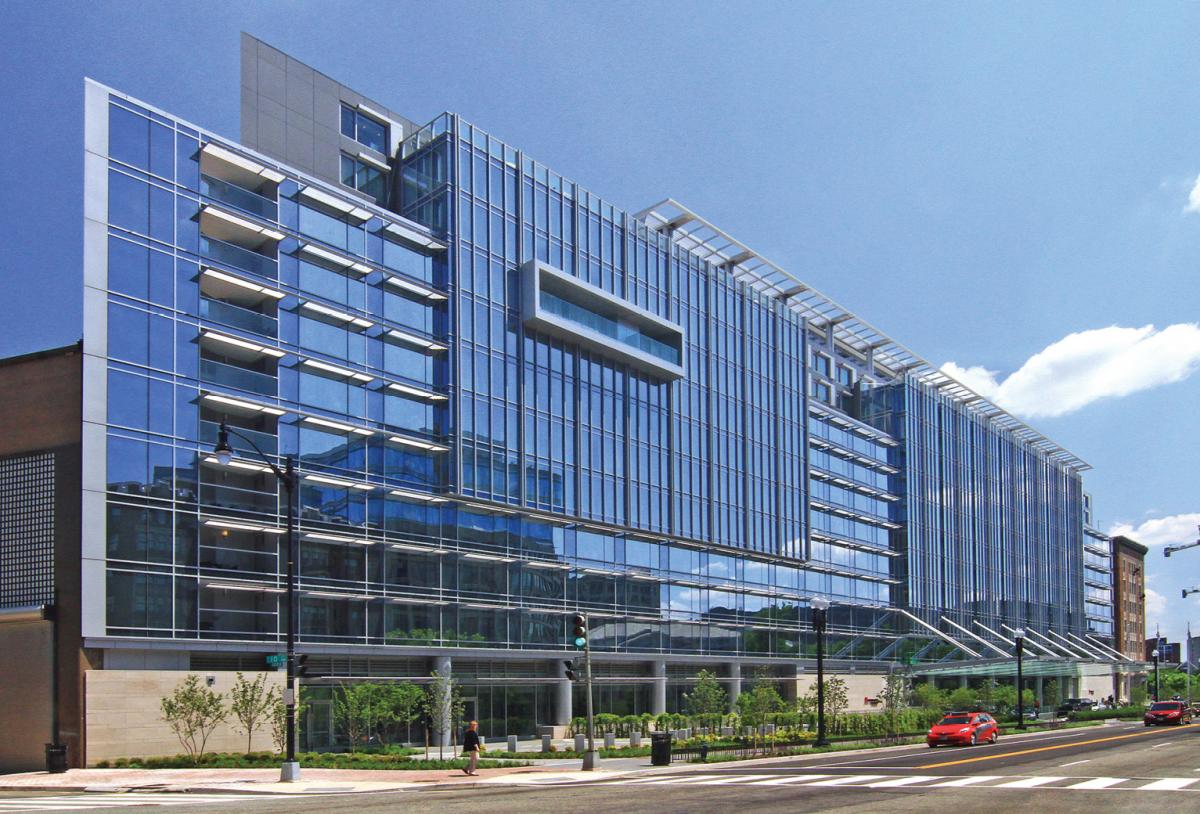 The Marriott Marquis Hotel in Washington, D.C., built by Hensel Phelps in 2016, brought together multiple building façade systems into a single integrated building enclosure.
For commercial glass contractors, the last couple of years have provided a multitude of changes and challenges. Façade systems are more integrated, material and labor costs are increasing, and design responsibility is shifting. What can glass contractors do to meet these challenges and provide a better solution for their clients, while at the same time stay competitive?
1 - Become a façade contractor
As building enclosures become more integrated, glass contractors are starting to install more of the work that surrounds their systems. From metal panels and terracotta, to sunshades and air barriers, the façade is increasingly seen as a single living skin to the building. To set themselves apart, it is critical glass contractors move from being "glass only" to becoming complete façade contractors that know how to install entire building enclosures. System integration will become even more important as architects continue to specify unitized enclosures from a single source of responsibility. Glass contractors that have an ability to install a complete façade will become more competitive and provide an efficient solution for their clients.
2 - Leverage prefabrication
Whether a company is a glass installer, curtain wall fabricator or glass manufacturer, it can be difficult to control rising labor and material prices. These increases are global and can be seen across most construction divisions. Even before U.S. steel tariffs were implemented, material costs were increasing and skilled labor was in short supply.
Glass contractors need to consider what they are doing to leverage construction technologies to streamline their processes. They cannot control the global economy, but they can control their ability to implement processes that make them more efficient. One way to achieve efficiencies is through prefabricated, or unitized, glazing systems. Studies show prefabrication and offsite construction can achieve significant results, and it has become more critical than ever for glass contractors to implement these processes in their supply chains.
3 -

Influence delegated glass design

Design, fabrication and construction processes have become more intertwined through design-build, design-assist and integrated project delivery methods. On these types of projects, it is essential that glass contractors embrace their place as key figures on project teams and provide leadership in their parts of delegated design.

Glass contractors should ask themselves whether they have the capabilities to play these roles. Do they have their own in-house engineers? Are they leveraging Building Information Modeling? Are they using drones? Are they covered by errors and omissions insurance? Glass contractors that can integrate themselves into the design process will have the ability to positively influence projects and position themselves for future work.
4 - Implement building enclosure commissioning
At the end of the day, contractors must provide clients with a high-performing and watertight building enclosure. A great way to ensure those results is to embrace building enclosure commissioning, or BECx, which the National Institute of Building Sciences defines as "the process of validating the design and performance of enclosure materials, components, assemblies and systems to achieve the objectives and requirements of the owner."Whether it is integrated façades, prefabrication or delegated design, BECx is the final piece that brings together a seamless building enclosure. Presently, BECx is more of a bonus for owners. However, it is becoming increasingly prevalent as municipalities start to add it to their building codes and guidelines. BECx is coming, and glass contractors need to understand what it is and how it will impact the industry.