NGA & GANA: One, Unified Voice
Why the combination is important for the glass industry and its companies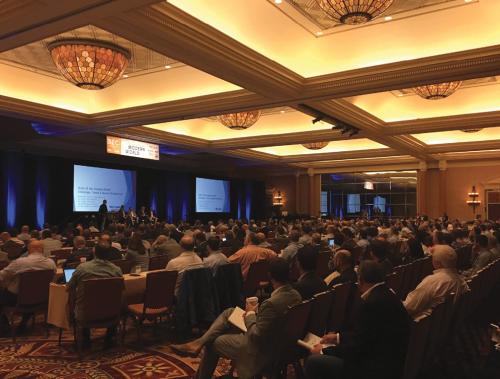 Above: The BEC Conference 2018, held March 4-6 in Las Vegas, hosted over 500 attendees. It was the first industry event from the now-combined National Glass Association and Glass Association of North America. Below: During GlassBuild America 2017, some members of the combined NGA board of directors, along with Nicole Harris, president and CEO of the NGA, announced the boards' unanimous decision to move forward with a member vote to combine.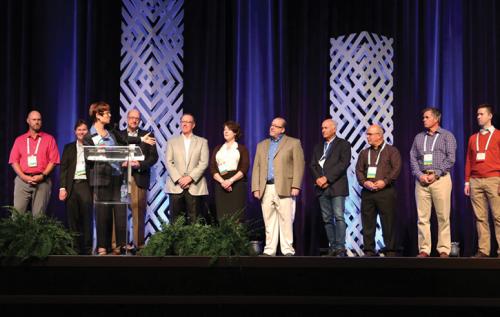 NGA Board of Directors
The new board of directors of the combined associations will consist of 13 voting members:
3 glazing contractors
3 full-service glass companies
2 Window and Door Dealers Alliance dealers
2 glass fabricators
1 primary glass manufacturer (company changes yearly or biennially)
2 glass industry suppliers
the NGA President/CEO as a non-voting ex officio member
On Feb. 1, 2018, the National Glass Association and the Glass Association of North America merged to form the largest trade association serving the architectural glass and glazing supply chain, including glazing contractors, full-service glass companies, glass fabricators, primary glass manufacturers and suppliers to the industry.
Trade associations reflect the industries they serve, and with ongoing consolidation among architectural glass and metal companies, combining two legacy member organizations was due for consideration.
"The boards, memberships and the professional staff of both organizations have taken a huge step forward for the industry," says Rod Van Buskirk, president, Bacon & Van Buskirk. "History teaches us the industry has constantly changed and evolved over decades, and so, too, have our trade associations. I look forward to how the newly combined association will grow and evolve yet again to better serve all of our various industry segments."
Combining NGA and GANA is a continuation of glass industry segment mergers that occurred over several decades, especially within GANA's history. "What this combination finally achieves is the unification of the entire supply chain," says Nicole Harris, president and CEO of the NGA.
It also allows two proud membership organizations to pool resources, volunteers and staff to better meet the needs of the industry they serve.
"GANA and NGA have supported each other in the past, but now, as a single organization, I am looking forward to the synergies among all segments of the glass industry," says Valerie Block, architectural marketing consultant, Kuraray America Inc.
Combined strengths
Members can expect more technical information, education, training, and other tools and resources to help them improve their businesses. There is also cost-savings for members and the association as a whole.
"You want to belong to as many organizations as you can, but it's hard, because each has dues," says Dustin Anderson, Anderson Glass & Mirror. "NGA and GANA are two powerhouses, and the beauty is, I don't have to make that decision anymore. They're coming together, sharing information. It's quality, and on the same page."
"By removing duplicative efforts, and redundant costs, members can expect a more efficient and beneficial industry experience," agrees Chris Mammen, CEO, M3 Glass Technologies.
It wasn't lost on the leadership of either organization that NGA and GANA had similar mission statements focused on three principles: provide, promote and protect. The two organizations also shared strong legacies of committed volunteer participation.
"Both organizations have a well-established history of contributing to and promoting the glazing industry. Change is always difficult, but just think of what may be possible going forward with an expanded membership and additional resources to amplify the 'Voice of the Industry,'" says Steve Marino, manager, technical services, Vitro, who served on the GANA board and on the NGA-GANA Joint Task Force.
"This integration is a natural progression. It's no different than years back with GANA's consolidation. It's a positive for the industry to combine strengths of two organizations into a larger organization and makes financial sense for the associations," says Arthur Berkowitz, board member for Consolidated Glass Holdings.
How best to structure the new combined association to be a powerful, purposeful voice for the industry is beingscoped out now by the Integration Task Force. Made up of six representatives, three each from NGA and GANA, the ITF's top priority is to ensure that the important GANA technical and advocacy work continues uninterrupted.
"Everyone involved in working on the combination and working to smooth out the wrinkles on the task force has the best interests of our industry in mind, and are seasoned veterans of the industry and [the associations]," says Gus Trupiano, director of sales, Building Products, AGC Glass North America.
At the Annual Conference, in Napa, California, April 26-28, the ITF will present to committee leadership and members. The new technical structure for the combined association will be announced at the Fall Conference preceding GlassBuild America, Sept. 12-14, in Las Vegas.
---
"Technical advocacy has to be strengthened with this combination. The NGA has a stronger glazier orientation, versus GANA with its focus on manufacturers who drive development and output. I am hopeful that NGA will marry the strengths of both." Chuck Knickerbocker, curtain wall manager, Technical Glass Products
---

Strengthening a legacy
In addition to combining the strengths of volunteers and staff, the new association combines resources to inform and promote the industry.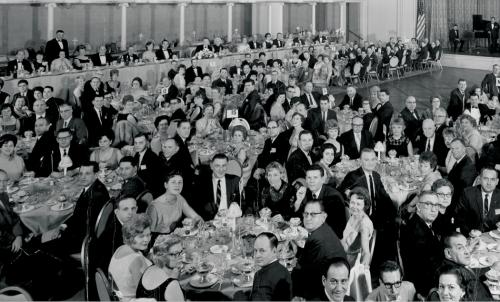 Above: The National Glass Dealers Association at the 16th Annual Convention and Trade Show in New York, 1966. Below: GANA members during Glass Week.
"We rely on the associations to be a voice for the industry on key advocacy issues and educate on technical matters," says Helen Sanders, strategic business development, Technoform. "As these issues evolve over time, we need resilient structures to address changes in the market and built environment. By combining GANA and NGA, we will bring even more industry stakeholder voices together to create a unified and more influential advocacy platform."
GANA had a long history of generating important technical documents and code advocacy. NGA provides educational platforms and resources, North America's largest trade show and an industry-specific magazine. Now, a much larger organization with additional resources can expand the work—produced by volunteers and executed by staff—that both organizations bring to the glazing industry.
"I hope the new combined association can be a strong voice of advocacy on issues that are important to the glass industry and the association membership," says Chris Dolan, director, commercial segment for Guardian Glass. "Glass sometimes is maligned … I hope the new organization can provide focus to become an advocate for glass use and all its possibilities."
"When we don't work together and introduce products that don't work in the field, the industry gets a black eye," agrees Berkowitz. "When you combine the expertise of glazier with a glass fabricator, it's a positive to the industry and ensures our success and future."
---
"At the end of the day, we need to promote glass. We now have a unified voice with a strong technical base [and] the critical mass of a [fully integrated] membership. We have an opportunity to grow the entire organization for everyone to be more successful." Ren Bartoe, director of glass and industrial technologies for Vesuvius, and Integration Task Force member
---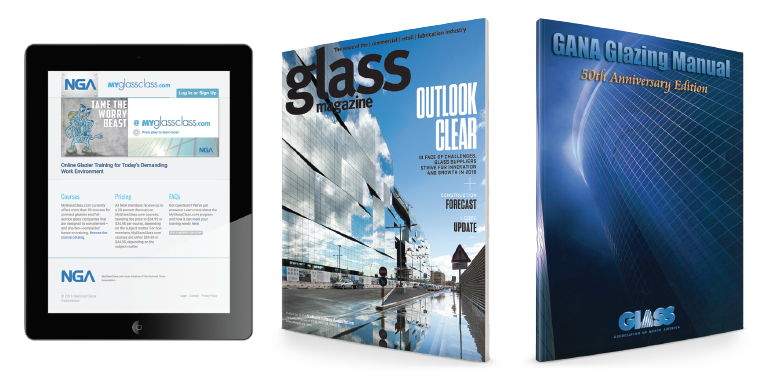 Combined Resources: The following technical and informational resources were developed by NGA or GANA staff and dedicated member volunteers to meet the needs of an increasingly complex industry. Post-combination, the associations are working to maximize their reach and usefulness for members and the industry at large.
ADVOCACY
NGA/GANA code consultants advocate for the glass and glazing industry's interests among many different organizations, including these:
ASTM
ASHRAE
ANSI Z97
ICC
IGCC
GICC
NGBS
NIBS
NFPA
NFRC
SGCC
USGBC
TECHNICAL & INFORMATIONAL RESOURCES
The combined resources of NGA and GANA will be expanded across different platforms for greater distribution and ease of use. The combined associations now offer:
Manuals & Guides
Laminated Glazing Reference Manual
Heavy Glass Door Design Guide
Engineering Standards Manual
Glazing Manual
Protective Glazing Manual
Architects Guide to Glass
Commercial Fenestration Systems Manual
Decorative Glazing Reference Manual
Guide to the Glass and Glazing Requirements of the Model Building Codes
Employee Safety Guide
Mirror Fabrication and Installation Guide
All about Glass and Metal: Six Guides for Architects & Specifiers
Bulletins, White Papers & Presentations
Glass Informational Bulletins
Safety Bulletins
White Papers
Test Standards/Test Specifications, including MasterSpec and ASTM International
AIA presentations
Online Education & Training
MyGlassClass.com has been relaunched on a new, interactive platform featuring 50+ training courses for contract glaziers and full-service glass companies. Work is in progress now to produce new curriculum, including for fabricators, using published technical manuals.
Coming Soon:
Glass & Glazing Estimating Essentials Course
Magazines & Newsletters
Glass Magazine
GlassMagazineDigital.com
e-glass weekly
NGA Member Newsletter
Websites & Social Media
Through the transition and integration period, NGA has multiple websites to reference:

---
"With more resources available to our new association, we can more powerfully promote glass as a high-technology product to building owners and architects." Angelo Rivera, vice president and general manager, Faour Glass Technologies, and NGA-GANA Joint Task Force and Integration Task Force member.
---

EVENTS
Combined, NGA/GANA offer more networking, business and education events for the entire industry.
GlassBuild America: The Glass, Window & Door Expo
Glazing Executives Forum
Express Learning at GlassBuild America
Building Envelope Contractors Conference
Annual Conference
Fall Conference
Protective Glazing Workshop
Thirsty Thursday webinars
---

NGA and GANA
An historical look at the associations
NGA
GANA
Industry
1948
National Association of Glass Dealers holds first meeting in Dayton, Ohio, with 18 glass dealer members.
1949
The National Glass Distributors Association changes name to the Flat Glass Jobbers Association, the predecessor of GANA, which focused exclusively on the independent auto and flat glass distributor.
1959
Pilkington introduces the revolutionary float glass process in England.
1963
PPG opens first U.S. float line in Cumberland, Maryland.

Membership agrees to change the name of the association to the Flat Glass Marketing Association.
1968
Harmon Glass acquires Wausau Metals Corp. and establishes Apogee Enterprises to oversee diverse holdings.

Association changes focus to the needs of management. Distribution and installation issues no longer the guiding force within FGMA.

Apogee begins Viracon glass fabrication operation.

Guardian Industries enters float glass market.
1973
Safety Glazing Bill adopted by 26 states, affecting more than 147 million people.

PPG closes its last plate glass operation, in Cumberland, Maryland.
1975
With a focus on solar innovations and the energy crisis, more than 2,000 attend the annual NGDA meeting and view more than 100 exhibitors' booths.
1976
FGMA joins with the Flat Glass Energy Conservation Committee and AAMA to form the National Fenestration Council.
1977
NGDA produces Consumer Product Safety Standard for Architectural Glazing Materials.

Magnusson-Moss Warranty Act affects glass dealer guarantees and follow-through.
1980
Consumer Product Safety Commission implements field inspection program for architectural glazing materials.

National Fenestration Council forms to advance energy conservation in residential and commercial windows.
1982
Ed Sczesny joins R.D. Hubbard at AFG to form AFG Technologies.

FGMA publishes its Guidelines to Safety Glazing Regulations and Compliance, which explains the CPSC Architectural Glass Standard.

FGMA joins the NGDA to form the Glazing Industry Code Committee.

NGDA becomes National Glass Association; The Glass Dealer becomes Glass Magazine*.

The FGMA agrees to let glass and metal manufacturers become members of the association, increasing membership by approximately 25 percent.
1985
Glass fabricators can join the association as members, rather than as suppliers.

FGMA, GTA and LSGA hold joint meeting, which becomes Glass Week 1987.
1989
NGA holds first Glass Management Institute to capacity attendance.

Controversial new federal and local standards promise to limit percentage of glass in most residential buildings; GANA and NGA fight back.

Asahi buys AFG Industries.

Hurricane Andrew hits Florida.

Cardinal IG enters float glass manufacturing, acquires AFG's Menomonie, Wisconsin, float plant.
1993
Glass Magazine publishes first Top 50 Glaziers report.

Dade County issues first of many code changes in response to damage from Hurricane Andrew: immediate effects on curtain wall and residential glass.

FGMA establishes separate memberships for tempering, laminating and distribution/installation divisions.
1994
FGMA, GTA and LSGA vote to consolidate their three associations to create the Glass Association of North America (GANA).
1995
NGA introduces Glazier Certification Program.
1996
NGA holds first Annual Contract Glazing Conference.
1998
Distribution and installation divisions are separated, creating the Building Envelope Contractors Division.

The North American Association of Mirror Manufacturers becomes a division of GANA.
2000
GANA and NGA form the GANA/NGA Alliance.
2003
The NGA Show expands and changes name to GlassBuild America: The Glass, Window & Door EXPO.
2006
NGA launches the Glazing Executives Forum at GlassBuild America.

NGA offers Glass Installer Certification.

NGA launches MyGlassClass.com.

GANA introduces the BEC Conference.
2008
Wall Street announces worst year since the Great Depression on Dec. 31. The credit crunch and a hike in prices for glass raw materials hurts the industry.

AGC announces plans to restructure; PPG declares force majeure on glass products and completes sale of automotive glass business.

IGMA and GANA form Strategic Task Groups to determine implications of a closer IGMA-GANA relationship.
2010
NGA transfers stewardship of its auto glass standards to two different entities.

AAMA, GANA and IGMA launch Glassdocs.com, a one-stop resource for all glass-related documents for fenestration.

ASHRAE 90.1 2010 includes proposal to limit the window to wall ratio to 30 percent; glass industry fights back.
2016
NGA relaunches MyGlassClass.com with new classes and new updates, including OSHA 10 and 30 online training.

NGA adds its documents to Glassdocs.com joint association publications website.
2017
NGA and GANA appoint a joint task force to explore ways to improve member support and coordinate efforts, including a combination of the two organizations.
2018
NGA and GANA merge to form the largest trade association serving the architectural glass and glazing supply chain