Paint | Problem Coatings
The serious risks of incorrect or unsuitable coatings on glass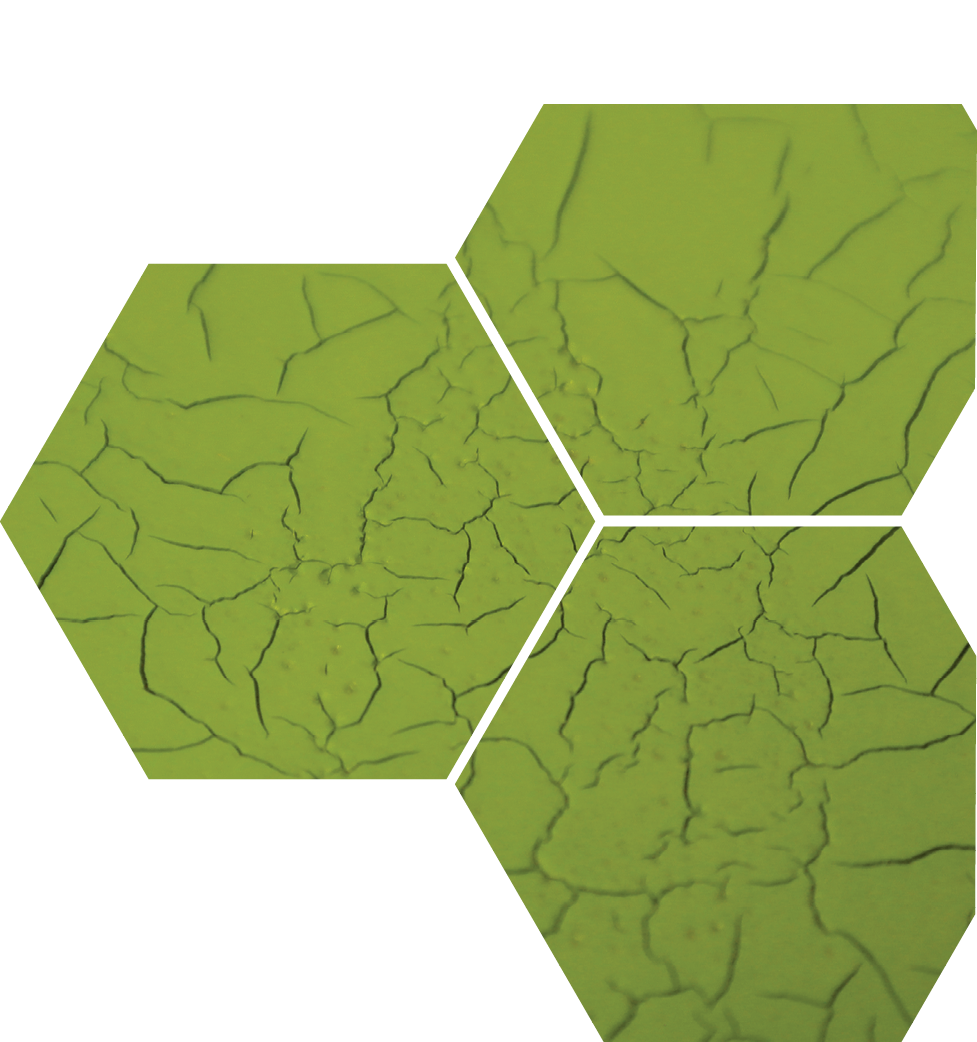 Green coating failure, with cracking and premature degradation.
The bottom line
If the glass industry does not address the issue of incorrect coatings for glass, numerous failures may invite an inflation of stringent government regulation. The industry has the capability to regulate itself, create best practices and steer clear of bloated regulations.
Back-painted decorative glass, whether for backsplashes, wall claddings, countertops, shower glass cladding, furnishings and marker-boards or more, contributes to the elegance and functionality of interior spaces. Increased popularity of these products is great news for the glass and coatings industry. However, a rush to meet market demand for coated glass products can lead to haphazard decisions to use unsuitable glass coating products. These decisions affect all stakeholders, from the architects to the end user.
What are the risks?
Back-painted decorative glass makes use of specialty coatings (paints) that bond to the surface of the glass and enhance the aesthetic appearance. Behind the scenes, these coatings are a series of complex formulated chemistries that perform specific roles: coloring, color-fastness, abrasion resistance, chemical resistance, weatherability, adhesion, etc.
These products are complex in their makeup and require knowledge of their chemistries, structure, and compatibility with other materials and environment. Without intimate knowledge of how these products perform, stakeholders risk the use of unsuitable products installed in inappropriate applications.
One alarming trend is the use on glass of coatings or paints meant for home exteriors, vehicles or non-glass substrates. Some applicators have gone as far as mixing common paints with simple adhesion promoters, essentially creating new coating chemistries.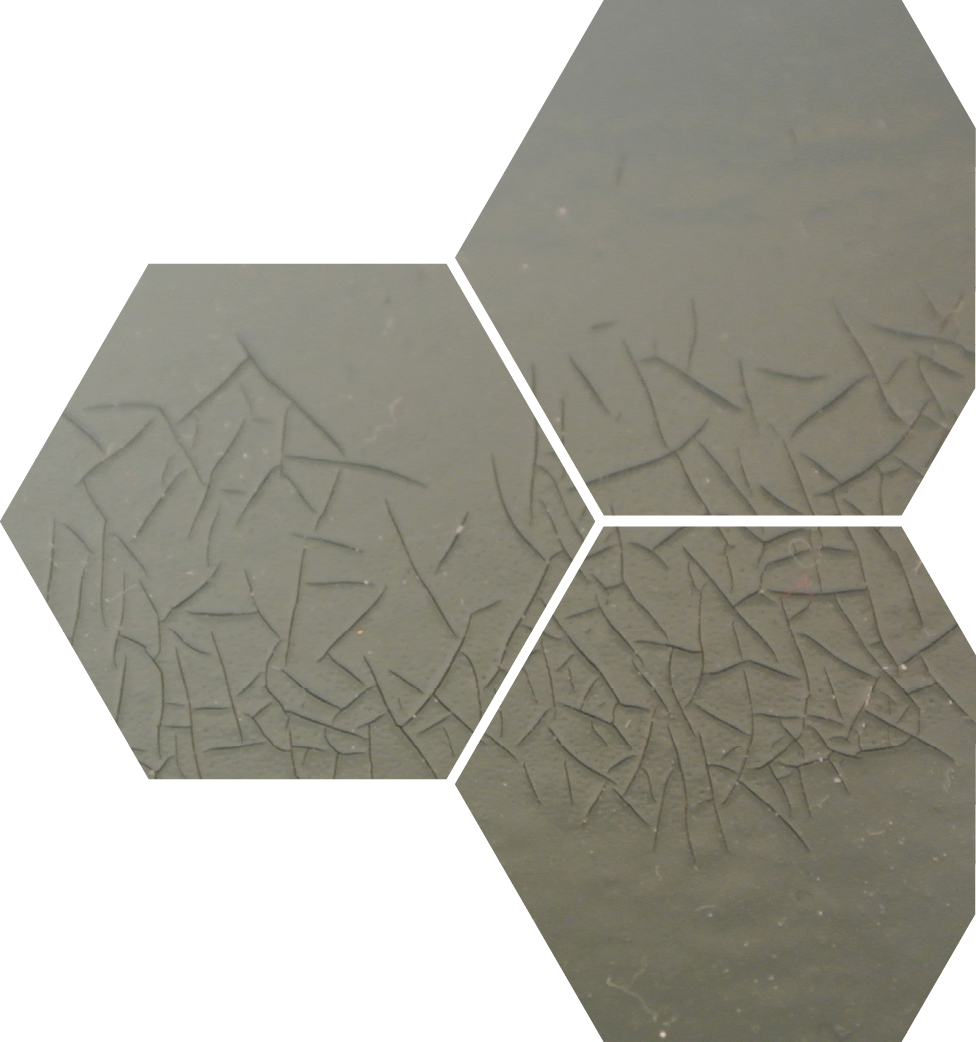 Grey coating failure, with cracking and premature degradation.
Often, glass coated with inappropriate paints is being installed in inappropriate applications. This can result in big problems, such as:
Back-painted decorative glass, when coated with an appropriate high-performance paint, can be counted on to hold color for an expected or stated period of time. Inappropriate coatings—those not intended for use on glass, or those that are altered by the applicator—can be at risk when installed in areas where there is contact with sunlight, heat or incompatible materials.
Sunlight can permeate interior spaces near building entryways or large windows, exposing coatings to damaging ultraviolet rays. When coated glass is used in a kitchen backsplash application, the coating pigments in poor-performing paints may become heated and result in an adverse color loss reaction, called thermochromism. Mixing a common paint with a simple adhesion promoter creates a new coating chemistry that may not be compatible with sealants and adhesives that typically work with high performance paints.
Degradation of all materials can be expected over very long periods of time. New chemistries, created when common paints are mixed with random simple adhesion promoters, are untested and therefore unqualified.
There are no instructions from a paint manufacturer when using their paint for wrong applications, let alone blending it with something they don't recommend specifically. Thrown-together chemistries may not last nearly as long as well-formulated, rigorously-tested glazing coatings. Resin breakdown can occur, resulting in paint separating from itself, manifesting in pockmarks, crazing, which looks like clouding, or cracks. Another cause of frustration includes staining from sealants or adhesives not compatible with unfamiliar coating makeups.
Additionally, considering the environmental consequences, one can't be sure what dangerous substances humans are exposed to when the wrong coating degrades in interior applications.
Adhesion is a worry for all designs glazed exterior or interior. Paints not manufactured specifically for glass or newly made paint combinations can be at risk of adhesion loss. Adhesion loss occurs when the coating no longer sticks to the glass or when common, industry-approved standard adhesives do not stick to the coating. Inadequate adhesion of either could ultimately result in personal injury or increased public safety risks.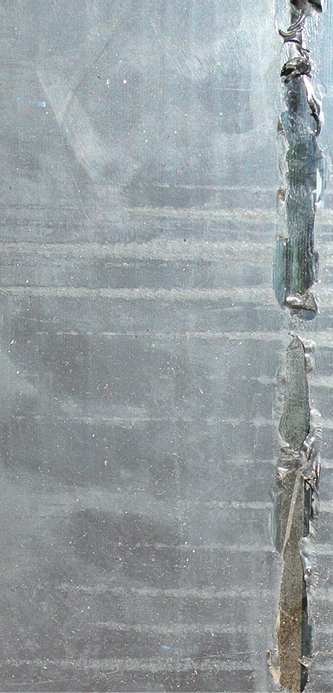 Right: Graphite coating failure showing sealant incompatibility, delamination and adhesion loss.
Who should care about the problem?
Failures in the field hurt everyone involved: the public, the fabricator, the glazier, the architect, the industry. It is crucial for the product to perform as intended, and failures may be much worse than a simple warranty claim. Key stakeholders:
Fabricators may face costs of replacing the materials, and removal and re-installation. The credibility of their products and company suffers. Future work may be lost if their customers do not have confidence in their ability to produce quality products.
Glaziers may suffer the same fate. Even if a glazier is installing the product as specified, it is their name on the project. If the glass is installed using the incorrect sealant, or if the manufacturer's recommended installation methods are not followed, the cost of the failure is now their burden to bear as well.
Additionally, some glaziers may choose to paint their own glass in some scenarios. This puts the glazier in the role of fabricator, assuming all the responsibilities that come with that role.
If a material is specified and installed in a location where it is not appropriate, the failure falls on the architect. Of particular concern are situations that put public safety at risk, such as a failure that results in falling glass. In each of these cases, everyone may be open to lawsuits if a piece of glass falls off the wall and injures any tenants or guests.
Lastly, the industry suffers as the failed product may be perceived as an unfit material choice that will cause too many headaches. Building materials with a negative perception may lead architects to deviate and specify alternative materials. Contractors may inflate pricing to offset the loss of value or reputation of materials used. Coated glass, and perhaps glass itself, may be avoided in future designs.
If the glass industry does not address this risk, numerous failures may invite an inflation of stringent government regulation. Our industry has the capability to regulate itself, create best practices and steer clear of bloated regulations.
What are the best practices?
To avoid unintended back-painted glass project failures, consider the following questions:
Is the glass coating developed and approved for glass as a substrate?
Does the coating manufacturer approve and warrant the end use application?
Was the coated glass product fabricated according to the coating manufacturer's recommendations and requirements?
Will the glass installation comply with all component manufacturers' recommendations and requirements?
What next?
A National Glass Association task group is addressing the above topics. This collective is assembling test methods and best practices for back-painted decorative glass to bypass easily avoided consequences. Content creation comes from extensive industry experience, prior Glass Information Bulletins created through NGA/GANA, and ASTM standards.
Relevant Glass Information Bulletins are available at techstreet.com/gana. They include:
FB41-14 - Design Considerations for use of Sealants/Adhesives with Coated Glass
FB42-14 - Decorative Glass Strength Properties
FB44-14 - Assessing the Durability of Decorative Glass
FB46-14 – Assessment of the Weatherability and Durability of Decorative Glass
FB47-15 - Durability & Testing of Painted Decorative Interior Mounted Glass.