Railing Code Updates: A closer look at cap rail requirements and laminated interlayers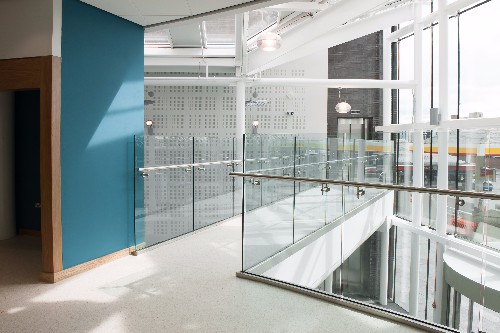 Pictured is an example of an approved glass guardrail without a cap rail. The C.R. Laurence Co. laminated glass guardrail without a top rail meetings IBC requirements, per section 2407.
The 2015 International Building Code updates to design load requirements for glass guardrails have led many in the glass industry to ask the question: are cap rails or handrails still required?
Guardrails can be installed with a cap rail (i.e. top rail, guard) or a handrail. Both of these systems will increase safety, aesthetics and performance. C.R. Laurence Co., crl-arch.com, typically recommends one or the other, unless the installation is on a stairway or ramp where a handrail is required per the Americans with Disabilities Act.
There is an exception in Section 2407 of the 2015 IBC stipulates: "A top rail shall not be required where the glass balusters are laminated glass with two or more glass plies of equal thickness and the same glass type."
The caveat to this stipulation is that the system must still be approved by the building official and be designed to withstand the loads specified in Section 1607.8. With a properly tested and documented system, and approval from the Authority Having Jurisdiction, this exception allows for the omission of the extra hardware giving the glazing company, the client and the architect additional code-compliant options to achieve the desired aesthetic.
Of note, installations without a continuous top rail are very sensitive to deflections. The glass design must assure that differential deflections don't create an entrapment hazard. When too thin of laminated glass is used a lite will deflect enough so that a finger or other portion of the body can be pinched when the glass springs back causing a serious injury.
Additionally, the 2015 IBC update requires fully tempered or heat-strengthened laminated glass in all glass guardrail installations where there is a walking surface beneath. If there is no walking surface, or the walking surface is permanently protected from the risk of falling glass, monolithic tempered glass is acceptable so long as it's accompanied by a handrail or cap rail. This is explained in Section 2407.1.
PVB vs. ionoplast
Polyvinyl butyral has traditionally been the preferred choice for laminated glass due to its economical value. Ionoplast is a more advanced interlayer that offers several advantages over PVB. This is especially true when it comes to exposed glass edge conditions in exterior installations where continuous exposure to UV rays, as well as the elements, can adversely affect the performance of the PVB interlayer.
Ionoplast delivers increased stiffness and toughness, as well as enhanced performance in applications that require a higher glass transition temperature. Ionoplast has five times the tear strength and 100 times the rigidity of a conventional PVB interlayer, which translates to reduced deflection and superior post glass breakage performance. The post breakage strength is critical when installed without a top rail as PVB will fail to maintain the guard barrier in place whereas the ionoplast will. During load testing, glass lites with a PVB interlayer will begin to fail at low stress levels, whereas ionoplast requires much higher pressures to deform it.
Lastly, ionoplast delivers additional clarity, with a Yellowness Index of 1.5 or less versus 6 to 12 for conventional PVB interlayers. This maximizes transparency and light transmittance while ensuring the glass won't discolor over time.