Robotic Revolution
In push for automation, North American glass fabricators begin to adopt factory robots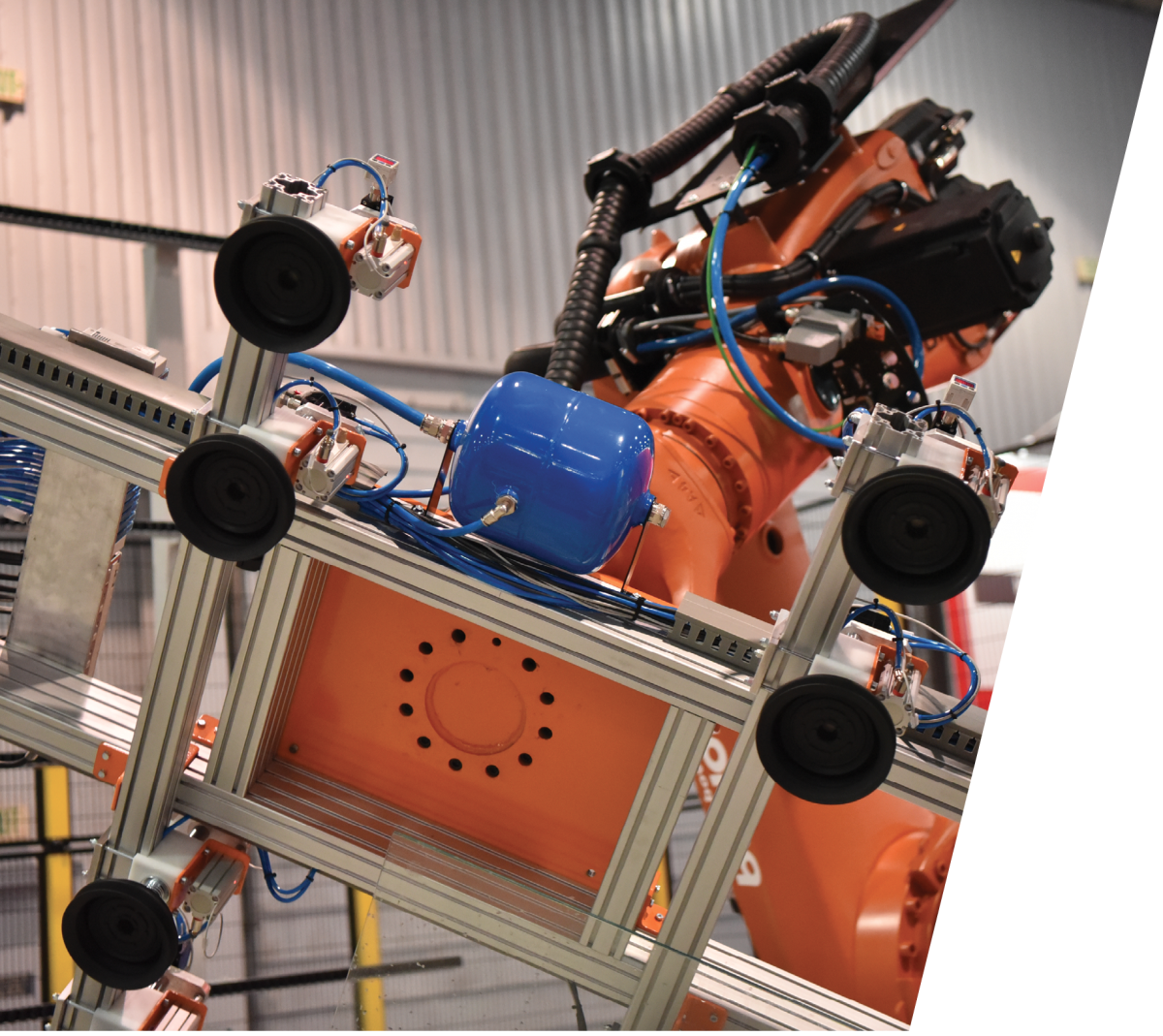 Salem Distributing supplies the Bovone Robotic System from Bovone, which provides automatic loading and unloading of vertical glass edgers, says Mike Rosato, machine sales engineer. At GlassBuild America, the company displayed the system with robots at each end of the edging line. "There is almost no operator intervention," Rosato says. "You need at least one operator to wheel the frames up to the machine. They wheel the cart up, use the barcode scanner, execute the system, and the robots take over from there."
NOW MORE THAN EVER, North American glass fabricators are seeking machines that allow them to meet increasing volume demands in the face of the ongoing labor shortage. They demand equipment that limits touches on glass, improves quality, ups efficiency and provides operator safety. In short, they want automation, and key to this automation for some fabricators will be robots, according to exhibitors from 2018 GlassBuild America: The Glass, Window & Door Expo, glassbuildamerica.com.
Robots—specifically multi-dimensional articulating robotic arms programed to perform handling and fabrication tasks—were one of the most talked-about innovations on the show floor at GlassBuild America, held Sept. 12-14 in Las Vegas. The event drew more than 8,600 visitors, with about 400 exhibitors over an expanded 175,000-square-foot show floor. Walking the GlassBuild America floor, attendees could see a trio of large robots operating a complete insulating glass production line; a line of smaller adaptive robots handling gas filling, closing and sealing of IG units; impressive handling robots for oversized glasses; and more.
Such industrial robotics are not new, according to exhibitors. "They have been in the auto industry for 30 or 40 years," says Mike Rosato, machine sales engineer at Salem Distributing Co.
Even in the glass industry, leading float glass producers have been using robots for at least two decades, says John Buckner, operations director, Americas, Glass Division, Guardian Glass. "Guardian Glass has used … articulating robots for about 20 years. Articulating robots can go to specific points to grab and load the line from various sized racks and positions. [They] can offer a wider range of capability when it comes to glass handling due to their highly programmable nature," he says.
Among glass fabricators, robots—mainly handling robots—have been used in European factories for around 10 years, says Nicola Lattuada, sales manager, Adelio Lattuada. He estimates there are between 100 and 120 glass handling robots installed in European glass processing facilities. "This is a proven technology," he says.
North American glass fabricators, however, have lagged when it comes to robots. Only recently have companies looked to adopt the technology. "Robots have always been a buzz word relating to high tech. We're just now seeing them in our industry," says Bill Briese, R&D and engineering manager, GED Integrated Solutions. "It's a confluence of events, including that electronics have become quite cost competitive, and the cost per robot has gone down over the last five to 10 years."
Most commonly, robots are used in glass fabrication handling processes, similarly to how they have been used in the float glass segment, according to suppliers. Other companies have begun to develop robots for in-line processes, such as gas filling and sealing on an insulating glass line, according to exhibitors.
But recent advancements in the technology have expanded the possibilities of what the technology can provide beyond basic tasks. "The flexibility of the systems is improving. They aren't just for mass production," says Joe Gates, manager of Lattuada North America.
"People are surprised that we're using robots adaptively," adds Briese. "We're using them for tasks that are not identical each time."
Market drivers
Cost and innovation aren't the only drivers of North American adoption of glass fabrication robots. According to suppliers, several key market factors are motivating glass companies to consider the technology: labor, quality and productivity.
Labor: Robots solve two major labor concerns. They "reduce the number of people required to run a machine, but also increase the safety of the people you do have," says Michela Lattuada, communications manager for Adelio Lattuada.
Since emerging from the Great Recession, the glass industry—along with other manufacturing industries—has faced a severe labor shortage. "I spoke to a customer who said on any given day, 20 percent of the workforce doesn't show up," says Ron Crowl, president of FeneTech. "Another customer told me they can't find workers for their IG line. The line requires eight people. During the night shift, they only have four people coming in."
The labor shortage is only made worse by high demand. Fabricators are struggling to keep up with orders, suppliers say. To combat that head on, companies are seeking automated solutions, and robots will be a key component of these solutions, suppliers say. "The robot won't skip a shift. It can keep working if production takes longer than expected," says Tadd Toumie, sales representative, Erdman Automation.
In terms of safety, robots—and automated solutions in general—increase worker safety by limiting touches on the glass. "We've mitigated safety risk by eliminating manual handling. Glass can break during handling, which can injure employees," says Guardian's Buckner.
The safety risks to employees have only increased with calls for larger and heavier glasses. "Historically, these lines are loaded by hand. You have two to three people on the end of the machine trying to rotate large pieces of glass. It's very unsafe," says Rosato. "These robots take that function."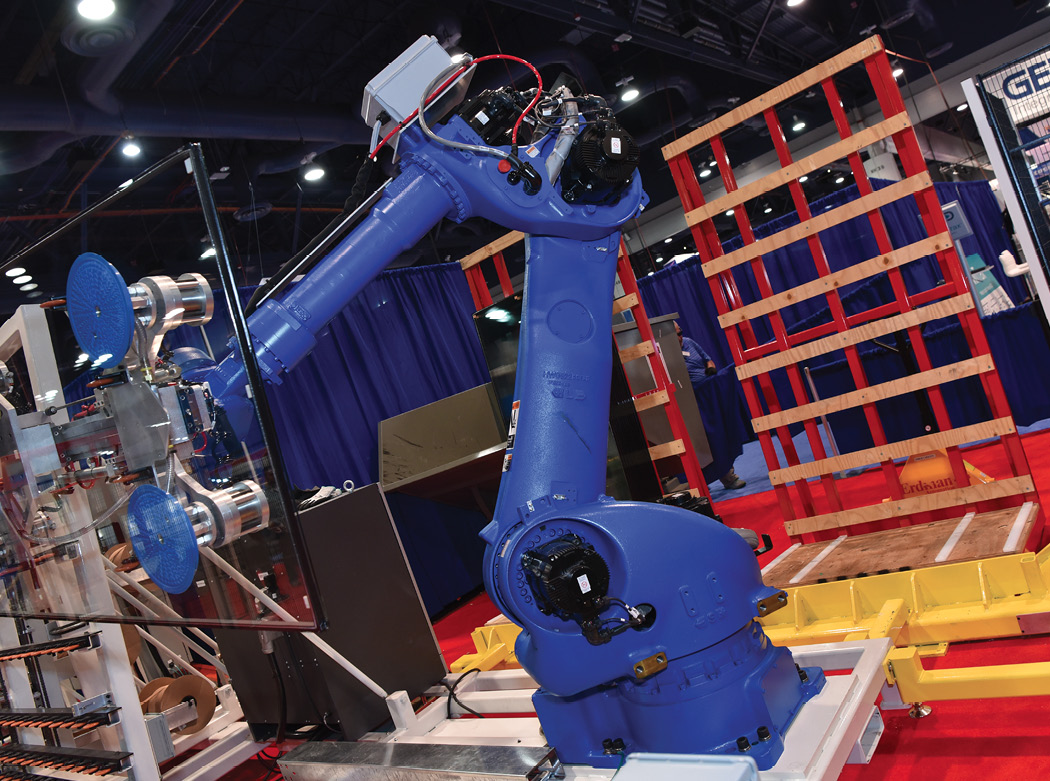 During GlassBuild America, Erdman Automation introduced its Unmanned Robotic IG Work Cell. The flexible spacer insulating glass line features three handling robots—one for loading, one for positional holding of the glass while the flexible spacer is applied and gas is filled, and one for sealing and offloading. According to Erdman officials, the use of three robots not only minimizes labor, but also reduces needed floor space by roughly one half. "The Unmanned Line is a response to labor concerns and capacity constraints in the industry," says Mike Kautz, sales executive. "Those issues also lead to higher medical expenses for companies and other costs associated with a hurt employee. This level of automation covers those costs by being fully automated at every step, and completely ergonomic for any human intervention."
Quality: Automated solutions, including robots, also help fabricators meet demand for higher quality products. "Demand for improved workmanship has become very popular," says Briese. "Ten to 15 years ago, it was all about productivity. Now, companies are looking at workmanship."
Robots, particularly in-line robots that perform specific fabrication tasks, remove the variability that workers introduce into a process, Briese says. "Imagine, if I put a screw into anything and it's not straight, it might bind up. It might strip out if I apply too much torque. Or, operators A and B might have a different sense of what is adequate when putting in the screw," he says. A robot, on the other hand, takes the variation out of the same process. "I know that the screw is in properly, consistently. It takes the subjectivity out of the process," Briese says.
In addition to performing tasks consistently, robots also allow the operators to focus more attention on quality, Rosato says, referring specifically to the quality improvements offered by handling robots. "Now, everyone is working so fast. You don't notice rejects until they are down the line," he says. With the addition of handling robots, "while they are loading and unloading, the operator can focus their attention on quality, reducing remakes and rejects."
Productivity: Fabricators are struggling to keep up with demand, making efficiency a primary concern in purchasing new equipment. "Customers are looking for how they can get more productive," Crowl says. "They understand they have to move forward at a very fast pace. Otherwise, they will have old equipment that will begin to hold them hostage."
When incorporated appropriately, robots can provide major productivity improvements, according to suppliers. For example, Nicola Lattuada estimates the "average improvement in productivity is 20 to 25 percent," when incorporating a robot handler into Adelio Lattuada's double edge line.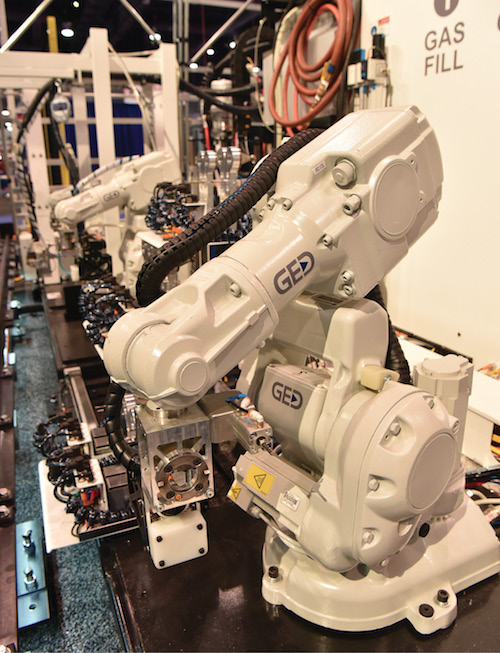 GED Integrated Solutions embarked on industrial robotics several years ago, developing vinyl window cleaning robotic systems. The company has expanded its offerings, with robots that interface between processes, bringing materials from one line to the next. "It's as if a person were standing right there," says Bill Briese, R&D and engineering manager.During GlassBuild America, GED introduced RoboSeal, a fully automated, robotic gas fill, close and seal system that efficiently finishes the assembly process of both double and triple pane Intercept insulating glass units. The RoboSeal technology is adaptive, says Briese. "It is different than anything we've done," he says. The system can adapt to numerous variables—"if it is a different spacer size, if it is a triple IG, or even if the hole [for gas filling] is mis-located," Briese says. "We can make the robot behave slightly differently given the variables, just as if it were a human."
The right application
While robots can offer numerous benefits, manufacturers note that the technology is not a fit for every glass company. "It's not the practical way to do things in all cases," says Bob Quast, president, CEO and CFO at Lisec America.
In glass handling, for example, a robot might make sense for some companies if their application requires the multi-dimensional movement of a robot. However, more straightforward automation systems might be a better fit for companies that don't require the extra movement. "Often, a company might look to sorting systems instead, where they can transport, handle, sort and optimize the glass," says Quast.
"Robots make sense when other technologies don't," Briese says. He recommends that companies carefully consider the variables of any operation they are looking to automate—the travel distance, function, load and capacity, among others. Then fabricators should weigh the cost and functionality of the robot versus other available automated technologies.
"You have to really understand what you're doing. Maybe you could use a hydraulic or Cartesian system with X, Y, Z axis. But maybe you could do the job with belts or rack and pinion," Briese says. "If you have a tiny IG followed up by a gigantic unit, a robot might not make sense. You need that suction cup to move so it's not halfway off the glass. Or, if you're looking to move large IGs that are heavy, the ratings capacity of a robot can easily become cost prohibitive. Is there a more cost-effective option? These are the types of considerations to take into account."
Fabricators can work with suppliers to determine the best fit for their company and specific operation. To help companies determine if a robot is right for them, Adelio Lattuada, for example, provides a payback analysis for potential customers. Customers send the data of their orders, and Lattuada representatives perform the calculations to show the potential productivity improvements if the company were to incorporate a robot into their edging systems, according to Gates.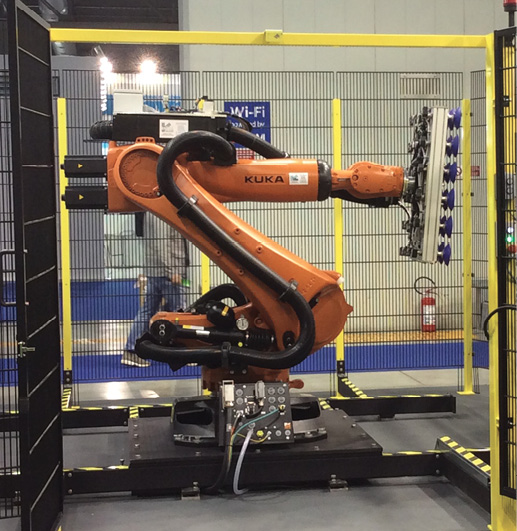 Photo courtesy of Adelio Lattuada. In 2017, Adelio Lattuada introduced the Lattuada Robotic Solution, a high-performance robotic handling application that moves glass between two parallel vertical edgers. The system offers automatic and integrated on-line glass measurement, automatic adjustment of working speed based on glass size, continuous production for higher productivity and the possibility to rotate the glass 90 or 180 degrees. Pictured is the company's display of the system at the Vitrum 2017 trade fair in Milan. "There is a lot of interest in the U.S. [in robots]," says Michela Lattuada, communications manager. "We hope to bring it to GlassBuild next year."
Looking ahead
The glass industry's march toward a more automated factory floor will only continue to ramp up, according to suppliers.
"As the glass industry continues to adopt digital and robotic technology, we're moving down a path of auto-scheduling and inventory flow," says Guardian's Buckner. "Fully autonomous lines are becoming more prevalent in the industry today. With the dawn of the robotics era and the advanced autonomous vehicle comes the ability to operate and service our customers more efficiently, handle bigger and heavier glass safely, and improve operator capability and their role in the organization."
"What I see in the future is a 100-percent smart factory," adds Salem's Rosato. "You'll see very few people in the factory—you'll reduce the [number of] typical blue-collar factory jobs. But you won't put anyone out of a job, as you'll be growing production exponentially." The line operators will move to positions in quality control or loading processes, he says.
"This is a big paradigm shift for older companies with an older workforce," says Erdman's Toumie. As such, communication and training will be a critical element of the purchase and installation of next-level automated equipment.
What parts of the factory floor will be affected? According to Briese, "if it's a repetitive motion, expect it to be automated." Specifically, he anticipates that robots will begin to play a bigger role in light-duty applications in the glass fabrication process. "If there is a piece of hardware that doesn't take much weight to handle—a screw gun for example—[a robot] might make more sense."
The industry's increased adoption of automation and its move to smarter factories may also help in recruiting the next generation of operators, says Joe Erb, commercial sales specialist, Quanex Building Products. "How do you make this industry more elegant? Automation helps us to elevate our trade—to make it something to be proud of," he says. "We need people to work on computers, to work on robots. Automation, innovation, is the future."