A Safer Workplace
A guide to safety on the jobsite and in the plant


Glaziers use hand-held vacuum cups during an installation. Such tools are essential to safe glass transport and installation, says Joe Schiavone, director of sales for C.R. Laurence Co. Photo courtesy of C.R. Laurence Co.
Safety Resources
MyGlassClass.com
MyGlassClass.com, from the National Glass Association, offers online safety courses that cover topics ranging from safe glass handling, to aerial lifts, to fall protection, to personal protective equipment. Visit MyGlassClass.com for additional information. Courses include:
Safe Glass Handling 101
Personal Protective Equipment for Working with Flat Glass
Three OSHA safety courses, including Introduction to OSHA and the OSHA 30 Hour Course for Construction
29 safety courses from Underwriters Laboratory, including courses on various types of equipment, such as aerial lifts and scissor lifts; a fall protection course; and a course on personal protective equipment.
In 2015, the NGA updated the resource, "Employee Safety Guide: Creating a safer glass and glazing industry," which offers information on topics from safe operation of tools to general first aid to general glass-handling guidelines.
Occupational Safety and Health Administration
OSHA provides detailed information on workplace safety requirements on its website, osha.gov. The administration also offers training and resources to help companies maintain a safe work environment and meet governmental regulations. For information about two OSHA partnership programs, see the Factory Floor article.
Previous articles
The glass industry can be a dangerous place. Glass manufacturers and glazing contractors report higher than average rates of injury and illness, according to the Bureau of Labor Statistics. The workplace injury and illness incidence rate for glass manufacturing is 3.9 per 100 full-time equivalent workers, compared to 3.6 for manufacturing as a whole and 2.9 for all private industry. Glazing contractors report an incidence rate of 3.7, compared to 3.2 for all of construction.
"Glass is an inherently heavy and fragile material. Precautions must be taken to prevent damage and, most importantly, [to prevent] injuries," says Joe Schiavone, director of sales for C.R. Laurence Co.
Preventing injuries requires that industry companies create a culture of safety built on training, communication, whole-team buy-in, the right equipment and more, says Brian Stratton, safety manager for Linetec.
"To minimize injuries, a company must maximize prevention and training. To create a safety-focused culture, it must make safety its number one core value at all levels and across all departments," Stratton says. "Creating a culture of safety requires involvement from every person within the company. Reporting and reviewing incidents offers a baseline for understanding and improving safety, but it is just the beginning."
In this guide, Schiavone and Stratton present key steps to creating a culture of safety for glaziers on the jobsite and for employees on the factory floor. For additional resources on glass industry safety, see the sidebar article on page 36.
Part 1 | Five Steps Toward Jobsite Safety
By Joe Schiavone
1 - Know OSHA Standards
The Occupational Safety and Health Administration sets safety standards specific to the construction industry. There are guidelines in place for crane operation, fall prevention, heavy lifting of materials, and so forth. It's very important for a glazing contracting company to become familiar with—and adhere to—these guidelines. OSHA has a number of training and compliance assistance programs available. One such program offers free onsite consultations. This valuable resource is especially useful for small and medium-sized companies.
2 - Focus on Education
Every accident is preventable. Injury prevention begins with education. It is management's responsibility to thoroughly train employees on best practices for workplace safety. For glaziers, a hands-on approach with live demonstrations works best. Companies should make safety policies, expectations and goals clear, and should set procedures for reporting unsafe practices or working conditions. Management should never assume that employees are already aware of the appropriate measures they need to take to prevent injury.
3 - Utilize Tools and Equipment
Specialized glass-handling tools and equipment can increase efficiency while minimizing the risk of injury. Hand-held vacuum lifters are essential for most glazing jobs. Vacuum lifters provide a strong, pump-activated grip that prevents glass from slipping during transport and installation. Various weight capacities are available, as well as models made specifically for handling curved or textured glass.
To maximize speed and minimize accidents, use vacuum lifters in conjunction with a glass dolly. Glass dollies reduce the labor required to transport heavy glass lites. They also simplify the loading and unloading process. For the best performance, select a dolly with rugged, all-terrain wheels and a robust clamping system that secures glass in place.
Glass lifters are a necessity for projects that specify large glass lites. They incorporate several high-performance vacuum cups to safely move and position heavy glass lites. Glass lifters are typically crane-operated and offer convenient 360-degree rotation. Lifting capacities vary, so companies should consult with the product manufacturer to determine what glass lifter is right for the job. Read more about glass lifting equipment solutions on page 42. Read about handling large glass sizes on page 16.
4 - Protect Against Falls
According to a 2016 study by OSHA, fall protection is the most cited category for violations. Additionally, falls are one of the leading causes of traumatic injury in the construction industry, according to OSHA, so it's imperative to take proper precautions, particularly in jobs that are at higher elevations.
The most important piece of equipment to prevent falls is a safety harness and lanyard. There are several styles available but, for best results, select a full-body modular safety harness designed to distribute impact forces evenly. Extra straps also provide added comfort and protection. Be sure to follow proper procedures for securing the harness and lanyard.
5 - Wear the Right Gear
Glaziers must wear protective gear while on the job to reduce the risk of injury. OSHA requires that employers provide personal protective gear to employees at no cost. Safety goggles are a necessity in most cases, as they protect the eyes from airborne debris. Tinted goggles are recommended when working outdoors to reduce glare.
To protect the head from impact, hard hats should be worn at all times. In general, hard hats should be replaced every five years, unless they're subjected to extreme weather conditions and/or wear and tear, in which case they should be replaced every two years. As with all safety gear, confirm that the hard hat complies with OSHA standards.
Cuts and lacerations pose a real danger in the event of glass breakage. Employees should always wear specialized glass-handling gloves. Rubber gloves with a gauntlet cuff work best, as they also provide wrist protection. Gloves with a corrugated finish produce a stronger grip that helps prevent glass slippage.
Those handling glass should wear a back-support belt regardless of the weight and size of the glass, and a proper lifting technique should be observed.
Part 2 | Five Actions for Plant Safety
By Brian Stratton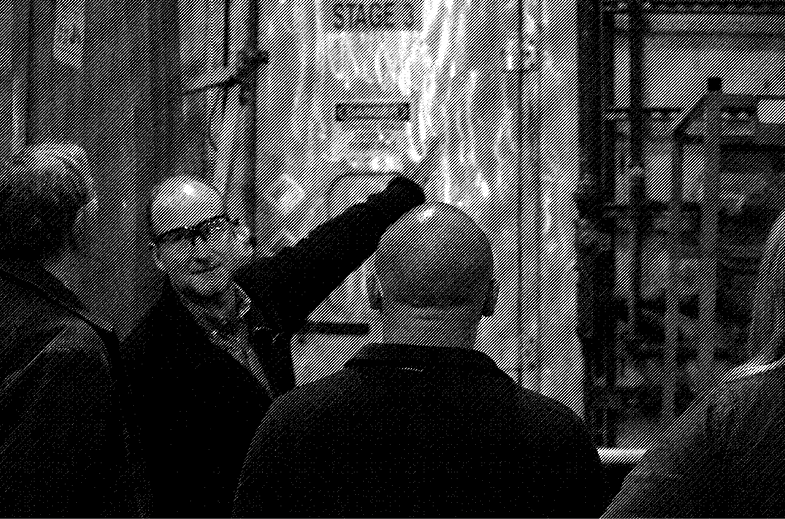 Brian Stratton, safety manager for Linetec, with Linetec employees Daniel Tork, La Lee Vang and Mackenzie Lambert. To get the most out of safety training, Stratton recommends managers take the new hires out of the classroom and onto the production floor. Last year, Linetec reported an incident rate under 0.86 and earned the Wisconsin Corporate Safety Award.
1 - Take Training Out of the Classroom
Most companies administer an orientation to new hires as a basic part of any safety program. To get the most out of it, take the new hires out of the classroom and onto the production floor to show them what the hazard communication course means within the facility where they work.
For example, take new employees into the areas where they can see how chemicals are used and stored; then review their roles, their hazards and the personal protective equipment required to handle them. Put incident trending and historical safety data to good use by demonstrating the recurring causes of injuries where they are most likely to happen and how to avoid them. Find hands-on opportunities like this to reinforce each aspect of the safety orientation and training program.
2 - Use Video
A written job safety analysis is an extremely boring undertaking for both student and teacher. Spice it up by converting job safety analysis procedures to video. This allows for controlled reenactment demonstrations of the tasks of a job, showing related hazards and teaching viewers how to avoid them. Video also eliminates inconsistencies in how the material is presented.
Video also offers an opportunity to quickly communicate ongoing lessons. Many facilities install large screens in pre-shift meeting locations and cafeterias. When incidents occur, reenact them on video and play it on these monitors. Include the events leading up to the incident and show how to prevent it from happening again.
3 - Reward Good Behavior
Behavior-based safety programs should be tailored to a company's unique culture and designed for each person's voice to be heard. Individuals should share all their safety observations, positive or negative, with their direct supervisors. Refrain from associating behavior-based safety programs with discipline. The goal is to have associates take ownership and help each other stay safe without the fear of recourse.
Track and trend the observations employees make and the related corrective actions. Have employees in attendance pick the most impactful safety observations made each month. Reward the people who contributed them with an award, such as a gift certificate or an item from the company store.
4 - Evaluate the Data
Every safety program should be audited at least once per year. Evaluate categories such as leadership, incident reporting, associate participation, training, behavioral-based safety, capital investment, visibility, internal audits, discipline, and hazard identification. Supplement internal audits with outside resources for a more objective assessment.
When an organization, from its senior leadership to its newest hire, understands and supports these five actions, it is on the path to achieving world-class safety.
5 - Develop Internal Experts
When expertise is needed in safety, cultivate skill sets within an organization. Forklift trainers, crane trainers, spill technicians, first responders and safety team members all can be developed internally. They can receive onsite formal education in their field and obtain appropriate credentials to administer their skills. As part of the company's safety team, members can assist with training, personal protective equipment, safety surveys and audits.
For example, Linetec's safety team consists of 12 volunteer associates covering all shifts. The safety team members receive additional training for OSHA 10- and 30-hour certification. In addition, Linetec also has an ergonomic committee consisting of an occupational nurse, safety coordinator, contracted occupational therapist, and engineering, maintenance and production associates. This group visits with associates in their work areas to assist with injury prevention and work station design.
More Resources
Presentation by Mike Burk on Safety at GlassBuild America 2017


GlassBuild America 2017 Express Learning Glass Handling Panel