Safti First Institutes Education Program for Code Officials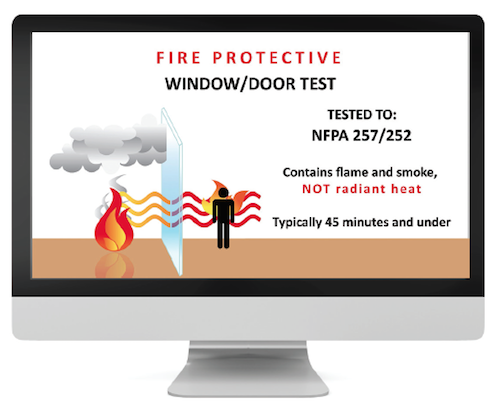 Education is crucial when it comes to elevating the knowledge of glass industry offerings among architects, specifiers and building code officials. Industry companies such as Safti First have taken a proactive approach to ensure that knowledge is available to those key parties.
The need for additional industry education about fire-rated glass products in particular became apparent to Safti First officials during the National Fire Protection Association, nfpa.org, conference this year. During the conference, representatives from the company found that there was no information being disseminated about passive fire protection. "There was a lot of information on active fire protection, such as sprinklers," says Diana San Diego, vice president of marketing, Safti First. "But there was no info on passive or built-in fire protection," of which fire-rated systems are an example.
A balance of both active and passive forms of fire protection is critical to protecting occupants in the event of a fire, says San Diego. To ensure a similarly balanced approach to fire protection education, Safti First took efforts to fill the information gap with its own program, "Designing with Fire Rated Glass," approved by the International Code Council, iccsafe.org. The program was produced to educate code officials about fire-rated systems, San Diego says, and to help them review fire-rated products using current codes and standards.
Production process
Safti First produced the education materials using the form of its existing program for architects, approved by the American Institute of Architects, aia.org, but with content targeted toward building officials, fire marshals and fire protection engineers—the industry officials who evaluate fire protection measures. "The video uses animation, actual test footage, charts and photos to help sustain attention and promote retention of the content," says San Diego. All production was done in-house.
ICC-preferred program
Before submitting their program to the ICC, Safti First applied to be an ICC preferred provider in the "Industry" category as a manufacturer, says San Diego. The ICC Preferred Provider Program "recognizes and promotes ICC-approved educational offerings by a variety of providers as they relate to codes, standards and guidelines, as well as building construction materials, products and methods," according to the organization.
Approval process
Once it was approved as a preferred provider, Safti First submitted its education materials. The program is available as both an online and in-person program and is approved for 0.10 ICC CEU of credit. "The review took a couple of weeks," says San Diego. "The ICC staff is very supportive in the whole process, making it easy." Guidelines for the submission process can be found in the "ICC Preferred Provider Program Manual" available on iccsafe.org.
Companies from all parts of the glass and glazing industry have implemented innovative, out-of-the-box ideas to improve business fro the ground up. Here's an Idea… showcases these sometimes small behind-the-scenes ideas that can make a big impact on a company's bottom line. If you have an idea that you would like to share, contact Norah Dick, ndick@glass.org.