See the World of Glass at glasstec
A look at Germany's glass products, manufacturing and technology show for first-time North American visitors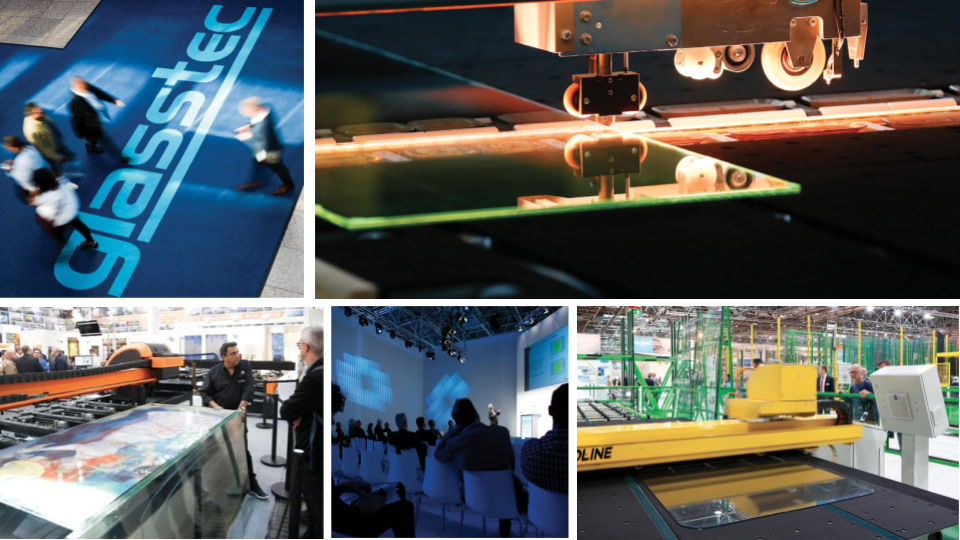 Photos above and below from 2016 glasstec, which hosted 40,200 attendees and 1,235 exhibitors. Photos by Messe Düsseldorf/Constanze Tillman.


Schedule at-a-glance
Dates
Oct. 23-26, 2018
Location
Düsseldorf Fairgrounds, Düsseldorf, Germany
Hours
9 a.m. to 6 p.m. daily
Scope
In 2016, 1,235 exhibitors and 40,200 visitors from around the world took part in glasstec. Organizers also expect more than 1,200 exhibitors and over 40,000 visitors for 2018.
Organizer
Messe Düsseldorf
Admission
Passes are available online at glasstec-online.com starting in summer 2018 at reduced rates or on show site at regular rates.
Every two years, tens of thousands of trade show visitors gather in Düsseldorf, Germany, for glasstec, Europe's prominent glass products, manufacturing and technology show. In 2016, the event drew 1,235 exhibitors and 40,200 visitors. The trade show stretches over nine halls at the Düsseldorf Fairgrounds and presents solutions for the entire value chain of glass, from art to architecture. Representatives from all areas of the industry have testified to its size and scope.
"It's the place to go to see everyone and everything," says Kris Vockler, CEO, ICD High Performance Coatings.
The show is an opportunity for North American visitors to immerse themselves in the world of glass. While glasstec doesn't replace regional and domestic events, it provides North American exhibitors and visitors with an opportunity to track global industry market developments, experience the latest equipment from global suppliers, see emerging product trends and glimpse the future of glass.
"If you're looking for new technology, Europe is always on the cutting edge," says Alex Kastaniuk, president and CEO, Triview Glass. "If you want to be ahead of the curve, or know what's coming down the line, glasstec is the place to be."
"With this kind of scale, you will see more in one place than is possible anywhere else. … It is truly a global show with attendees and exhibitors from around the world," adds Chris Dolan, director, Commercial Segment, North America, Guardian Glass.
This allows North American attendees to track global industry market developments before they reach the North American market. "It's a wave that starts over [in Europe] and ends up over [in North America]," says Steve Bouchard, president, Glass Distributors Inc.
"We feel the effort to attend glasstec is most worthwhile and would recommend North American glass industry professionals make a point to attend at least once during their career," adds Dick Macurak, president, D-M Products Inc.
Glass machinery takes center stage at glasstec, where many exhibitors show operational equipment, giving visitors an opportunity to learn about the direction of glass machinery and equipment.
"We go to stay ahead of the competition," says Ian Patlin, managing partner and president, Paragon Architectural Products LLC. "As fabricators, we're interested in machinery. [At glasstec] you can see operational machinery and equipment that is far ahead of the North American market. You see the leading edge of where things are going in every single aspect of the industry."
The four-day event also offers educational opportunities, with several conferences and congresses. This year's educational sessions will be focused on glass production and markets, new and future technologies, and innovations in architecture.
"It is one of the few places that you can further your glass education in almost an accelerated fashion. Four days of glasstec is like years in the glass business as it relates to your exposure to new technologies and things you never knew existed," says Bernard Lax, CEO, Pulp Studio.
First-time attendees
Despite the show's offerings, some North American industry representatives may be hesitant to attend glasstec because they are unsure how to navigate the logistics of a foreign trade show, according to previous attendees.
"Over the years, I've [been asked] a number of questions about the show, and Düsseldorf in general. 'Where should I stay?' 'How do I get to the show from my hotel?' 'Is the beer really served warm?' There are nearly as many questions as there are people attending," says Jay Campbell, glass solutions specialist, Billco Manufacturing.
For first-time attendees, organizers offer travel information and tips in the sidebar on page 46. Visit GlassMagazine.com/May2018 for additional tips. In general, past attendees say Düsseldorf is easy to navigate, the food is assorted, and the locals are more than willing to help. At the Düsseldorf Fairgrounds, all signage is posted in multiple languages and service personnel all speak English. In hotels and shops, English is common, and most restaurants offer menus in English.
"In any case, relax … If you're still not certain, travel with a friend or colleague, preferably one who has been there. That's how I and many others have learned. And no, the beer is not warm," says Campbell.
North American visitors can get additional support from Messe Düsseldorf North America, and from the National Glass Association, which hosts GlassBuild America: The Glass, Window & Door Expo. The NGA is a marketing partner of glasstec and host of the North American Pavilion at glasstec.
Travel tips
From Birgit Horn, Global Head and Director, glasstec, Offers Tips for First-Time Visitors
Visit GlassMagazine.com/May2018 for additional glasstec advice for first-time visitors, from a longtime glasstec attendee: Bernard Lax, CEO of Pulp Studio.
Getting there
Public transportation is recommended to get to the fairgrounds. There are several trams and buses that go directly to the grounds from both the airport and downtown Düsseldorf. Visitor, exhibitor and press entrance passes to the show allow free use of all public transportation in the Düsseldorf area on all days of glasstec 2018, as well as the two days leading up to and following the show.
Taxi fares are made up of a basic flat rate plus a charge per kilometer; fares are generally higher than in the United States; for tips, round up to the next full Euro amount (maximum 10 percent). Taxis must be boarded at taxi stands.
Rental cars offices are located at the Düsseldorf airport, the main train station and several downtown locations. On the main streets in Düsseldorf, "Messe Düsseldorf" signs show the way to the fairgrounds. Parking signs will lead to one of the fairgrounds' 12 parking lots.
Getting around the show
The electronic visitor guidance and information system makes it easy to find the location of every exhibitor and product category. Terminals are located in every hall.
A shuttle bus service between the halls will be available.
Wear comfortable shoes. There is a lot of walking involved at glasstec.
For changing money to Euros, the easiest and most convenient way is to use an ATM. There are several ATMs directly at the fairgrounds.
Wi-Fi is available in many locations. Wi-Fi access and cards can be purchased on site at the fairgrounds.
More tips
Have cash on hand. Some restaurants, stores and taxi drivers don't take credit cards.
Bring an umbrella and dress in layers. Weather in Germany can be unpredictable.