Sky high challenges for glaziers on NYC's High Line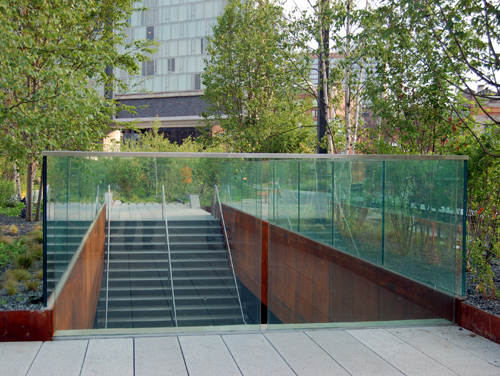 "We had the equipment manufacturer make a vacuum cup lifter that would lift the glass from the truck that was on the ground and automatically bring it over to the exact installation site with the men standing by. With a press of a button the lifter would self level the glass, and a built-in chain fall would lower the glass gradually, guide it over the shoe, and set it in gingerly. And I do mean gingerly, because we had just 1/8-inch on both sides."—Lee Sparaco, president, Allied Glass Co.
The basics: Visitors to New York City's High Line, a mile and a half strip of green parkland three stories above the street on an abandoned railroad line, might overlook one of the most impressive aspects of the project: a glass railing. "No one appreciates what it took to get that glass there," Sparaco says. From the street, passersby can see the soil and rock through the glass. "It looks like someone cut off the train trestle." The Allied team intended to use a robot to set the glass in its narrow shoe at the end of the train trestle. However, due to on-site delays, the glass couldn't be installed until after all of the raised planters, making the space impassable for a robot. The team instead used a custom modified vacuum lifter.
The players: Architect, Diller Scofidio + Renfro, New York City; general contractor, Kiska Construction, Long Island City, N.Y.; glazing contractor, Allied Glass Co., Freeport, N.Y.; installation subcontractor, Jerome Aluminum Products Corp., Westbury, N.Y.; glass fabricator, F.J. Gray Glass, Queens Village, N.Y. ; custom shoe, Custom Steel Contractors Inc., South Kearny, N.J.; vacuum cup lifter supplier, Arlington Equipment, Queensbury, N.Y.
The glass and systems: Glass ballustrade made up of 700- to 800-pound lites of 1 1/16-inch custom laminated glass, secured in a 5-inch-to-6-inch shoe with an architect-specified epoxy.