Solutions on Site
Vibrant GlassBuild America provides venue to address the industry's top challenge: labor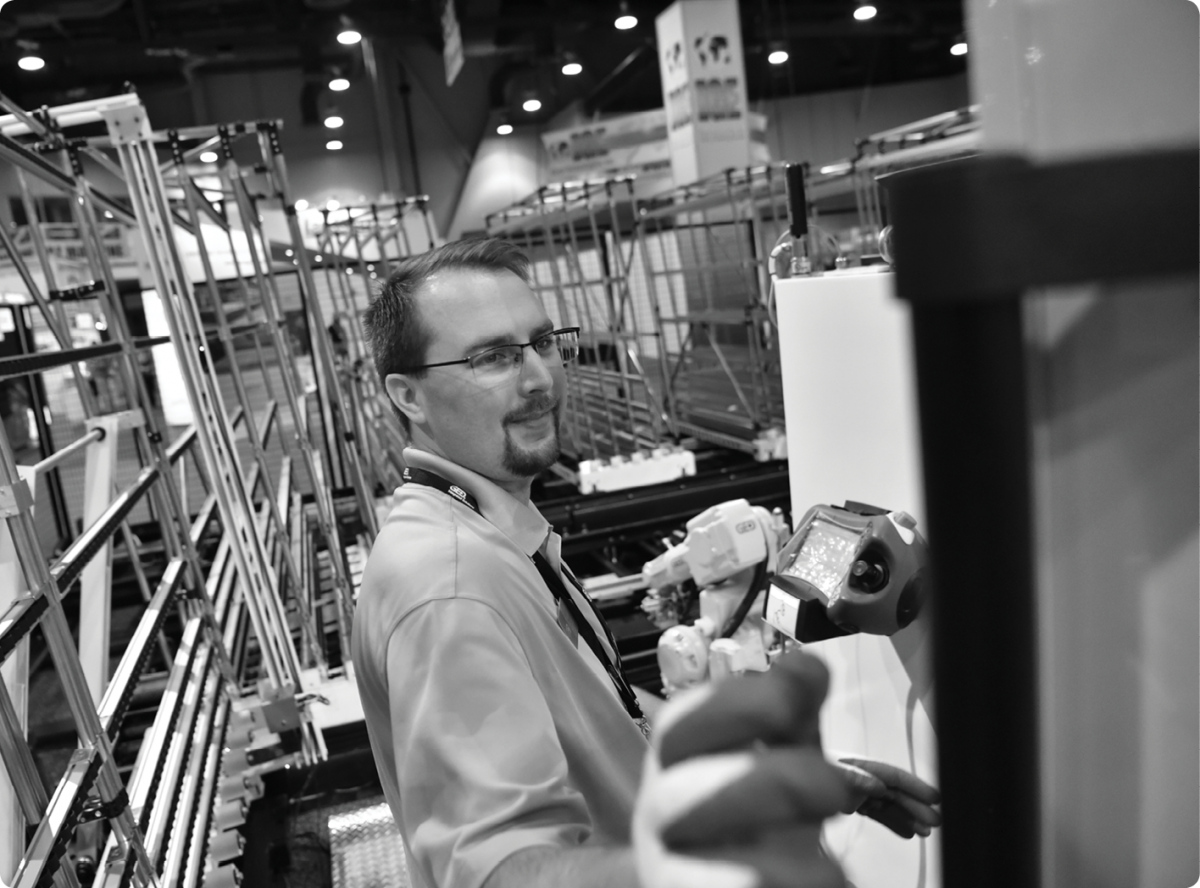 Steve Pesek, research and development electrical engineer for GED Integrated Solutions, demonstrates the capabilities of the company's RoboSeal equipment during 2018 GlassBuild America. RoboSeal is a fully automated robotic gas fill, close and seal system for the manufacturer of insulating glass units. Photo by Jann Hendry.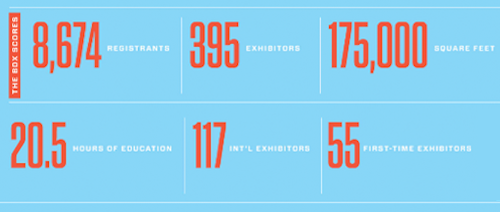 What's keeping glass company owners up at night? Labor—the continued shortage of workers for everything from field and factory roles to office work.
The labor shortage was the chief concern among exhibitors and attendees from all segments of the glass and glazing industry during 2018 GlassBuild America: The Glass, Window & Door Expo, Sept. 12-14 in Las Vegas. The event, hosted by the National Glass Association and cosponsored by the American Architectural Manufacturers Association, the Insulating Glass Manufacturers Alliance, and the Window & Door Dealers Alliance, drew more than 8,600 visitors and nearly 400 exhibitors on a show floor of 175,000 square feet.
"There's a labor shortage throughout the country. The fenestration industry is trying to solve its labor issues by getting more laborers in a market with no workers—trying to hire people that don't exist," says Mitch Lewandowski, vice president of sales for exhibitor Soft Tech.
There is no silver bullet to solving the labor shortage, according to industry representatives. However, glass companies can employ a range of solutions—from increasing automation to adopting innovative recruitment efforts—that ease the pressures of the shortage and allow companies to grow and thrive in the busy construction market, they say. These solutions and more took center stage at GlassBuild America—on the trade show floor, during the educational programs, at networking events and beyond.
Recruitment and training
The shortage of qualified labor has been a top concern for the glass industry—and the manufacturing and construction sectors as a whole—since emerging from the Great Recession. During the downturn, the industry lost droves of experienced industry workers; many never returned, industry representatives say. Of the skilled workers who remain, many are at or near retirement, they say.
"I know you are struggling to find labor—particularly field personnel," says Jenni Chase, content director, NGA. "It used to be 'can we find experienced personnel?' Now it is, 'can we find personnel?'" Chase spoke about the labor shortage and ongoing education initiatives during the Fall Conference at GlassBuild America.
According to industry representatives, the first step to addressing the labor shortage is straightforward, though not easy to achieve: recruit more people, particularly more young people.
"Millennials are the dominant presence in the U.S. labor force, and they're going to be for the next few decades," says Connor Lokar, economist for ITR Economics. Lokar spoke during the Glazing Executives Forum at GlassBuild America on Sept. 12, and he emphasized that recruiting and retaining millennials will be a necessity for companies going forward.
Dustin Anderson, president of Anderson Glass, also addressed the topic of recruiting the next generation during the Forum. He says the industry needs to shift its recruitment techniques and meet next-generation employees where they are—social media. "If you don't have Instagram or Facebook already, you are already behind the curve," says Anderson.
Additionally, the industry needs to promote itself as an innovative and exciting place to work. "We need to make glass sexy," according to one glazier at the Fall Conference meeting. "We need to present that message that when you come to a building, it looks cool because of what we do in our industry."
But recruitment is only half the challenge. A new worker can only be successful with adequate training and education. "The industry is hiring more people without any glass and glazing industry experience," says the NGA's Chase. As a result, training and education are critical at company and industry-wide levels, she says.
As part of its ongoing industry education efforts, the NGA, for example, has launched a range of new courses on its MyGlassClass.com platform to help glass companies onboard new workers, Chase says.
Several glazier attendees at the Fall Conference and at the Glazing Executives Forum expressed concerns that they will dedicate time and money into training a new employee only to have the employee quit or move to a competitor. "I hear people say, 'I spend all my time training someone, but then they go to the guy down the street for $2-$3 more,'" according to one Fall Conference attendee. "But, do you want someone who knows what they're doing to work for you for a little while? Or do you want someone who doesn't know what they're doing to work for you forever?"
Automated solutions
In addition to finding and training new employees, industry companies are also looking to invest in more automation. From handling equipment to fabrication machinery, glass companies are incorporating more automation solutions to help cope with the lack of skilled labor. According to Soft Tech's Lewandowski, "technology is a solution for labor challenges. It automates and keeps younger workers engaged."
"The struggle to find labor is another push for automation," agrees Scott Knisely, president North America, Bystronic Glass Inc. "The abilities and strides being made with products and technology because the industry is changing toward automation is amazing."
"Customers are more concerned about safety and need to be more productive. They ask, 'how do I cope with the labor shortage?' It has to be with machinery," says Rick Carlei, director, Quattrolifts. "There's value in buying machinery to help with personnel challenges."
Automation provides several labor-saving advantages: it allows glass companies to work more efficiently with fewer people, and it can open industry jobs to an expanded pool of workers in terms of physical ability and experience level, exhibitors say. Rick Dominguez, president and owner, Jordon Glass Machinery, says the increased prevalence of lifting equipment responds to this demand. "This kind of equipment allows the industry to open to women. It mitigates the aspect of lifting in fabrication and in the field," he says.
"Customers are more interested in lift-assisted equipment to meet the needs of a changing workforce—moms, veterans, inexperienced workers—[and] additional safety and ergonomics are needed for new labor pools," adds Melissa Blank, a marketing consultant for HHH Tempering Resources.
For profiles of automated and labor-saving product and equipment solutions, and for additional news and updates from GlassBuild America, visit GlassMagazine.com/November2018.
GlassBuild America 2019 returns to Atlanta, Sept. 17-19. For more information, visit glassbuildamerica.com.
For more news from GlassBuild America, check out #GlassBuild and @GlassMag on Twitter, and @glassmagazineNGA on Instagram.
See a selection of Glass Magazine's social media coverage of GlassBuild America on Twitter and Instagram here.
Insights from the Show Floor
Forecasts point to growth
"There are good opportunities ahead for 2019. The economic trend is positive globally, and the market is looking for solutions to keep up, including machinery that is more efficient, safer and improves quality," says Stefano Mauriello, CEO, Forel North America, which has invested in a North American training center to more easily support customers in achieving these solutions. "We are putting a root deep in the ground in the [United States]. We are confident in the economy."
"The industry is in a growth spurt. The market's healthy and growing. … We're growing in Canada, the United States and Mexico, adding facilities and staff," says Tom Italiano, national sales manager, USA for Tremco.
Investment is on the rise
Strong market conditions and high demand are prompting companies to invest and expand. "Customers are adding equipment for capacity reasons, making more capital investments," says Jim Hartley, regional sales manager for Glaston.
"Everyone's expanding their facility, and some of their customers are purchasing their second or third machines," says Frank Zhu, director, Xinglass America.
Tim McGee, sales manager, Glass Coatings & Concepts, adds that the trend toward larger glass sizes is prompting many companies to upgrade their fabrication capabilities.
The industry is going global
"There have been a lot of changes within the industry recently, more big buyers and big players moving around the globe," says Mike Niklas, director of engineered glass systems, J.E. Berkowitz, part of Consolidated Glass Holdings. "We're at a point where architects are demanding new product designs and higher tolerances. Code changes and old technology are converging. We're not operating in a vacuum anymore, and global changes are happening faster."
Big glass tops the trends
"Architects are interested in specifying and designing buildings with more glass to increase the views. And that means you've got to have larger glass to be able to fabricate," says Chris Dolan, director of marketing, North America Flat Glass, Guardian Glass. "This is well entrenched in Europe and in the last couple of years has been a strong trend in the [United States]."
Guardian recently expanded its Carleton, Michigan, facility with the addition of a jumbo coater capable of handling sizes up to 130 inches by 204 inches, and as special orders up to 130 by 240 inches.
Vitro Architectural Glass also launched jumbo coating capabilities this year, with the $55 million addition of a jumbo coater at its Wichita Falls, Texas, facility. "Demand is really strong for jumbo sizes," says Rob Struble, manager, brand and communications. Not only will the coater help the company meet demand for oversized high-performance glass products, its speed and advanced capabilities open the door for additional research and development opportunities, he says. "The jumbo coater could allow us to conceive of coatings that were never achievable before," Struble says.
Equipment and machinery suppliers have responded to the oversized glass trend with new processing and handling solutions. "Non-glass companies are creating solutions to accommodate push for larger glass sizes and specialty applications," says Barry Wood, president, Wood's Powr-Grip. "The machinery has to accommodate new products, but there's an additional safety and ergonomic aspect to these products as well. The machinery needs to address both." In 2019, Wood's is poised to launch a new lifter that features a load scale for additional safety during oversized glass installations.