Speak up: New age of decorative glass
Options and trends in the market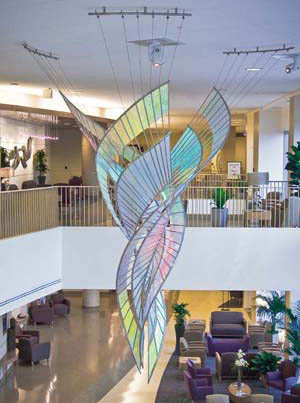 Artists Lyle London and Richard Altman purchased 20 full-size sheets of dichroic glass for a commissioned project by the Renown Health Center in Reno, Nev. They created two dramatic sculptures, resembling DNA, suspended in the air. The dramatic "Double and Triple Helix" caught the attention of the local media and the national art community.
Modern architectural design demands flexibility and innovation, themes that define today's decorative glass market. What was once a small niche in the industry has exploded to include dozens of glass manufacturers and distributors and a multitude of new products.
Decorative glass is being specified for large commercial and residential installations. Its quality has improved dramatically in the past few years, and it is being produced in larger, more useful sizes. Painted glass can be custom ordered to match any color a designer might need and has been reformulated to be temperable. Dichroic glass, which was unavailable in full-sheet formats, is now offered in sizes as large as 33 square feet. Colored acid etched glass, custom textured kiln-formed glass and designer glass blocks also have made recent notable market entries. Meanwhile, classic glass choices, including clear textures, colored stained glass and tinted float glass have been reintroduced, offering a much wider selection of colors, patterns and opacities.
Consumers are insisting on more sophisticated and unique designs for their offices, retail centers and homes, and designers are demanding more choices, flexibility and creative freedom. Designers also are calling for customization to ensure their work is unusual.
At a time when the rest of the architectural industry is facing slowdowns, the decorative glass market continues to expand rapidly.
New options in painted glass
Architectural painted glass features exciting changes in the decorative glass market.

• A handful of companies now offer large-format painted glass on high-performance sheets designed for commercial use. Some use a heat bonded paint that makes the color more durable and resistant to chipping. Painted glass has been popular for full wall applications, backsplashes and a variety of home décor uses. State-of-the-art computerized mixing systems allow for infinite color variations and color matching. Designers, notorious for specific color demands, can now order exactly what they need.

• After years of research, manufacturers have perfected temperable painted glass that can be processed after sizing. For contractors, this means painted glass can be cut to exact specifications, drilled if needed, and still remain temperable. Tempering is the most affordable way to produce safety glass and can be done locally or by the manufacturer. Tempering opens up painted glass to a variety of applications that previously were not an option. Colorful glass doors, walls, glass accents, shelving, balustrades and large-scale commercial installations are now possible using painted glass.

• Large-format dichroic glass has intrigued many contemporary designers. The appeal of dichroic glass is in the color reflected in its surface that changes with the angle of view. The cost of full-sheet dichroic architectural glass is significantly less than the dichroics used in art glass and dichroic films, opening up opportunities for use in large-scale commercial installations.
Years to come
With a slowdown in new construction and a shifting focus toward renovation, the decorative glass market is positioned for years of growth. Decorative glass offers sophisticated design options and is surprisingly affordable. As designers continue searching for flexible and creative outlets, more will discover decorative glass. The industry will see a surge of requests for custom colors and textures and one-of-a-kind products created for specific installations. Painted glass, temperable glass and dichroic glass will become commonplace in office buildings, retail stores, hospitality venues and healthcare centers. This market has infinite room for expansion with the addition of new manufacturers, distributors and innovative new products and through the realization of new applications.