Supply & Demand
After a 2017 defined by supply woes, the North American float industry eyes normalization and growth in the coming year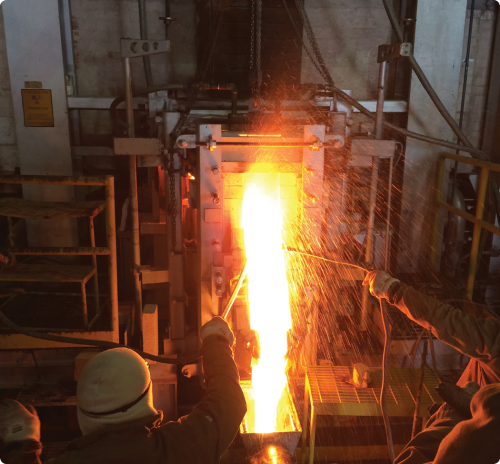 Above: Guardian Glass employees at work on the hot end of the furnace. All hot-end employees work in teams. Below: The Elmhurst Public Library, Queens, New York, which opened in 2017, features advanced glazing from NSG Group and glazier partner W&W Glass. The project includes a high-performance all-glass cube of Pilkington Planar point-supported walls with insulating and fritted low-iron Pilkington Optiwhite glass. The overhead and fin glass panes are also laminated. Photo by Marpillero Pollak Architects.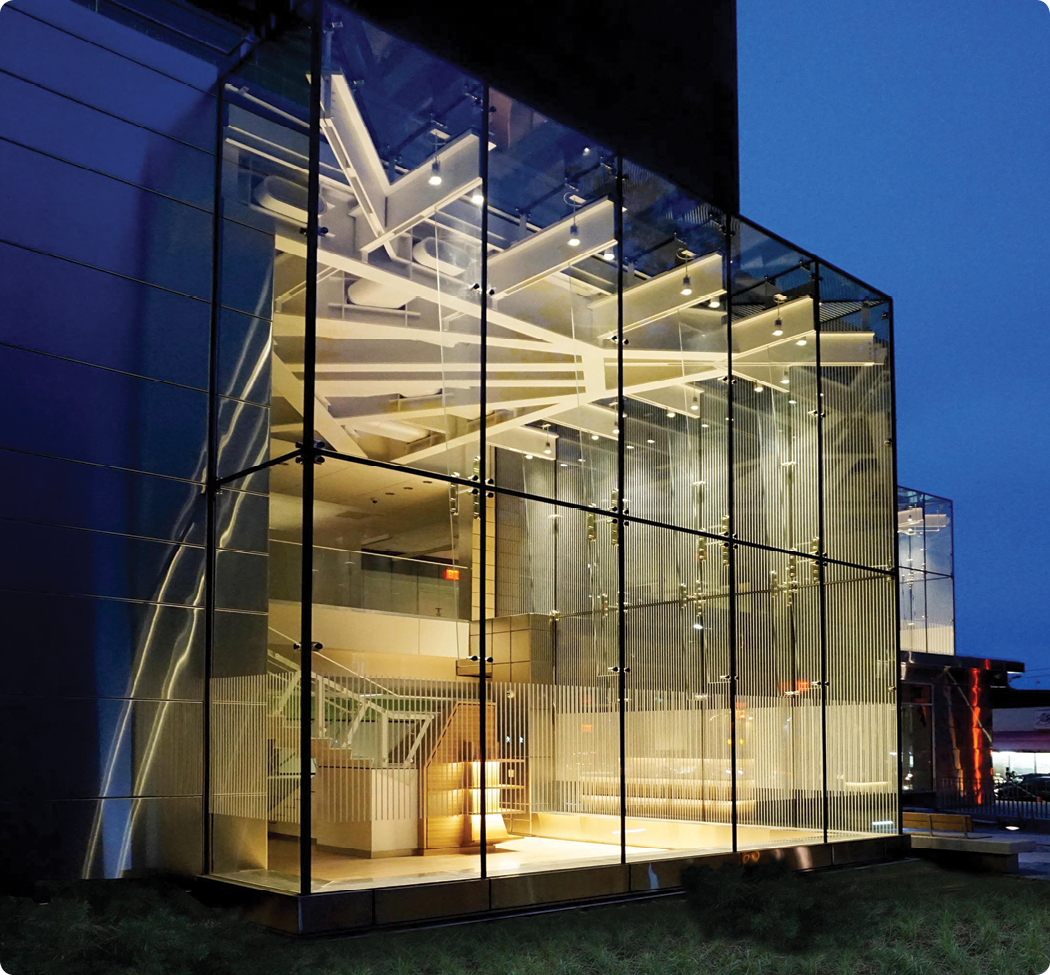 Source: Global float glass statistics from Glass Magazine's World of Glass database and interactive map, at WorldofGlassMap.com.
At the close of 2017, Glass Magazine asked representatives from several leading glassmakers to describe the state of the North American glass industry in one word. The responses: "tight," "challenge," "resilient." Richard Beuke, vice president of Vitro Architectural Glass, looked to Charles Dickens for the best descriptor: "'It was the best of times, it was the worst of times.' When it comes to the glass industry in 2017, no statement could be truer," he says.
The glass industry of 2017 was defined on the one hand by high demand and strong market conditions, and on the other by significant supply constraints. "'Where can I get glass?'" is the biggest concern of North American customers, says Stephen Weidner, vice president of NSG Group.
This last year saw unprecedented, and unexpected, disruptions in glass manufacturing, significantly affecting the glass supply in North America. In March, a tornado hit NSG/Pilkington's Ottawa, Illinois, float glass facility, leading to cold repair of the plant's furnace. The incident was followed in June by a gas explosion at Guardian Glass's DeWitt, Iowa, float glass plant that left the furnace offline for extended repair. The end of the summer saw a three-alarm fire break out at Vitro Architectural Glass' plant near Carlisle, Pennsylvania, caused by a leak in one of the two melting furnaces.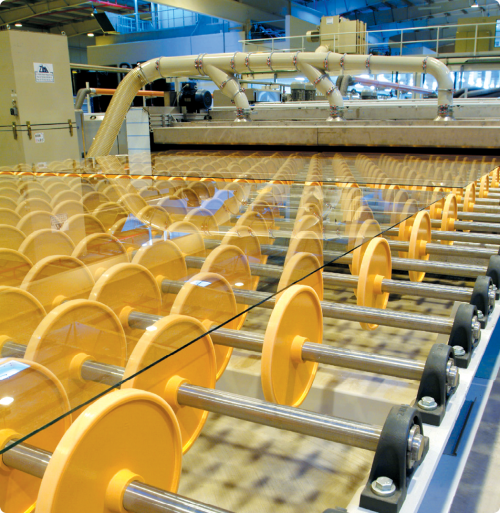 Guardian Glass on the float line in Luxembourg.
"I can't recall or imagine any time when the glass industry has suffered so many float glass accidents causing this level of capital damage," Beuke says. "While strong demand for our products is obviously positive, it has resulted in supply challenges for the entire industry."
The situation has been made worse by a number of other factors, including labor and logistics. "Full employment in the [United States is] making it difficult for all levels of the industry to find employees," Weidner says. Additionally, "the industry is facing "severe capacity limitations with logistics—[an] inability of our industry partners to find drivers to deliver materials," he says.
Representatives from North American glass manufacturers say they strive to work closely with customers to reduce the negative impacts of supply constraints. "We, as an industry, continue to navigate these challenges," says Beuke. Manufacturers say they are working to increase coordination across the supply chain and encourage customers to preplan as much as possible.
Glass imports have become another option to further ease pressures. Israeli glass manufacturer Phoenicia Flat Glass Industries, for example, has been working to increase its presence in the North American market, says Rina Chakour, vice president of marketing and business development. Importing, however, is not without its challenges. "The main challenges for importing glass are planning and stocking the right quantities," Chakour says. To be successful, manufacturers must successfully forecast demand for products, she says.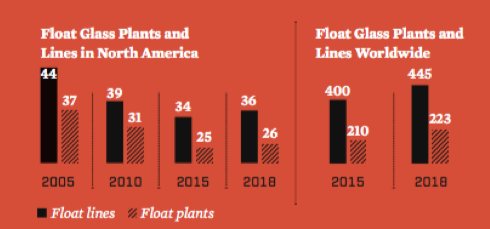 Left: From 2005 to 2015, North American float production fell from 44 lines in 37 plants to 34 lines in 25. After a tumultuous year in float production in 2017 with three unplanned float outages, production is set to expand in 2018, with 36 operating float lines in 26 plants. Right: Glass Magazine's global database of operating float lines increased between 2015 and 2018, from 400 lines in 210 plants to 445 lines in 223 plants.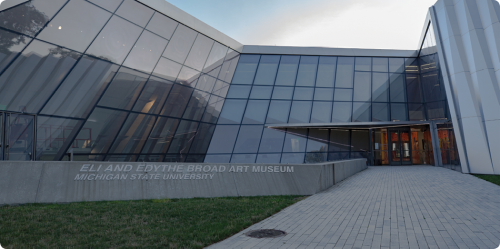 A slanting wall of oversized glass lites fronts the Eli and Edythe Broad Art Museum at Michigan State University in Lansing. Each of the laminated, triple-glazed glass panels weighs up to 1,500 pounds and measures up to 4 by 15 feet. The high-performance glass is Guardian SunGuard High Selective SuperNeutral 70/41 and was produced at Guardian Glass' Luxembourg plant. Photo by Jason Meyers.
Supply normalization
The outlook for 2018 appears brighter for the North American industry in terms of supply. Two of the three unexpectedly downed float lines were back online by the end of 2017—the Guardian DeWitt line pulled its first glass in November, and the NSG/Pilkington Ottawa line resumed operations in December.
"In 2017, our focus became maintaining a consistent supply of glass to our customers and key projects following our disruption in DeWitt, Iowa," says Andy Russo, director of marketing, Americas, Guardian Glass. "That plant is now once again in production and inventories are getting back to normal – so we see significant stabilization of our operations in 2018."
Vitro's production will ramp up in 2018 as well, as the company gets "back to business as usual," Beuke says. The Carlisle plant resumed off-line operations in late August, and one of the two float lines resumed production shortly after that. The second line, most directly affected by the leak and subsequent fire, will be rebuilt with completion slated for mid-2018, according to company officials.
North America will also see a long-term injection of float supply with new glass plants. Saint-Gobain announced plans to open a new float production line in Saltillo, Mexico, that is scheduled to become active in 2020. Additionally, leading Chinese glass manufacturer Xinyi Glass announced in November plans to build a $450 million float glass plant in Ontario, Canada. The facility marks the return of float glass production to Canada, which last saw float manufacturing in 2008. At press time, no details were available on when construction will begin.
Looking globally, glass production is on the rise in many emerging and mature markets worldwide. In Europe, both NSG Group and AGC Glass Europe, announced the restart of float lines in Italy. Saint-Gobain reopened its newly renovated Aniche-Emerchicourt float plant in the north of France, which was mothballed for four years. Additionally, Guardian Glass broke ground on a second float plant facility in Czestochowa, Poland, which is scheduled to be operational in 2019.
Production expanded in emerging markets as well, with several announcements of new or anticipated plants. A new float glass plant began operations in northern Vietnam, and Asahi India Glass opened a new plant in Taloja, India. New float facilities were also announced in Bangladesh, Egypt and the Philippines.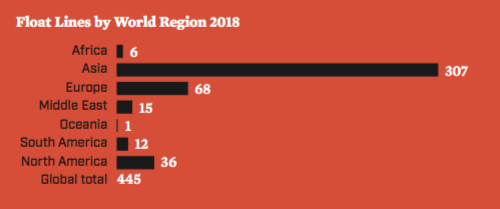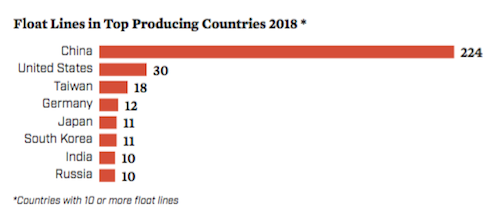 Asia continues to dominate float glass production worldwide, with 307 operating lines. Europe follows with 68 and North American with 36. By country, China is by far the leader in float glass production, with 224 lines operating to Western standards. The United States comes in a distant second, with 30 operating lines, followed by Taiwan with 18.
Outlook bright
Beyond supply, glass companies can look forward to higher demand and new value-added product offerings in 2018, sources say.
"Leading economic indicators are signaling healthy conditions for the glass industry in the year 2018. Consistent growth across the various building sectors, new design contracts and healthy backlogs all point to continued improvement," says Mark Twente, director of marketing for AGC Glass North America. "The main difference [between 2017 and 2018] is the level of confidence in the market stabilizing. This confidence is spurring further investment and advancing technology, which makes 2018 look very promising."
One of the stand-out advancements for the glass industry in 2018 will be the addition of jumbo coating capabilities. Throughout 2017, manufacturers have made notable investments in new coating operations in the United States, including adding coating capabilities for oversized glass. Vitro began construction on a jumbo coater at its Wichita Falls, Texas, plant in May, and Guardian broke ground in late summer on a jumbo coater at its Carleton, Michigan, facility.
The jumbo sizes will allow customers to meet the needs of the expanding market for larger lites, while further addressing supply concerns, says Russo. "We are moving now to help architects and designers realize their expansive glass vision, while working with our fabricator customers to help them gain efficiencies," Russo says. "As we launch our first jumbo coater in North America … we should see a transition to larger glass panels which will not only provide architects the ability to design around larger vision areas, but will also allow our customers to utilize more glass out of every glass sheet while improving operating flexibility through fewer SKUs and reduced cost."
This last year also saw production advancements, with continued improvement in the environmental performance of glass manufacturing facilities, both domestic and international. Several leading manufacturers announced efforts to control emissions at their glass plants. Vitro recently implemented new processes to reduce nitrogen oxide emissions at its Fresno, California, manufacturing facility. Guardian Glass Europe installed a new oxide emissions control system at its float glass plant in Dudelange, Luxembourg. Additionally, AGC Flat Glass Italia, Pilkington Italia and Saint-Gobain inaugurated renovated float lines this year that were also updated to improve both technical and environmental performance, including the reduction of oxide emissions.
State of the industry
The notable developments witnessed by the glass industry in 2017, from the line closures to the plant announcements, shape the state of the industry in 2018 and beyond. For a comprehensive timeline of major 2017 float glass events and announcements, see below.
To view an interactive map of 223 worldwide float glass plant locations, visit Glass Magazine's World of Glass Map at WorldofGlassMap.com. The site allows users to search for companies or individual plant locations, access website and contact information for float manufacturers, and purchase a subscription for access to the complete database. Users can also submit information about new or existing plants to ensure the database and map contain the most up-to-date information. For questions about the World of Glass Map, contact Norah Dick, ndick@glass.org.
Glass in 2017
December 2016
Acquisition: Vitro S.A.B. de C.V. signed a definitive agreement to acquire the Pittsburgh Glass Works LLC automotive original equipment manufacturer glass business from LKQ Corp. for approximately $310 million. The deal included the acquision of PGW's two float lines at its Meadville, Pennsylvania, facility.
March
Unplanned line outage: The Ottawa, Illinois, float glass plant for NSG Group/Pilkington sustained severe damage after being hit by a tornado. During subsequent repairs to the plant, the company announced repair of the plant's one float line, carrying out a cold repair in fiscal year 2018 that was originally scheduled for fiscal year 2020. As of press time, the line is set to resume operations in December 2017.
Repair: Guardian Glass announced it will commence a capital project to repair the float glass furnace and expand glass production at its Porto Real, Brazil, float glass plant.
May
Jumbo coater announcement: Vitro Architectural Glass broke ground on the construction of a $55 million jumbo magnetron sputtered vacuum deposition coater at its Wichita Falls, Texas, plant.
Plant reopening: Saint-Gobain reopened its Aniche-Emerchicourt float plant in the north of France. The renovated plant, which was mothballed for four years, was updated for increased technical and environmental performance.
Line reopening: Cardinal Glass Industries completed repairs to its Durant, Oklahoma, facility. It is operational, with added capacity.
June
Unplanned line outage: Guardian's float glass plant in Dewitt, Iowa, experienced a fire, caused by an explosion. Operations were suspended while the line underwent repairs. The company announced the plant was back online Nov. 8.
Coater announcement: AGC Glass North America announced plans to install its new MSVD coater in North America. The coater's location and installation date are to be determined.
Expansion announcement: Saint-Gobain announced plans to open a new float production line in Saltillo, Mexico. It is scheduled to become active in 2020.
August
Jumbo coater announcement: Guardian announced the construction of its 12th jumbo coater worldwide, to be located at its Carleton, Michigan, manufacturing complex and scheduled to launch in 2018.
New plant announcement: Guardian announced that construction will start on its second float and coated glass plant in Czestochowa, Poland. Operations will commence in 2019. The plant will be located adjacent to the company's existing Czestochowa float plant, which is set to undergo repair in 2018.
Unplanned line outage: A three-alarm fire damaged Vitro's float plant near Carlisle, Pennsylvania. The fire was caused by a glass leak in one of the facility's two melting furnaces. While offline production resumed at the plant by the end of August, the damaged float line was down for repairs.
September
October
New plant opening: A float glass manufacturing plant started operations in Ninh Binh's Khanh Cu Industrial Zone, located in a northern province of Vietnam.
Line reopening: Pilkington Italia restarted its float line at its Porto Marghera plant. The new line will produce roughly 600 tons of float glass daily.
Expansion announcement: CTIEC signed an agreement with Nasir Float Glass Industries Ltd. to construct a second float glass line for the company in Bangladesh.
November
Line reopening: AGC Flat Glass Italia inaugurated its newly refurbished float line in Cuneo, Italy, following a cold repair process of three months.
Environmental protections: Guardian Glass Europe installed a new emissions control system at its float glass plant in Dudelange, Luxembourg. The system is designed to reduce oxide emissions from the float glass process.
New plant opening: Asahi India Glass announced it is ready to start commercial production at its new float plant in Taloja, India.
New plant announcement: Xinyi Glass Holdings selected Ontario, Canada, to develop its new float glass plant, its first in North America. The plant will mark the return of float production to Canada, which has not had glass manufacturing since 2008.
Visit GlassMagazine.com/JanFeb2018 for links to additional resources, including:
Glass Magazine's interactive map and database of global float glass production, World of Glass Map, WorldofGlassMap.com.
An interview with Rina Chakour, vice president of marketing and business development, of Israeli glass manufacturer Phoenicia Flat Glass Industries.