Times Square glows with glass icon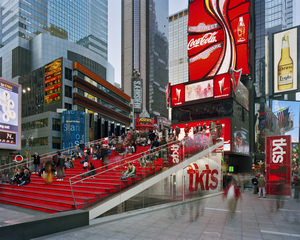 Copyright Paúl Rivera/ArchPhoto
"Getting this building from the drawing board to Duffy Square needed the combined efforts of the architects, engineers, contractors and installers. ... This sort of project, where the precise location of each part installed affects the installation of the parts that follow, was a wonderful challenge. We had to design and provide unique shoring and clamping devices to maintain the partially built structure as a safe and secure place to work." -- Michael Stellato, executive project manager, David Shuldiner Inc.
The basics:
Completed in October, the TKTS Booth in Times Square, New York, cost $19 million. Discount outlet for same-day tickets to Broadway and off-Broadway productions, the booth doubles as public amphitheater with 27 red glass steps illuminated by light-emitting diodes. The design, inspired by Australian architectural firm Choi Ropiha, consists of two independent sections: the glass steps and the glass structural supports, and the booth contained in a free-standing fiberglass shell under the amphitheater, visible through the structure's glass side walls. This project was built on the revitalized Father Duffy Square, representing a collaborative effort between the Coalition for Father Duffy, Times Square Alliance and Theatre Development Fund, all based in New York.
The players:
Architect, Perkins Eastman, New York; general contractor, David Shuldiner Inc., Brooklyn, N.Y.; glazing contractor, David Shuldiner Inc.; glass fabricator, Eckelt Glas Gmbh, Austria, subsidiary of Saint-Gobain Group, France; construction manager, David Haller Inc., New York; structural engineer/ structural and facade consultants, Dewhurst Macfarlane and Partners PC, New York; stainless steel connections fabricator, Lazer Engineering (Scotland) Ltd., Scotland; steel redundancy beam supplier, TrussWorks International, Santa Fe Springs, Calif.
The glass and systems:
Made of triple-laminated heat-strengthened glass panels, the 1 ½- inch thick steps measure 45 feet wide at the top and taper to 32 feet at the base. Two-foot deep stair treads span 25 glass stringer beams that provide lateral bracing for the structure. The 28-foot long stringer beams consist of three double-laminated sections arranged on a splice-staggered principle to maximize strength and transparency and minimize stainless steel connections. Load-bearing north and midwalls are made of 2-inch thick glass panels. TrussWorks supplied internal steel redundancy beams within the glass stairway structure to take the load in case of catastrophe.