Top 50 Glaziers: 2018 Annual Report | The List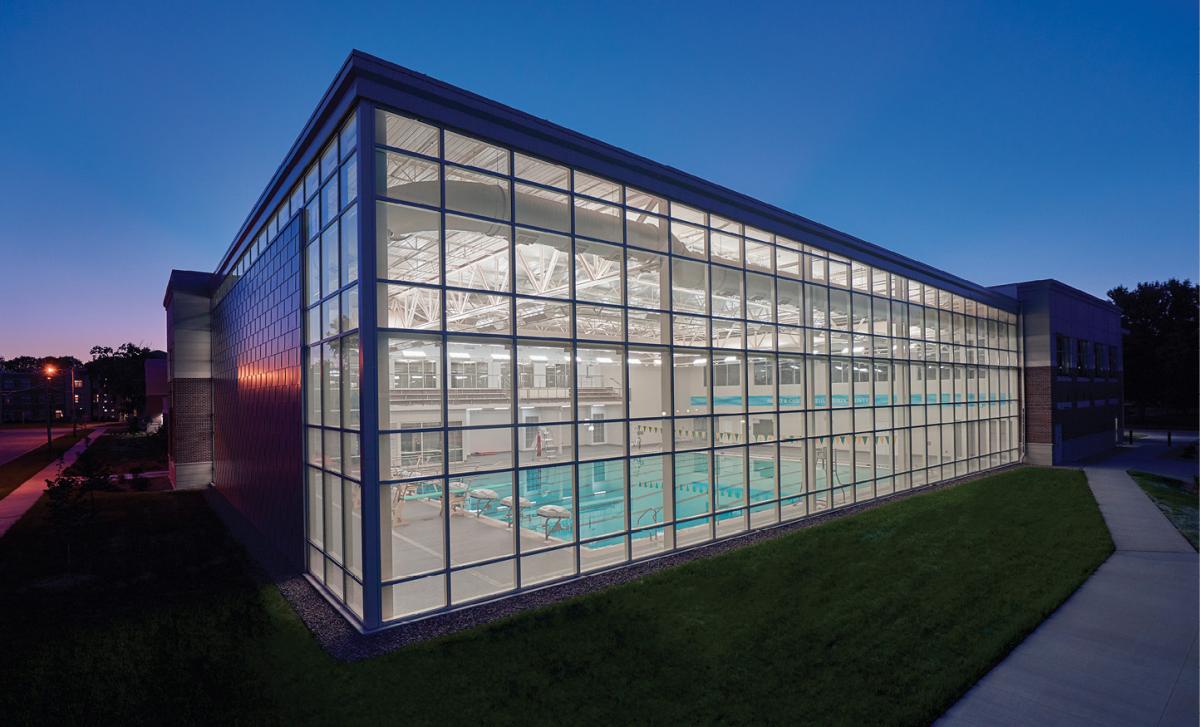 48. H.J. Martin and Son
Mulva Family Fitness and Sports Center at St. Norbert College, De Pere, Wisconsin
The annual Top 50 Glaziers list represents what Glass Magazine editors believe to be the largest contract glazing companies serving the United States, based on reported sales volumes. Glazing firms are then ranked within each sales category.
Information from 47 of the Top 50 listed companies was reported directly to Glass Magazine from our Top 50 survey submissions, completed by each company, or from financial reports from publicly traded parent companies. In the instance that companies decline to provide information, we use independent sources to determine the most accurate ranking.
If your company belongs on the list, or you would like to update its information, please contact us. It is only with the cooperation of individual companies that Glass Magazine's Top 50 Glaziers rankings can be as accurate as possible. Questions or comments about this year's rankings, and requests to be included next year, can be sent to Norah Dick at ndick@glass.org.
$600+ MILLION
01
Permasteelisa North America*
Windsor, CT
Previous rank: 1
U.S. locations: Seven
*rank based on sales estimate, from parent Lixil Group Corp.'s FYE2017 Financial Results Summary.
$400-500 MILLION
02
Enclos Corp.
Eagan, MN
Previous rank: 2
U.S. locations: 15
Full-time employees: 631
Total employees: 634
$200-300 MILLION
03
Benson Industries
Portland, OR
Previous rank: 4
U.S. locations: 7
Full-time employees: 725
Total employees: 725
04
Harmon Inc.
Bloomington, MN
Previous rank: 3
U.S. locations: 16
Full-time employees: 558
Total employees: 561
05
Walters & Wolf*
Fremont, CA
Previous rank: 5
U.S. locations: Seven
Full-time employees: 700
Total employees: 700
*rank based on sales estimate
$100-200 MILLION
06
W&W Glass LLC
Nanuet, NY
Previous rank: 6
U.S. locations: One
Full-time employees: 200
Total employees: 200
07
Crown Corr Inc.
Gary, IN
U.S. locations: Four
Full-time employees: 300
Total employees: 300
08
GM&P Consulting and Glazing Contractors Inc.
Miami
Previous rank: 7
U.S. locations: Two
Full-time employees: 91
Total employees: 91
09
Binswanger Glass
Memphis, TN
Previous rank: 9
U.S. locations: 61
Full-time employees: 892
Total employees: 917
10
Elicc Americas Corp.*
Escondido, CA
U.S. locations: Two
Full-time employees: 73
Total employees: 73
*Elicc Americas Corp. is a new company on Glass Magazine's Top 50 Glaziers list. The company shares members of its leadership with Jangho Curtain Wall Americas Co.; however, Elicc officials state the company is not officially affiliated with Jangho Curtain Wall.