Top 50 Glaziers: 2018 Annual Report | The Market
An in-depth, by the numbers look at the U.S. glazing market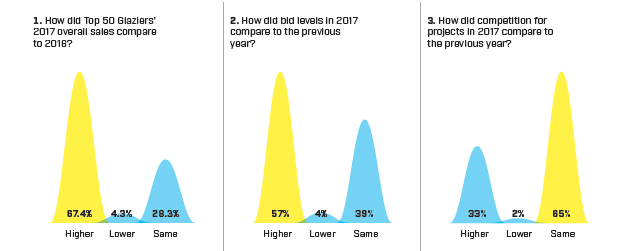 1. Top 50 Glazier sales reflected continued growth for the industry, as a significant majority again reported higher sales in the last year. Sixty-seven percent of contract glaziers reported higher year-over-year sales in 2017, with 28 percent reporting a decrease in sales. These figures register a similar pattern to 2016's report, when 74 percent of glaziers reported growth and 24 percent showed a decrease in year-over-year sales.
2. Fifty-seven percent of reporting companies stated an increase in bid levels in 2017 compared to the previous year.
3.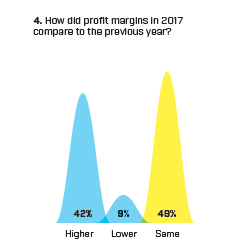 A majority of respondents reported no change in the level of competition for projects in 2017 compared to 2016. Sixty-five percent of submitting companies said competition levels were about the same as the previous year, with 33 percent reporting higher competition in 2017.
4.Profit margins held steady in 2017. Forty-nine percent of submitting companies reported having the same profit margins as the previous year, with 42 percent of companies experiencing gains in profits. Only nine percent of submitting glaziers experienced decreased margins.
5. New construction continues to dominate work for most Top 50 Glaziers. In 2017, 84 percent of work for Top 50 companies was new construction, up from 81 percent in 2016.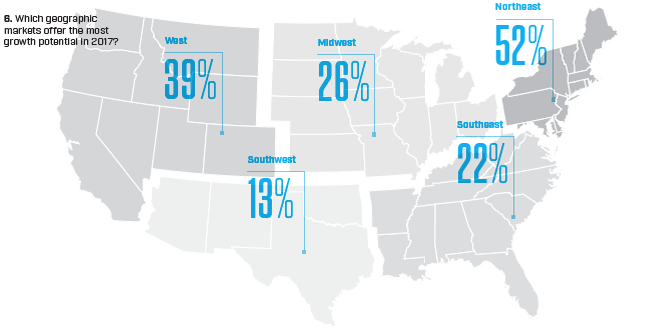 6. Survey respondents were asked to select the U.S. regions that have the most potential for future growth. Similar to the previous year's predictions, respondents marked the eastern United States as more likely to experience gains, with 52 percent of respondents selecting the Northeast as likely to show increased activity, and 22 percent choosing the Southeast. Respondents also indicated healthy growth on the opposite coast, with 39 percent selecting the West as having growth potential, and a more modest 13 percent indicating the Southwest. More survey respondents forecast growth in the Midwest in this year's survey, with 26 percent indicating growth potential, compared to last year's score of 16 percent.
---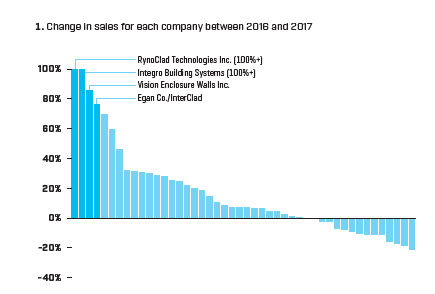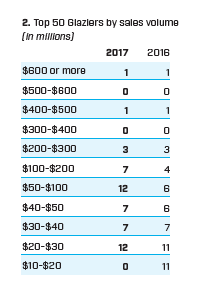 1. Of the 31 companies that reported sales increases from 2016 to 2017, Rynoclad Technologies Inc. and Integro Building Systems, both new on the Top 50 Glaziers List, registered year-over-year sales increases of more than 100 percent. Four companies saw sales increase 50 percent or more, another eight companies experienced increases in the 25 to 50 percent range, and 17 of the Top 50 submitting companies reported sales increases from 0 to 25 percent. The reported sales decreases were more modest in 2017 than in 2016. Of the 13 companies reporting sales decreases, only one was over 20 percentage points. Five companies saw decreases of less than 10 percent, and the remaining seven companies experienced decreases between 10 and 20 percent.
2. As the market strengthens, Top 50 Glaziers continue to climb in terms of their sales ranges. In 2017, all Top 50 companies reported sales above $20 million—the first time this has occurred since Glass Magazine began the Top 50 report in 1992. Twelve companies reported gross sales above $100 million, up from nine companies in 2016. Another twelve companies reported sales in the $50- to $100-million range for 2017, double the number that reported in the same range the previous year. Companies registering in the $20- to $30-million range remained fairly steady at 12, up slightly from last year's 11 companies.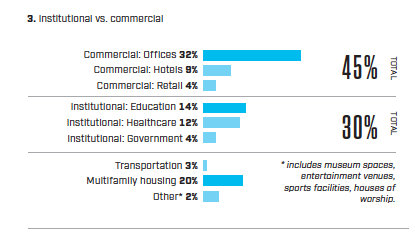 3. An average of 45 percent of work for Top 50 Glaziers in 2017 was in the commercial sector, with 30 percent of work representing institutional projects. A breakdown by segment shows office construction again in the lead with 32 percent, followed by multifamily housing at 20 percent, and education projects at 14 percent.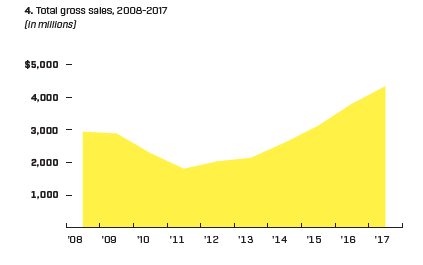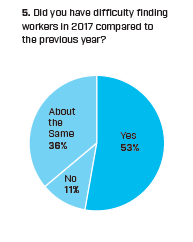 4. Top 50 Glaziers' combined gross sales have risen consistently for the past six years. Total sales reached their lowest point in 2011 post-Recession, registering at $1.8 billion, down almost 40 percent from 2008's posting of $2.9 billion. As testament to the strengthening market, this year's combined total of $4.3 billion represents year-over-year growth of 140 percent from 2011.
5-6. Labor continues to be a top challenge for U.S. glazing contractors. Fifty-three percent of companies reported more difficulty finding workers in 2017 than 2016. The toughest positions to fill included glaziers and field labor, and project managers. Read more about what companies are doing to find, train and retain workers below.

In what ways has your company successfully recruited, hired or trained employees in the last year?
"We hire from colleges or hire workers with minimal experience and train them ourselves."
—Dan Romine, vice president, Architectural Glass & Aluminum.
"In 2017, supervisors and managers were required to undergo Equal Employment Opportunity Commission training. The purpose of this training is to prevent, identify and correct discrimination, harassment, retaliation and abusive conduct in the workplace. Given that we have employees from overseas, the company felt this training—which will be ongoing every two years—is critical to keep our staff educated about labor laws."
—Antonio Monserrat, sales manager, seele Inc.
"Metropolitan Glass recruits from areas outside of the traditional glass industry, [such as] architecture and other construction trades with workers who have general construction skills."—Marty Richardson, sales manager, Metropolitan Glass Inc.