Top 50 Glaziers 2019 | Market
Commercial Construction, Northeast Region, Drive Market

Right: Market conditions in 2018 compared to 2017.
The bidding environment showed signs of mild improvement in 2018. About half of reporting Top 50 companies posted higher bid levels, with only about 5 percent reporting a decline. Competition remained steady as 59 percent of companies said levels were the same as the year prior. About a third of companies also reported an increase in profit margins, with another 62 percent reporting no change from last year.
New construction dominated work for Top 50 companies, with about 84 percent of jobs. Looking by sector, commercial projects accounted for 48 percent of work, with institutional at 21 percent and multifamily at 15 percent. This marks a slight shift from 2017, when 45 percent of the market was commercial, 30 percent institutional and 20 percent multifamily.
In terms of geographic markets, the Northeast offers the most opportunity for growth, according to Top 50 companies. Nearly 50 percent of survey respondents identified the Northeast as having the most potential for growth in 2019. The Southeast followed with 33 percent and the Southwest with 31 percent.
"With a great quantity of projects out to bid, the challenge is to be selective and spend our time on the ones that are the best fit for our company. In 2018 we really focused on aligning ourselves with the right contractors and projects."

— John Cashel, president, Above All Storefronts



Which geographic markets will see the most growth in 2019?*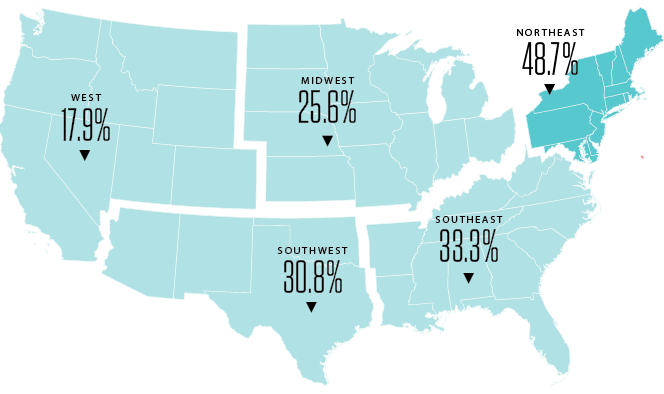 New construction vs. renovation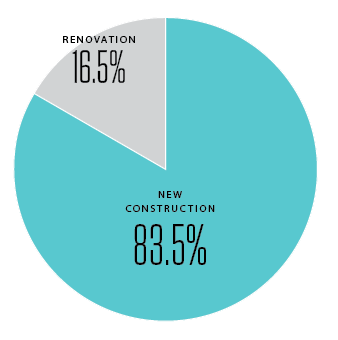 2018 projects, by construction sector
Click to see larger image.

Top 50 Glaziers 2019 Report