Top Metal Companies 2017: The 6th Annual Report
Metal manufacturers invest in training, automation and technology to meet customer demands and maintain success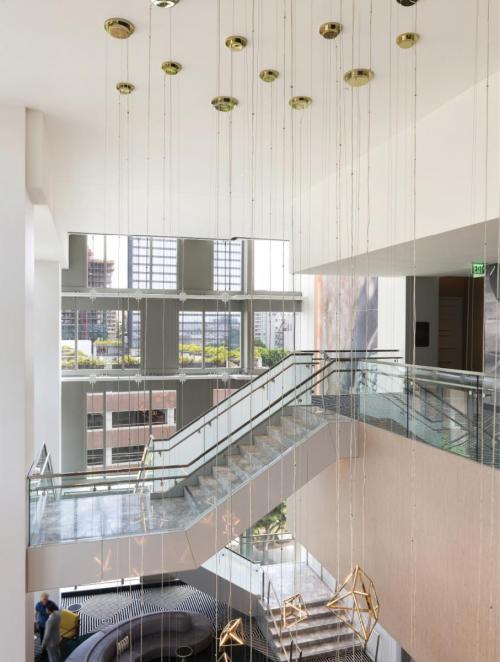 C.R. Laurence–U.S. Aluminum
Metropolis // Los Angeles
Photo by Geoff Captain, courtesy of C.R. Laurence-U.S. Aluminum.
Metropolis, a mixed-use development in downtown Los Angeles, sprawls over 6.3 acres and includes three residential towers, a hotel, a 60,000-square-foot retail pavilion, as well as high-end restaurants.
The expectedly tight schedule of such a large, urban-set project was compounded by the lack of a preconstruction period, says Andrew Haring, vice president of marketing, C.R. Laurence Co. - U.S. Aluminum. The company fabricated interior and exterior systems, including over a mile of GRS base shoe, for the project. "As basis of design, CRL was supplying multiple scopes to several different glazing subs, coordinating and accommodating multiple phases and delivery schedules with different project partners."
Speed of construction became even more paramount when the owner asked for early move-in for new condo owners, before the rest of the development was completed. "This significantly compounded an already extremely tight construction schedule, having many trades work around the clock," says Haring.
The metal systems from CRL - U.S. Aluminum helped the project meet both its design and safety goals, company officials say. The company custom-designed the all-glass entrances. The entrances on first-floor entryways feature the company's Blumcraft panic handles, as well as DRS door rails, both designed to maximize views and withstand the high foot-traffic of the Metropolis. The grand staircase at Hotel Indigo, Metropolis' flagship luxury hotel, features CRL's GRS Laminated Guardrail System. The hotel swimming pool is protected by a custom-fabricated CRL glass windscreen system. Select suites and apartments feature CRL frameless shower door hardware and the Top-Hung Sliding Glass Door System.
Gensler was the project architect, and Webcor Construction, the general contractor. Azurlite Inc. and Woodbridge Glass served as the contract glaziers throughout the project. BAPKO Metal Inc. and Southwest Steel installed the metal systems.
Trulite and GlasPro were the glass fabricators, and Vitro Architectural Glass the manufacturer. NR Group supplied the curtain wall.
For the fifth consecutive year, the majority of North America's architectural metal manufacturers reported sales growth year-over-year, according to the 2017 Top Metal Companies annual report, Glass Magazine's annual survey of the largest metal manufacturers in North America. Ninety-two percent of Glass Magazine's 2017 Top Metal Companies reported an increase in sales in 2016.
Echoing positive industry economic trends, Top Metal Companies report a strong construction environment, including increasing requests for larger and more complex project scopes. Project demand offers metal companies opportunities for growth, while creating challenges as they require ample resources—from personnel to capacity—throughout the supply chain. To capitalize on the growth while remaining competitive, Top Metal Companies are working more effectively with project partners and ensuring their own success by investing in more advanced machinery, more streamlined and automated procedures, and more sophisticated technology.
"More and more projects are requiring product manufacturers to get involved early in the design phase, partnering with project teams to find creative solutions that keep architects from compromising their vision," says Andrew Haring, vice president of marketing, C.R. Laurence Co.
CRL has recently made investments in its design and fabrication capabilities to provide custom-engineered product solutions. Using 3-D modeling software, 3-D printing capacities and expanded in-house testing laboratories allow the company to design, rapid prototype, test and precision-engineer custom systems faster than ever, company officials report.
Similarly, MG McGrath has developed new applications for its Virtual Design + Construction process to deliver accurate and efficient custom solutions for complex architectural designs, according to company officials. "By integrating our resource loaded fabrication and installation schedules, we are able to automate many processes and coordinate data that allow us, and our project teams, to understand a project theoretically prior to being built physically," says Mike P. McGrath, president. "With this technology, we have been able to successfully work through difficult design elements virtually, identifying the necessary steps to overcome an obstacle before encountering unforeseen problems downstream."
The busy construction environment, while a boon for the metals market, has increased lead times and pinched an already challenging worker shortage. To combat the challenges, Top Metal Companies report doing more in-house, expediting processes to improve communication with customers and reduce lead times on their projects.
"By being proactive we can be a better partner for our suppliers and customers," says Tom O'Malley, partner, Clover Architectural Products. "We have been trying to get our drawings and engineering done in an expedited manner so we can get material released sooner. We often can reduce lead time issues if we can get ahead of the schedule this way."
Morse Industries has expanded the services it offers to include engineering, shop drawings and fabricating. "By managing and controlling these peripheral services, we are able to make the job easier for our customers," says Larry Morse, partner.
Top Metal Companies are also rethinking and investing in their personnel pipelines to grow amid a worker shortage.
Many responding Top Metal Companies report putting more effort into apprenticeship-style training, particularly given changes in technology, more complex project needs and a pressure to innovate, sources say. Companies have experienced skilled staff overseeing and training the new employees and mentoring them through job challenges.
Grassroots labor efforts are also a big push among Top Metal Companies. Companies are becoming more involved with local colleges to raise brand awareness, or are working directly with area trade schools for their assistance in education and job placement. Additionally, metal companies are working with local unions to promote getting young people into the glass and glazing trades.
In a booming, yet challenging, construction environment, Top Metal Companies continue to do more with less. But to ensure continued growth, they are making strategic investments in machinery and technology, people and procedures.
"It takes a great deal of time to train and develop skilled craftsmen," says Davidson Chen, sales manager, Gamco Corp. "We encourage and reward our experienced workers who share their knowledge and mentor new hires as apprentices. [And we've] invested in new automated equipment to free up our skilled workers from routine and repetitive fabrication processes so they will have more ability to mentor and train less experienced employees."
About the list
This year's Top Metal Companies list— based on annual sales volume—features the leading suppliers of metal products in the United States and Canada. The Top Metal Companies include those that manufacture, fabricate and sell curtain wall, storefront and entrance, commercial interior and exterior railings, aluminum composite panels and exterior sun-control products to the glass and glazing industry.
Much of the information included in the Top Metal Companies list comes directly from the manufacturers or fabricators themselves. In cases where a company did not provide information, we gathered sales estimates and other data from industry insiders, business credit resources and the respective companies' websites. Sales figures for these companies are shown as estimates. Although we provide specific sales data when it's available, many privately held companies do not release sales figures. As a result, metal companies are listed alphabetically within sales range categories.
It is only with the cooperation of individual companies that Glass Magazine's Top Metal Companies can reflect the industry as it is today. Questions or comments about this year's list, and requests to be included next year can be sent to Norah Dick at ndick@glass.org.