Top Metal Companies 2018 | The Market
Top Metal Companies report growth, reinvest in businesses
How did sales levels in 2017 compare to the previous year?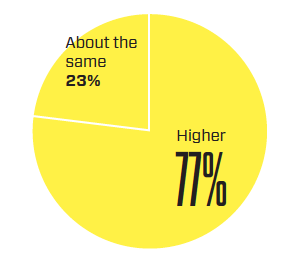 For the sixth consecutive year, over 70 percent of Top Metal Companies reported an increase in sales. Seventy-seven percent of companies said their sales grew in 2017, while 23 percent reported no change. No companies reported a decrease in sales.
Which region(s) of the United States saw the most growth in 2018?*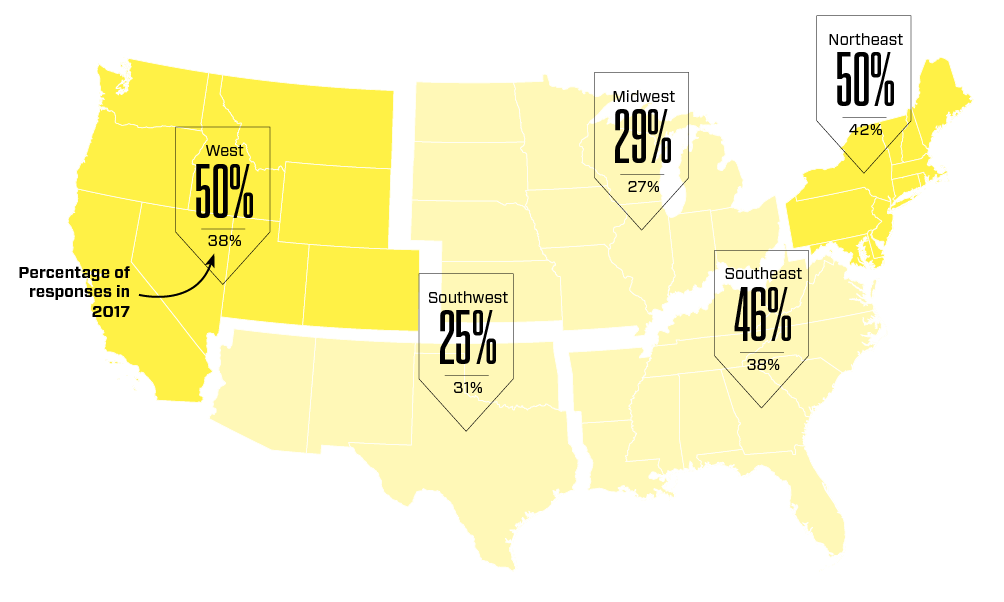 Fifty percent of Top Metal Companies report the Northeast and the West experienced strongest growth during 2018. This is the second consecutive year in which the Northeast region topped votes for growth. The two regions are followed closely by the Southeast at 46 percent.
What are your company's future investment or expansion plans?*
(Click image for larger view.)

Top Metal Companies' expansion plans speak to a healthy industry. Eighty-eight percent of respondents said they plan to release new products and/or product lines in the near future, and 80 percent of companies will invest in new equipment, up significantly from last year's 54 percent. About a quarter of respondents plan to add locations, while 16 percent are interested in making acquisitions.
What product areas offer the most potential for growth?*
(Click image for larger view.)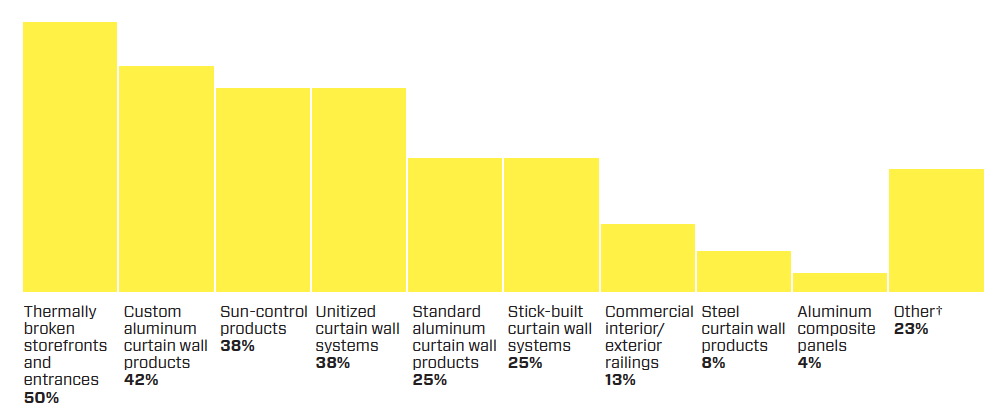 *Respondents were asked to check all that apply.
†Privacy barriers, aluminum panel systems, louvers and vents, equipment screens, custom architectural metals, shower U-channel, commercial channels, storefront combined with better energy performance glass
Thermally broken storefronts and entrances lead product growth in 2018, according to exactly half of Top Metal Companies survey respondents. Custom aluminum curtain wall products were selected as the next highest growth area at 42 percent, followed by unitized curtain wall systems and sun-control products, tied at 38 percent each.

Top Metal Companies | 7th Annual Report