Top tips for custom glazing jobs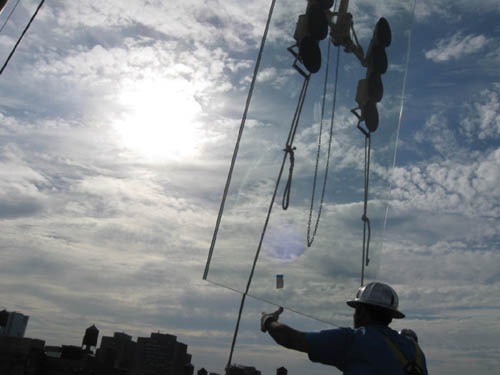 A glazier from Clifton Architectural Metals & Glass in Clifton, N.J., installs a large panel on the Glass Room project atop 40 Bond St. in New York City. The job consists almost entirely of custom glazing elements.
I define custom glazing jobs as projects where the glazing is the first of its kind, has rarely been used, or is specially made for your application. In today's economy, you need to ask yourself if it's worth taking a risk like this before you start. If you do not feel qualified, don't do it. You will only get burned.
The project: Glass room atop 40 Bond St., New York City, features an almost entirely custom glazing system. Custom elements include: steel sill, aluminum head system, sliding doors, handles, balanced door, door seals, interlayer, structural tape, silicone tube spacer and paint.

The players: Glazing contractor, Clifton Architectural Glass and Metal; architect, Stonely Pelsinski Architects Neukomm, New York City; glass consultant, IBA Consultants, Boca Raton, Fla.; glass supplier, Cristacurva, Guadalajara, Mexico; sliding door hardware, Hafele, Archdale, N.C.; door supplier, Ellison Bronze, Falconer, N.Y.; interlayer supplier, DuPont, Wilmington, Del.

The glass and systems: 1-inch laminated glass that consists of two lites of ½-inch low-iron tempered and polished glass sandwiching a .060-inch thick SentryGlas Plus interlayer. Panels measure 96 inches by 165 inches, stepped glass, 1,400 pounds each.
Estimating. Clarify any and all discrepancies in the drawings against the specifications before you hand in your proposal. Understand the layout of the surrounding areas and any delivery obstacles that might present a problem. Cover your cost for multiple owner meetings, design changes, additional engineering and mock-ups.

In addition, have the owner or another member of your company review your proposal. We have all missed the smallest detail at one time or another.
Vendors. Use your "A" list vendors for estimating and fabricating your custom profiles. Make sure they understand what they are getting into and know the proposed deadlines. Hold them to the deadlines. An unscheduled plant visit will keep them honest and will usually get your product out the door before others'. Have the materials available to your vendor before using their price.
Shop drawings. You are basically designing a new glazing system, and will need to work with your draftsman closely to come up with a design that will best match the architectural plans, specifications and engineering.
Measurements. Like in any project, measure twice and install once. Know the tolerances that the manufacture requires or allows, including deflection after the glass is tempered, possible offsets during the lamination process and tolerances during the cutting and polishing process. Order extra glass as a backup just in case one of the panels was manufactured incorrectly or damaged during installation. This will avoid costly delays while you wait for the new panels to arrive.
Delivery and installation. Before the material leaves the factory, work with the manufacturer to to load it in the order in which you are going to install it. Having it in order will reduce the labor necessary to find the correct glass and create a secondary staging area to put it. When installing the glass and metal, have enouhg of the right people for the job. We are fortunate enough to work with the industry's top installers. It's important that all material is installed per drawings with no exceptions or alterations unless previously authorized. Pre-check all suction cup lifters, safety equipment and ropes at least 10 days before you install your product. This way, if there are any damaged or missing parts you will have enough time to fix or purchase new ones.
Completion. After the glass is installed, work with your contractor to protect your glass. Many contracts will require protection for your glass until the job is complete. Do various inspections to make sure that your protection is still up or has not been damaged. When the job is complete and you have the check in the bank, then the glass belongs to them.