Trump tower glitters with gold coating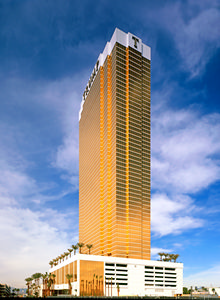 Wes Thompson Photography, Keller, Texas
"It is our understanding that the 24-karat gold coating is a complex make-up for Viracon. This along with a very aggressive 'Vegas style' schedule put an abnormal load on Viracon's shoulders. Garret Henson and his team at Viracon were able to come through for Enclos allowing for an uninterrupted curtain wall assembly and allowing us to keep the curtain wall installation no more than ten floors behind the concrete pours throughout the project." -- Mike Coulter, project executive, Enclos Corp.
The basics:
Completed in March, Trump International Hotel and Tower Las Vegas shines with Viracon's 24-karat gold-coated glass. The company applied an optically thin layer of gold to the second surface of insulating glass units enclosing the 45-story tower. Selected not only for dramatic aesthetics, the highly reflective coating lowers solar heat absorption. It also decreases light transmission from exterior to interior, reducing glare for building occupants. The project contains about 495,000 square feet of curtain wall. The cost of the build is about $1 billion, according to a May 20 travel.latimes.com article.
The players:
Architect, Bergman Walls & Associates Ltd., Las Vegas; general contractor, Perini Building Co., Las Vegas; glazing contractor, Enclos Corp., Eagan, Minn.; glass fabricator, Viracon Inc., Owatonna, Minn.; curtain wall fabricator, Enclos Corp.
The glass and systems:
Viracon fabricated 1-inch insulating glass with VXG1-08 coating incorporating 24- karat gold on clear glass. Aluminum curtain wall furnished by Enclos consists of a pressure equalized unitized system with insulated aluminum slab edge panel, vented interior horizontals and continuous exterior window washing tracks.