Viewpoint | Şişecam Builds Global Footprint
CEO Ahmet Kirman discusses the "age of glass" and Şişecam's place in it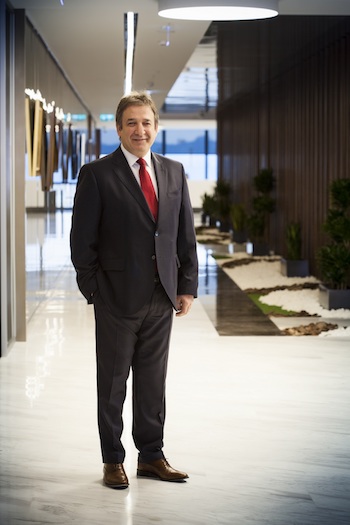 Turkey's Şişecam Group, sisecam.com, has grown into a global producer of flat glass, container glass, fiberglass, and soda and chrome compounds. The multifaceted firm operates 43 production facilities in 13 countries on three continents, and employs a workforce of 22,000. In 2017, the group increased its total consolidated net sales revenue by 32 percent year over year to $3.1 billion, and produced 4.8 million tons of glass, 2.3 million tons of soda and 4.2 million tons of industrial raw materials.
Glass Magazine spoke with Ahmet Kirman, vice chairman and CEO, Şişecam Group, about the state of the global glass industry, and the company's global growth, recent expansions and notable investments.
Glass Magazine: What is the state of the glass industry?
Ahmet Kirman: Scientists and industrialists who work continuously to expand the boundaries of the glass industry state that this century will be the age of glass. The glass industry has been more efficient and productive in recent years, with a significant increase in the field of applications and in the number and variety of competitive products.
GM: How has the global glass industry changed in the last five to 10 years?
AK: The glass industry has experienced gradual, yet strong, growth over the past five to 10 years.
The changes in the glass manufacturing process have been focused to energy efficiencies and environmental regulations. There have been continuous improvements in furnace design and the combustion process. The level of digitalization from design and engineering services to commissioning and operation of manufacturing lines has increased exponentially.
Emissions and waste management in glass production have also been major concerns over the recent years, and [have been] addressed through several approaches, such as increasing amounts of recycled glass and byproducts, and optimizing combustion conditions in production.
Waste heat recovery was another important integration into the glass industry, while advanced control systems using furnace data collected by continuously improving sensors were one of the most promising improvements in energy and production efficiency.
In addition to these challenges, the [industry is also facing] a global difference in the cost of energy and [the cost of] environmental issues in the value chain of glass production. This has been disturbing international competitiveness, with comparatively low-cost production of glass in emerging economies.
GM: What changes have you seen in terms of glass product trends?
AK: Over the last decade, significant research and technological effort [have been put toward] improving bulk properties of glass and the secondary processes on glass surfaces. This has enabled glass to be used in numerous new fields and in innovative products.
In high-technology applications, glass in combination with other materials has become a usual practice. Currently glass is a vital component for construction and transportation industries, preferred in food and beverage containers and tableware, in the heart of modern communications, electronics and electric industries, lending itself for many applications in medical technology, biotechnology, life sciences engineering, optical glass, radiation protection, fiberoptic cables and renewable energy.
GM: What changes are on the horizon for glass manufacturing?
AK: The general belief is that near- and mid-term changes in glass manufacturing will continue to [focus] on energy efficiency and environmental issues. [We expect to see] improvements in furnace and emissions modeling tools, advanced sensors and controls, longer-life high temperature refractories, and recycling. In the long term, the next generation melting systems and raw materials, and full, labor-free automation of the glass manufacturing process, will be realized.
Although step changes in the global industry are not on the horizon, [we expect] progress in raw materials, processing techniques for novel glass products and applications. This will deliver new value-added products and novel solutions and applications.
GM: Can you discuss Şişecam Group's role in the global glass market? What is driving the company's global expansion? And what are the goals for growth?
AK: We conduct our operations with a sense of responsibility of being the only global player active in all core areas of glass. In terms of production capacity, our group ranked among the top three in glassware, top five in flat glass and glass packaging, top 10 in soda production, and the first in chromium chemicals worldwide.
As Şişecam Group, we pursue [a] flexible and proactive management approach, continuously improved competencies, effective cost management, as well as prudent risk management practices against existing fluctuations and tough competitive conditions in the markets where we operate.
We will continue to cautiously evaluate potential opportunities—including corporate acquisitions, joint ventures and other cooperation possibilities—taking into account our risk perception. This approach reflects our policy of achieving sustainable growth and value creation, while investing in the future.
GM: What have been the company's target markets for growth?
AK: As an international company with global brands competing in various markets, we keep a close eye on the opportunities in all potential markets. Thus, we have finalized strategically very important inorganic investments in the last three years.
We have added Italy to our international flat glass production network, which previously included Bulgaria, Romania, Germany, Slovakia, Hungary, Russia, India and Egypt. The annual flat glass capacity of our group, including Turkey, has exceeded 2.5 million tons. In Italy, our flat glass division acquired the flat glass manufacturer Sangalli Vetro's Porto Nogaro plant for EUR 84.7 million ($96 million), and thereby Şişecam Flat Glass Italy S.R.L. was established in 2016. Adding this facility to our assets, Şişecam Group gained an annual production capacity of 220,000 tons of flat glass and 5 million square meters of laminated glass, and became the largest flat glass producer in Europe in terms of production capacity.
In 2018 we also invested EUR 15.7 million ($17.8 million) in a second flat glass facility in Italy and doubled our production capacity in the country. Through Sangalli Vetro's Manfredonia plant acquisition, Şişecam—Italy's largest Turkish investor—has become one of Italy's largest flat glass producers and has strengthened its leadership in Europe.
Additionally, our group is strengthening its position also in the Indian market. Şişecam has acquired a further 49.8 percent stake in its flat glass manufacturer affiliate, HNG Float Glass Limited, for $85.4 million in 2018. Our group, which has been in a 50/50 partnership since 2013, now owns 99.8 percent of the company shares with this recent buyout. India is one of the world's most promising markets in terms of growth potential. Having acquired the controlling stake and becoming the main shareholder of the HNGFL will enhance Şişecam's value creation potential. This transaction will significantly increase our flexibility to pursue strategic initiatives and to benefit from the strong prospects offered by the Indian market.
GM: Can you discuss the company's other flat glass investments?
AK: As a group continuously modernizing its existing facilities in light of technological developments, we have recently declared and finalized crucial organic investments in Turkey. At the beginning of 2018, we declared a new furnace investment at our flat glass factory in Polatlı, Ankara, Turkey. We will invest around $127 million in a new 220,000 tons/year furnace. This project targets potential demand in the Turkish market and involves the commissioning of a second furnace at the Polatlı flat glass plant. The new furnace investment will increase the annual production capacity of the plant to 520,000 tons, and the investment will increase the group's flat glass production capacity in Turkey to 1.9 million tons and contribute to our product diversity in the flat glass segment.
Şişecam also made and installed a 6.2 megawatt solar plant at the top of the Mersin, Turkey, flat glass factory. This rooftop photovoltaic plant is one of the largest solar rooftops in Europe. The total investment in this project was $5.5 million. The special solar glass for panels was made by the Mersin factory itself.