Viewpoint | John Weise
F. Barkow Inc. owner discusses why he loves his job, how he runs his business, and what's ahead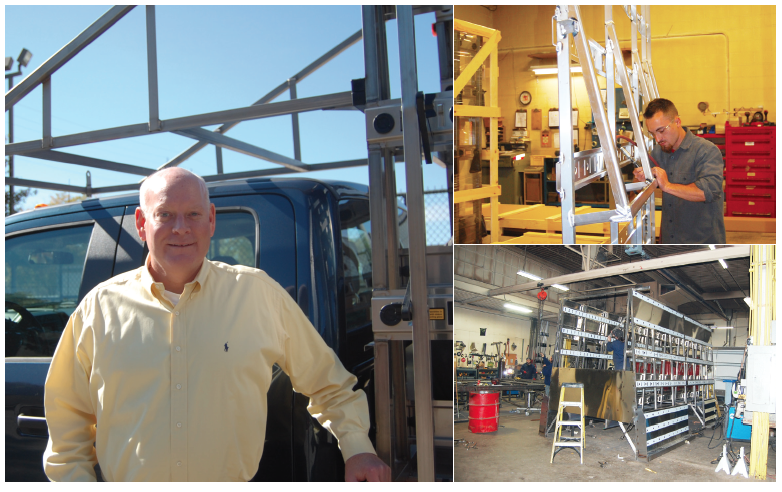 Clockwise from left: 1) John Weise in front of an F. Barkow glass truck at the company's Milwaukee headquarters. 2) An employee cleans and polishes a glass rack prior to shipping. 3) Employees build a custom glass rack. All employees are cross-trained on each job throughout the plant.
F. Barkow Inc., founded in 1879, began manufacturing horse-drawn commercial wagons on Water Street in downtown Milwaukee, Wisconsin. In the 139 years since, the company has evolved into a leading supplier of glass transportation solutions for the glass industry.
Today, John Weise owns and runs F. Barkow from its current location just north of downtown Milwaukee. The company manufactures aluminum and stainless-steel glass racks for trucks, vans and flatbeds with nationwide distribution.
Weise, who started his career buying and selling real estate, began working for the owner of F. Barkow—his father-in-law from a previous marriage—in 1998. "He asked if I wanted to make something for a living, and it sounded really appealing," said Weise during an interview and facility tour with Glass Magazine. "I started in sales, really learning the products and what we were making. I talked to customers and asked questions to help them, but also help myself learn."
Weise purchased the company and its building assets in 2000. He spoke to Glass Magazine about how the company and the industry have changed—and kept him interested—since.
What sets F. Barkow apart? And what keeps you engaged in the business?
We're a true job shop. We make each rack to order for that specific company. How much weight are they carrying? What length? Then we talk through the best way to go. For the companies that only do certain things, this approach works for them. We discuss the specifics of their business and make a rack to fit them.
The most exciting part for me is problem-solving with customers—figuring out how much weight they need to carry and the best way to do it economically. There's creativity in it.
In your career, what have been your biggest lessons learned?
First, employees are everything. They make the thing go. It's easy to find a guy in shipping. But welders are craftsmen. Some of the guys that weld really are artists, figuring out how to accommodate different sizes, shapes and uses for the racks.
Second, there will be peaks and valleys, and it's OK. Keep an even keel, and as little debt as possible. That's what got me through the valleys. And stick to your mottos. Ours is that we always make quality products at a reasonable price. Our products change nearly every year as vehicles change. Customers come back because they know we have a good, affordable product. They buy because they need the product, not because it's fun. At the bottom of the recession, we still had work. Less. But we still had work.
How has the industry changed since you've been working in it?
The switch from high-tensile steel racks to aluminum, and then pioneering stainless-steel rack construction have been huge changes within this business. Consolidation, too, has defined the business, especially in recent years. A lot of our customers are small with just a few trucks. They've started to buy other locations or assets of other companies just because the economy is good right now. And, there used to be more family-run businesses passed along, but now it's not as much that way.
The years of 2008 to 2011 were the most difficult I've experienced. But, it's exciting that most of our customers are healthy and looking to expand. There's been some pent-up demand for development. Regulations are looser now than a few years ago, and people seem more certain about a positive economy.
As glass becomes larger and more complex, what are some of the challenges for handling and transportation companies? How are you working with customers to adapt to handling new products?
Racks have always had to protect all glass, so specialty coatings and added value don't impact what we already do. For large glass, some customers carry loose lites, some carry cases and some both. We've done several flatbeds designed for glass cases more recently. That way, the glass is always completely surrounded by rubber.
To help customers successfully haul the glass, if they're not familiar, I'll show them how to load, how the rack works. We've also made an effort to provide very clear mounting instructions and high-quality mounting hardware to help our customers.
How are tariffs affecting your side of the business? How do you see them affecting the industry at large?
We're definitely feeling that. Right now, we're seeing a 15 percent increase. Our customers say it's up to 20 percent for them. Aluminum, rubber and stainless are the biggest products we buy. Rubber also has a tariff of 10 to 25 percent. We're trying to not pass it along. But eventually, there will be no choice and we'll have to increase prices.
Everything [President] Trump says is the start of a negotiation. So, maybe that won't happen. But you have to work under the assumption that it will happen until it doesn't.
What is your 2019 industry forecast? What challenges lie ahead?
Things are still gradually going up. Business gets a little bit better every year. But, we can really only see about six to 12 months out. It's tough to see too far out.
Other than tariffs and price increases, finding quality labor is a challenge. We have had the most success finding people by word of mouth. Fathers and sons work here; brothers have worked together here over the years. Referrals work for us.
How do you train and retain new employees?
We have recruited already trained [people] and have done plenty of in-house training. The key is they have to have [the] right mentality. It is a dirty job, and hot. But we are pretty flexible. If you need to leave early or need alternate hours one day, that's OK. To show my appreciation for people, I will personally barbeque lunch once in a while or hand out an unexpected bonus on a Friday. We have an annual party at my lake house for employees and their families.
What are you looking forward to in the coming year? Conversely, what keeps you up at night?
I still like making custom products and continuing to do that with a great team of employees is what I look forward to. Usually Sunday night is when I worry, just thinking about the week ahead. Customers will be coming in to install racks; I want to make sure everything's ready and goes right. It's the details. The specific projects. Personnel drama.
The challenge is just making sure everyone's brain is engaged in what we're doing. Every once in a while, we receive a gift and a note telling us we have a great product. That makes it all worth it.