Viwinco Inspires Next-Generation Manufacturers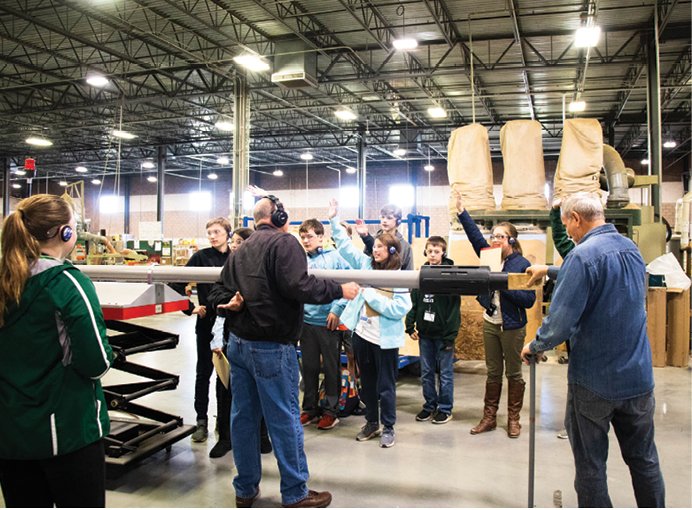 Above: Viwinco employees showcase the company's products to students at the company's facility. Viwinco hosted eighth-grade students from the local middle school.
Below right: A student records video at the Viwinco facility. Student participants in the "What's so cool about manufacturing?" program create short documentaries about their site visits, which are then submitted online for judging.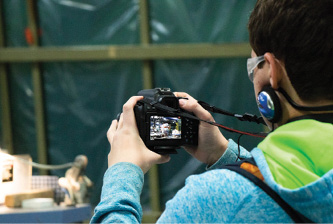 The continued health of any industry depends on passing on skills, and companies, to the next generation. For manufacturers, this is much easier said than done. About 2 million of the 3.5 million available manufacturing positions are projected to go unfilled in the next 10 years due to lack of a skilled workforce, according to the National Association of Manufacturers.
A major stumbling block to recruiting new manufacturers is misconceptions about the industry, says Michael Duncan, general manager, Viwinco Windows. "One of the driving factors of this issue is that there are negative preconceived notions of careers in manufacturing that are leading students to believe that a career in manufacturing is not worth pursuing," he says. In an effort to change this, the company collaborated with the Manufacturers Resource Center on its student video contest, "What's so cool about manufacturing?" which works to rewrite next-generation perceptions of the field.
The annual program, founded in 2014 by the MRC, is designed to encourage students throughout Pennsylvania to explore manufacturing by visiting facilities and creating video profiles of local manufacturers. Viwinco was asked to participate in the program in the fall of 2018 and hosted eighth-grade students from the local middle school in Berks County, says Duncan.
During the students' initial visit, Viwinco employees gave an overview of the company's history and products. The introduction was followed by a tour of the facility, which included a simulated impact test of the company's OceanView system using its in-house cannon.
The visit helped educate students about Viwinco, but also about the culture of manufacturing, says Duncan. "When the students arrived, they were surprised at the size of our facility and how they were unaware that we were located just minutes away from their school," he says. Additionally, "they were surprised at the level of diversity in our facility and how there were people from many different backgrounds and many women employed at Viwinco."
The student group returned to Viwinco's facility a few weeks later and interviewed three representatives from different departments, says Duncan, which the eighth-graders would include in a brief video documentary submitted to an online contest.
Duncan says a major benefit of this program is the autonomy it allows the students in exploring the manufacturing field. "[The program] gives the students a project and allows them to own it and work as a team to bring their vision to life. A great deal of effort, coordination and thought goes into this project and simulates a work that they may be doing once [they are] in the workforce," he says.
Companies from all parts of the glass and glazing industry have implemented innovative, out-of-the-box ideas to improve business from the ground up. Here's an Idea showcases these sometimes small behind-the-scenes ideas that can make a big impact on a company's bottom line. If you have an idea that you would like to share, contact Norah Dick, ndick@glass.org.