What is a Glazier?
The Glass Advocate | Education, Advocacy and Technical Content from the NGA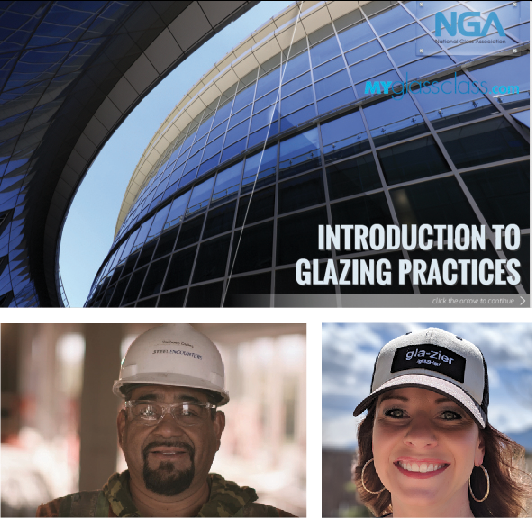 Clockwise from top left: The NGA's MyGlassClass.com Introduction to Glazing Practices course; Stephanie Oakley, associate director of education and training for the NGA, wearing a "glazier" hat from Anderson Glass; the "I Love Steel Encounters" promotional video.
Ask a room full of people what a glazier does and you'll be met with blank stares … and maybe a couple of guesses. Someone who works with pottery? In a bakery? Ask a room full of recent high school graduates what a glazier does, however, and you'll be met with deafening silence.
The lack of awareness surrounding the glazier profession makes the search for quality labor even more difficult. But our industry isn't giving up; there are numerous companies taking proactive—and creative—approaches to the problem.
Dustin Anderson, president of Anderson Glass, in Waco, Texas, has taken a grassroots approach to educating the public about glaziers. Tired of hearing his friends ask, "What is it that glaziers do again?", Anderson created a line of T-shirts and hats with the term "glazier" and its correct pronunciation on the front, which often serve as conversation starters about his business and career.
At Steel Encounters in Salt Lake City, Utah, the team has created a series of videos. Titled "I Love Steel Encounters," one video features team members from every division talking about the company culture, the pride they take in their work, and glazing as a career of choice. The contract glazier also recently released a recruiting video—"It's In Me!"—specifically targeting high school students and showcasing career opportunities in the glass industry.
At NGA, we're combining technology and training in the form of MyGlassClass.com to help companies attract and retain new people. "If you can show people that glazing is not just a job, but a career, your company will be more appealing to them," says Stephanie Oakley, associate director of education and training. "A training program can help with that, outlining how they can learn new skills and grow within the company."
In the MyGlassClass.com curriculum, this starts with the Introduction to Glazing Practices course. "This course can be used to onboard brand-new employees who are unfamiliar with the industry, so they understand what glazing is and what they will be doing in their day-to-day work. It covers the language of our industry, types of glass, commonly used tools, installation methods and common tasks that glaziers perform," Oakley explains.
Glass companies can also use the course to screen job applicants. "Hiring managers can use the Introduction to Glazing Practices course to measure a potential new hire's skill level during the interview phase," Oakley says. "By having a potential new hire take the course and the associated quizzes and test, you can quickly see if they have a grasp of the content. And, candidates will get a better understanding of the job they will be required to do before making a commitment to the company."
To see a free preview of the Introduction to Glazing Practices course, visit MyGlassClass.com and click "Get Started," then "Free Course Previews." To learn more about the online training program, contact Stephanie Oakley at soakley@glass.org.