Windows ensure patient safety in medical center renovation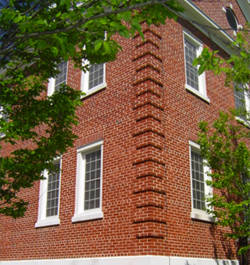 "While patient safety remains a primary consideration in psychiatric applications, many health care facilities are seeking to create a more home-like and healing atmosphere with natural light and unrestricted views to the outside. Windowless environments or openings with jail-like bars or heavy security screens can feel imposing and constricting, which may not be conducive to positive mental health."— Lisa May, health care market manager, Wausau Window and Wall Systems.
The basics: In Battle Creek, Mich., the Department of Veterans Affairs serves a 20-county area in western Michigan with an extensive medical center offering both inpatient and outpatient care. In 2009, a renovation project was completed on Building 39, which provides veterans with mental health care services. Psychiatric windows—impact-resistant systems with high thermal performance—were selected to maintain patient safety, promote wellness and maintain a historic visual profile, while updating the building's energy efficiency.

The players: Owner, Department of Veterans Affairs, Washington, D.C.; window system supplier, Wausau Window and Wall Systems, Wausau, Wis.; glazing contractor, Battle Creek (Mich.) Glass Works Inc.; aluminum framing paint supplier, Linetec, Wausau, Wis.

The glass and systems: 335 3.25-inch-deep, psychiatric grade windows with low-emissivity, insulating and polyurethane thermal barrier. The windows replicate Building 39's intended architectural style, featuring muntins on the windows' exterior that help achieve the original multipane appearance. The systems were tested for impact resistance, withstanding the impact of 100-pound to 200-pound shot-filled bags dropped from various heights. The aluminum framing was painted by Linetec in a two-coat, 70 percent Kynar durable, low-maintenance finish. The color was specially blended to complement the steel frames that remained in the masonry and were re-used during the renovation.