YKK AP's Educational Investment in the Future
Companies from all parts of the glass and glazing industry have implemented innovative, out-of-the-box ideas to improve business from the ground up. Here's an Idea… showcases these sometimes small behind-the-scenes ideas that can make a big impact on a company's bottom line. If you have an idea that you would like to share, contact Bethany Stough.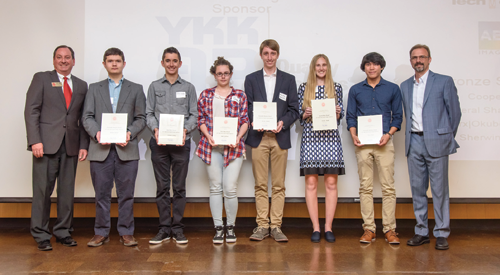 Investing in the future often means investing in people. As the construction industry transitions to the next generation of the labor force, industry leaders are thinking about how to prepare this incoming, younger workforce for glass and glazing, architecture and design, and construction careers. To this end, YKK AP is investing in students' futures through industry-focused scholarships and education.
This year, YKK AP sponsored the 2017 AIA Atlanta High School Design Competition for the second year in a row. The design competition challenged high school students to design structures for downtown Atlanta. Beginner-level students designed the Atlanta Performance Pavilion, while advanced students imagined structures for a Library of the Future. A jury of architects awarded scholarships in the amounts of $2,000, $1,000 and $500 to the winners.
"Our commitment to empowering youth to pursue a career in STEAM-related fields has continued to grow over the past few years," says Jamilla Walcott, director, marketing and product management, YKK AP, referring to the fields at the intersection of science, technology, engineering, and mathematics, together with art. "The AIA High School Design Competition strongly aligns with our commitment."
The goals of the competition are both aspirational and inspirational. Scholarships and awards can enable and incentivize students to explore design careers, and build awareness about the opportunities that are available, YKK AP officials report.
"We recognize that architecture has a great and lasting impact on our society, and we feel strongly that empowering and educating our youth is an important step in developing the next generation of leaders who will shape our communities," says Walcott.
Beyond the scholarship program, YKK AP participates in other initiatives to engage students and educate them about STEAM careers. The company recently partnered with AIA Atlanta's Discover Architecture program, which teaches children about architecture in a non-conventional environment, and its 2017 "I am an Architect" campaign sponsored an inner-city soccer team as part of its initiative to attract youth to the profession. YKK AP also partnered with the University of Central Florida's architectural and design 2+2+2 program to assist in offering a "day in the life" understanding of an architect's daily professional work.