Your Association at Work
Need-to-know information from the NGA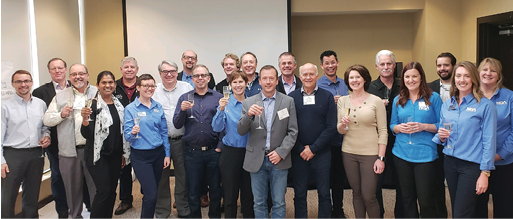 Pictured left: Volunteers participated in a strategic planning session last November to set the vision and goals for the association.
New Technical Resources Now Available

The National Glass Association's Technical Services Division has published "Understanding Reflected Solar Energy of Glazing Systems in Buildings," a glass informational bulletin, GIB, that provides education on design considerations to reduce the possible effects of the reflective characteristics of exterior cladding materials and glazing systems used in building construction.
NGA also recently published the following GIBs: Heat-Treated Glass Surfaces are Different, Skylights and Sloped Glazing are Not Walking Surfaces, and Suggested Procedures for Dealing with Broken Glass. The GIBs are available to download at no charge on NGA's partner site, Techstreet. For members who are visiting Techstreet for the first time, visit techstreet.com/users/new to create a Techstreet account. Enter name and email, and create a password.
Looking to the future
In November 2018, the NGA Board of Directors and other industry stakeholders gathered to identify the most pressing issues facing the industry and how the NGA will address those for members' benefit. This NGA Strategic Planning Meeting yielded the following three-to-five-year goals:
Education. NGA is dedicated to producing excellence, safety and results through education and training, from fabrication to installation to proper use.
Promotion. NGA will elevate the image of glass as a safe, healthy, sustainable and inspiring building product, and advance the industry as a viable, thriving and exciting career path.
Advocacy. NGA will become an even stronger advocate to defend and promote the glass industry.
Membership. NGA will build its membership to heighten its influence, impact and results.
Calling All Contract Glaziers
Registration is now open for the 2019 Building Envelope Contractors Conference, March 3-5, at Caesars Palace in Las Vegas. Designed to take the glass and glazing industry to the next level, the education program at this year's event will include sessions on thermally efficient curtain wall systems, project management, strategic planning, job negotiation, employee training and more. A tabletop exhibit will run alongside the education, featuring more than 30 exhibitors showcasing their products and services.
For companies looking to help shape the future of the contract glazing community, the NGA Installing Committee will meet at BEC to set the course for the coming year. More than 500 attendees gathered in Las Vegas for the 2018 BEC, and this year promises more of the same. Register for the event at glasswebsite.com/bec.