Your Association at Work
Need-to-know information from the NGA
Ren Bartoe Receives Harry Miles Award at NGA Fall Conference

Longtime industry leader Ren Bartoe received the Harry Miles Award at the 2019 Fall Conference, held in Toledo, Ohio, organized by the National Glass Association. The award presentation took place during the Old Guard Reunion dinner, an annual gathering that brings together industry veterans and consultants, along with some active members of the glass fabricating industry. The OGR is in its fifth year.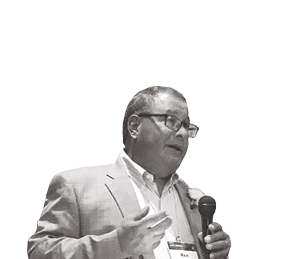 The prestigious award, established in 2000 by the Glass Association of North America, now combined with the NGA, recognizes individual contributions to the technical advancement of the glass and glazing industry.
Bartoe retired from Vesuvius in June, after 24 years at the company, leaving as director of glass and industrial technologies.
Stan Joehlin, principal, S.W. Joehlin, who won the award in 2005, presented the honor to Bartoe, with remarks prepared by Bob Brown, another previous recipient of the award. "Our nominee has been a champion of the glass industry, especially fabricators, for many years," said Joehlin. "He has the rare ability to befriend the line workers, plant management and the corporate top executives without any obvious change in demeanor or approach."
"His desire to assist the fabricators to create better objectives and standards for marketplace credibility are legend to many," Joehlin said. "His willingness to go the extra mile to assure success for his customers and the industry have been obvious to me. He exemplifies what this award was created to recognize."
NGA Launches Redesigned Glass.org
The National Glass Association has relaunched its website, glass.org, to improve user experience and make it easy for members and non-members to find the content they need to build more profitable businesses. Features of the new site include:
A new NGA store where users can purchase all NGA products, including manuals, Glass Information Bulletins and more
New business "toolkits" that organize resources, articles and checklists on specific topics—all in one place—to help owners tackle common issues like workforce development
A new, visually appealing, responsive layout.
NGA Announces New Engineering Standards Manual
The National Glass Association announced the publication of its newly updated Engineering Standards Manual. The manual replaces the previous 2008 edition.
The Engineering Standards Manual presents useful test procedures, performance requirements and specifications that will serve manufacturers and engineers in designing new and different products using heat-treated glass. In addition, information on heat resistance, strength and safety is included.
To maximize the performance of fully tempered glass, the manual also defines the physical tolerances, such as dimensions and contours, practical to various products.
Urmilla Sowell, NGA advocacy and technical director, points out, "a key element to this manual is the table detailing minimum thickness guidelines for fully tempered glass in butt-glazed interior panels. Load values have been updated and additional glass sizes added to reflect the capabilities of today's products and the applications being requested."