Your Association at Work
Need-to-know information from the NGA
NGA Announces Board Leadership for 2019-2020

Below right: Upcoming NGA Chair Chris Bole (left) and Angelo Rivera, immediate past chair.
The National Glass Association announced its board leadership for the 2019-2020 term.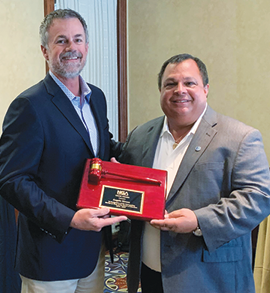 At its meeting at GlassBuild America in Atlanta in September, the NGA board of directors welcomed Chris Bole, Pikes Peak Glass Inc., as chair for the upcoming term, while Cathie Saroka, Goldray Glass, was voted in as chair-elect. Doug Schilling, Schilling Inc., continues as treasurer, and Angelo Rivera of Faour Glass Technologies will serve as immediate past chair.
NGA Announces Friese Foundation Partnership
During the Glazing Executives Forum held at GlassBuild America in September, officials from the National Glass Association announced a partnership with the Friese Foundation to foster glass industry education and training. The partnership involves Friese Foundation support of the NGA's online learning platform MyGlassClass.com.
Through a generous donation from the Friese Foundation, individuals interested in training will have access to scholarships and discounted rates, say NGA officials.
"Nothing is more important than investing in our industry," says Don Friese, former head of C.R. Laurence Co., and founder of the Friese Foundation. "Think of the industry as your challenge, and get your team on MyGlassClass.com. It is an opportunity for a lot of people to grow, make some money, become better citizens, and together we will all be successful."
Friese Foundation president DJ Friese accepted special recognition from the NGA during the Forum.
GlassBuild America 2019 Reflects Industry's Strength
The glass and fenestration industries convened in September for the largest GlassBuild America in Atlanta in recent years. The essential industry trade show drew 8,200 attendees to a 187,000-net-square-foot exhibit floor with more than 420 exhibitors demonstrating the latest in industry innovations.
"The industry made it known that we're here, we're strong and we're looking to grow; this response to GlassBuild mirrors NGA's renewed commitment to elevate the image of glass as a safe, healthy, sustainable and inspiring building product," says Andrew Haring, vice president of business development for NGA. "Exhibiting companies clearly stepped up their game across the board, sharing space with all sorts of new first timers, while attendees and exhibitors alike universally noted a strong uptick in energy, engagement, and offerings."
2019 GlassBuild America sets a precedent for future events, Haring says. "The folks who were here saw it, and the ones who missed it will surely join us next year."
See more coverage from the show. GlassBuild America 2020 heads to Las Vegas, Sept. 15-17.