Beyond backsplashes
From countertops to cabinets, glass is increasingly the material of choice for the kitchen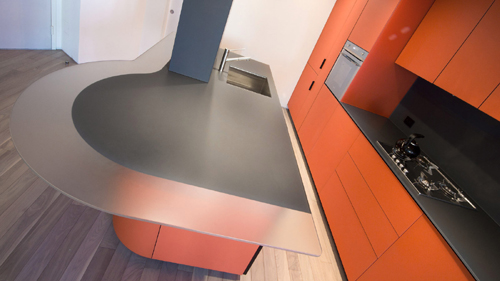 Argento Vivo from GD Cucine in a vivid orange matte glass.
New kitchen glass products offer aesthetics and functionality
Glass kitchens
Glass side panels for kitchen cabinets
Scratch-resistant counter glass
Cooktop glass
Cabinet glass collection
The overarching trend for glass in the kitchen: "more is more." Designers and homeowners are increasingly looking to glass for more applications within the kitchen, and they are demanding more from those products in terms of aesthetics and functionality. "We have always furnished glass for cabinet doors, but now we are seeing more diverse use of glass in kitchens," says Dan Hope, owner, Santa Barbara Glass Co.

"Ultimately, the whole kitchen can now be made of glass," adds Alberto Palderi, U.S. CEO for GD Cucine.

"We are seeing that glass is becoming a more desirable surface in the kitchen. Whether it's backsplashes or appliance fronts, glass as an aesthetic is on the rise," says Karen Elder from SCHOTT's Home Tech division.

Glass backsplashes remain the most common kitchen application, according to industry representatives, and they are becoming increasing popular among designers. According to the National Kitchen and Bath Association's 2012 Kitchen & Bath Style Report, 52 percent of kitchen designers have recently used glass as a backsplash material, up from 41 percent in 2011. That makes glass the third most popular backsplash material, behind natural stone tile (60 percent) and ceramic tile (74 percent).

Industry companies say demand is rapidly increasing for glass kitchen countertops as well, in addition to glass for other kitchen applications.

"The trends in kitchen glass range from glass countertops, breakfast bars, desktops, backsplashes, cutting boards, cabinet inserts, shelves, niche shelves and glass wall hangings as art pieces," says Erica Chandler, co-owner and CFO of DEsigned Glass.

Tim Casey, CEO of Jockimo says, "Glass countertops and backsplashes are very popular right now in residential kitchen projects. We produce many glass countertops all over the country for our customers that can be back painted, backlit, transparent, etc., and are available as very thick glass."

Industry experts say the design flexibility of glass makes it a popular option for designers. "Customers can choose from a virtually unlimited selection of colors, patterns, textures and finishes to suit any kitchen style," says Donald Jayson, senior vice president of Bendheim.
"Glass has a luxurious look and feel as a design element, and allows for seemingly limitless design choices," Elder adds.

Color glass is a major trend, made possible through numerous methods that include backpainting or colored laminated films. "Many customers have been selecting bright colors, in line with the current popularity of materials to make bold design statements," Jayson says.

Designers and homeowners are also using glass to evoke both modern and vintage styles, Hope says. "Glass in the kitchen can create many different looks and time periods."

For the vintage look, antique mirrors are a popular option, according to Casey. For a modern feel, glass is becoming a preferred material to create sleek designs, Palderi says. "More and more ... architects and designers are looking to glass to achieve the clean, minimalist look," he says.

While designers may be drawn to glass for its aesthetic benefits, the functional benefits are equally important. "Glass countertops are about much more than just good looks," says Karl Desjardins, web and media consultant for ThinkGlass. "Because glass is a solid surface cast in a single piece, it has no cracks or weakness, unlike natural stone. Glass requires no annual sealants and can be easily cleaned with any commercial glass cleaner or with simple soap and water. The extreme durability of glass countertops, along with their textured finish that hides fingerprints and smudges, makes them an ideal choice for everything from residential applications like kitchen counters and islands to high-traffic commercial projects."

"Glass is a non-porous, naturally hygienic surface," Jayson adds. And, in terms of durability, it can be compared to granite in strength and scratch resistance, "and can be supplied in tempered or laminated safety form for applications requiring extra safety and security," he says.
The use of tempered glass also protects glass against extreme temperatures, such as those created by hot pots and pans, Palderi says.
Challenges for the industry

Despite increased demand, glass in the kitchen is relatively new to many customers, presenting challenges for glass suppliers and glass shops. The additional cost and time required for some glass products is a surprise to many customers, Jayson says. "Homeowners are very interested in customization, but there is relatively little education on the significantly higher costs and increased lead times associated with custom shapes and colors," he says.

The complexity of the full design process can also be a hurdle, particularly for glass shops that are working with homeowners directly. "We find that some customers like the look of [a particular design] but can't visualize the process," Chandler says. The variety of options can be daunting, as homeowners decide among options such as mirror, clear glass, low-iron glass, patterned glass, and laminated glass with fabrics and colors.

"Each decision is a crucial part of the design, and the selection process is also the most difficult," Chandler explains. "The possibilities are so vast that the selection process really needs to be controlled. I have found over the years, to make a great selection process, I control the conversation. I visualize what they want with a few selections and let them know with confidence this is going to look great."

According to industry representatives, one of the biggest challenges to bringing glass into the kitchen is the misconception that glass is easily breakable and unsafe, and susceptible to scratches and stains. "We don't mind 60-floor glass skyscrapers but we mind glass counters?" asks Núria Galbe, marketing manager for Sevasa.

There is a "preconceived notion that all glass is fragile and delicate, and can easily break. But this isn't the case," Elder says.

"Our biggest challenge is to educate people about glass and how durable it is in the kitchen, bathroom and even public places like bars and airports," Desjardins says.