GreatGlazing: Sleek, modern kitchen renovation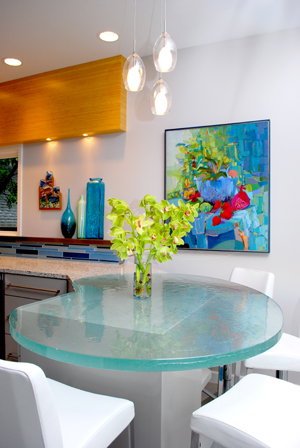 The basics: The owners of this Olmos Park, Texas, residence transformed the existing dark kitchen into a sleek modern space, with a notably thick glass countertop, additional glass and concrete counter surfaces, and a blue glass tile backsplash.

The players: Kitchen designer, Julie Bradshaw, Bradshaw Designs; glass counter supplier, ThinkGlass.

The glass and systems: thick all-glass counter, 1.5-inch crystal glass in the company's Natura texture. The main counter space is made of Vetrazzo, a composite product that is concrete and 85 percent glass.