Most innovative decorative glass application: residential
Laminated tempered glass floor, Evans Glass Co.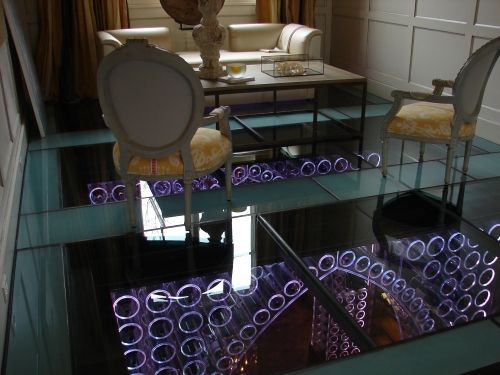 Located in a private pool house in Franklin, Tenn., this laminated tempered glass floor provides a view of the wine cellar below. The floor measures approximately 12 feet by 17 feet and is made of three layers of 3/8-inch clear tempered glass with .060-inch interlayers, fabricated by Dependable Glass Works, Covington, La. Several lites incorporate a frosted interlayer to hide the floor's steel beams and support systems, and the floor joints align with other non-glass surrounding sightlines for a clean look.
Provided and installed by Evans Glass Co., Nashville, the floor replaced a previously existing glass floor that was not structurally sound. Representatives at Evans Glass reviewed the structural engineer's drawings and obtained final sizes before sending the specs to Dependable Glass, where the glass lites were structurally engineered.
"I suppose the hardest part was just getting started," says Bill Evans, president. "We had to obtain the original structural engineer's data, coordinate with the general contractor and homeowner, and find a capable reliable material source. Once this was done, the project flowed smoothly. The owner is happy with our work and has become a regular client."