Snapshots: from the shop
Wine rack barrier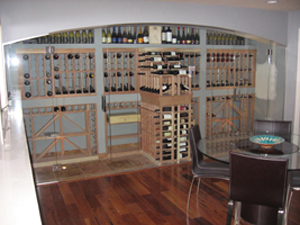 When a contractor approached Designed Glass, Burnsville, Minn., with plans to create a glass wall for a wine cellar in a Brooklyn Park, Minn., home, owner Erica Chandler knew it would be an exciting challenge. "The contractor came to us as a referral from another glass company. The project was more than they could handle," Chandler says.
The homeowners, avid wine collectors, had almost finished transforming the lower level of their split-level home into a wine cellar, complete with heated marble tile floors and a refrigeration system. The glass barrier, featuring two doors on both ends, seals the wine in the refrigerated area while allowing the collection to be seen from the rest of the room.
The nearly 12-foot-wide glass wall consists of seven tall panes of 1/2-inch clear tempered glass that arc in the middle. The arch shape required every pane to be custom fitted, requiring the Designed Glass team to take meticulous measurements and create templates.
"We did the middle three pieces first and installed them to make sure it was going to fit, and to make sure that the joints from glass to glass would work and look like one solid piece of glass," Chandler says. "In the end, the project took us a month and a half to complete."
In addition to design challenges, the team also faced budgetary challenges. The project quote came in at $11,000, but the owners had set their budget at $10,000. "We went back and made some small changes that brought the cost down to $8,000. The owners were very happy," Chandler says.
C.R. Laurence Co., Los Angeles, supplied the hardware that included 8-inch solid back-to-back polls for the door handles and pinch hinges. Agalite of Pueblo, Colo., supplied the glass.