Eruzione scores at BEC
By
Matt Slovick
, editor in chief, Glass Magazine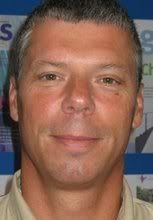 Mike Eruzione scored the game-winning goal against the Soviet Union in the Olympics 28 years ago. He still makes a living talking about it.
And for the demographic at BEC--white, middle-aged men--you can see why he's still popular. Actually, I talked to a woman from Minnesota the night before who still plays hockey in a co-ed league. She couldn't wait to see the former Olympic team captain.
Eruzione opened up BEC's Tuesday program to a packed house. I think more people waited in line for autographs after his speech than stayed for the final session on law.
The title of his speech, "Teamwork: The Winner's Goal," had many tips for anyone in any business, including those in the glass industry.
Before Eruzione took the stage, a highlight film recapped the amazing run of those young Americans at Lake Placid, his goal against the Soviets, the gold medal win against Finland and the lighting of the Olympic flame in Salt Lake City in 2002.
"That tape is the story of my life," Eruzione said. "It's four minutes long." Laughs ensued.
Eruzione talked about the work ethic his father instilled as well as the lessons he learned from his gruff Olympic coach, Herb Brooks.
"I have a story to tell about a group of athletes that accomplished something that no one in the world thought we could accomplish," he said.
Eruzione said Brooks told the team: "If you don't want to be here then leave, because there are thousands of people who want to be in your shoes."
Eruzione said you have to be part of it; you have to buy into it. "Surround yourself with people whose goals and objectives are the same as yours," he said.
He also talked about the intangibles that he thinks successful people have whether it's in athletics or at a job.
"You can't measure heart, pride or commitment," Eruzione said. "Intangibles separate good business from great business. If you believe in something, and you're willing to work hard for it, you can accomplish it."
He also said you have to respect your competition and even when things are going well, keep things in perspective.
"Twenty-eight years and one week ago, the president of the United States, Jimmy Carter, wanted to talk to me on the phone in the locker room," Eruzione said. "I haven't heard from him since."
Eruzione still lives near his father and other family members in the Boston area. He said if they didn't win that game, he'd probably be living in an apartment instead of a house, and he'd probably have eight kids instead of three. "I wouldn't be traveling as much," he said.
Eruzione said a few years ago, one of the Soviet players called him and proposed a series that would pit the two teams together again. They would play in different cities, and "make money." Eruzione called one of his former teammates, Jack O'Callahan, to bounce the idea off him.
O'Callahan's response: "Tell him that we played once, we won, so just get over it."
Twenty-eight years later, it's still enjoyable to hear stories from a man who at the age of 25 helped engineer what's considered the biggest upset in the history of any sport.