From the Fabricator: AIA Week

New York City is this week's destination for many in our industry headed to the annual AIA show. As I have mentioned many times before, it is always intriguing to see how this show is because, as an industry, we long to get in front of architects. But more often than not, this show leaves the exhibitors wanting. And this year, with education happening outside of the building and 200 walking tours going on at the same time as the expo, it will be interesting to see and experience the floor action. I had noted previously that I was not attending, but moons aligned, and I now will be there. I look forward to seeing everyone there and reporting back here next week.
Elsewhere….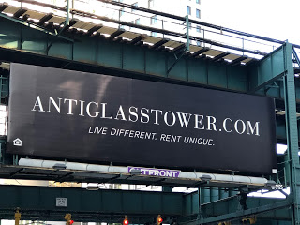 Those of you coming to New York may see this sign. Not one that any of us should be a fan of!! Thanks to my friend Ian Patlin of Paragon Architectural Products for the picture. Stil, from the website it promotes, I am seeing a lot of glass. So interesting yet confusing hook for me with being "anti-glass," as it should be more focused on not being cookie cutter since that is the end message vs. glass usage.
Also related to New York, the first request for modular construction is out. This is a trend to watch. I am seeing it a lot on the residential side, and just a bit with commercial, but I think it may gain momentum quicker than you think.
Last this week, congrats to my friend Deron Patterson of Vitro on his new position as architectural market manager for Mexico. Deron is such a fascinating and bright person and has been a major success in his career, something I foresee continuing with this new role!
The Big 3 Interview
Maure Creager, building science manager, SageGlass
Maure is a brilliant and talented person and the industry can surely use many more like her. I wanted to find out how someone with her background made it into the glass world and get her perspectives on the always-evolving dynamic glass market, of which I am a huge fan.
When you were growing up, what did you want to do for a living and then once you got the mechanical engineering degree? Did you ever in your wildest dreams think you'd end up with a long career in the glass business?
An Astronaut! Didn't everyone after watching the movie Space Camp? Side note: I had a friend who was able to attend the camp. Those dreams were dashed when I got glasses, so I decided to plan for the next best thing and go for mechanical engineering with a master's in aeronautical. But the job market was amazing when I finished my BS, so I decided to work for a while first. I had amazing mentors and learned a lot about commercial and industrial design and construction during my work experience in college and in my first post-grad job. A few years later led to my husband being transferred to the frozen tundra (I mean Minnesota), which meant finding a new job, which was with SageGlass. The product was so cool, and the people I was going to work with were brilliant, mind-blowing smart. At the time, I had no idea I would end up with a career in the glass business. SageGlass was still a startup when I joined, which meant I had the opportunity to learn a lot and work in many different areas of the business and with the product.
You were one of the first people I met that was involved with dynamic glass. How much has that world changed since you started at Sage Glass in 2004?
Oh, my goodness. Well, for starters, we can make units larger than 18x35 inches! Back then, we were excited to ship five units per week that we hand packed in custom-built and padded crates, and we could ship them via UPS. Needless to say, our volume has increased exponentially. In 2004, the iPhone was still three years away from being debuted, so I never would have imagined we would be controlling the glass from an app or Amazon Echo. But I think the most interesting aspect has been the building science and occupant health research. For example, we all knew we loved sunlight, but the biology of it hadn't yet been proven. Now we know we humans absolutely need daylight to regulate our circadian rhythms. We are still striving for changes for healthier people and planet, but we are getting there. I hope a right to light mandate will be incorporated into our building and employee health and safety standards sooner rather than later.
What ideas would you have to encourage college graduates—whether engineers or sales or marketing—to get them to come to the industry?
There are so many different types of work you can do within the glass industry: façade engineer, process engineer, design engineer, test engineer, R&D, product development, the list goes on and on. Glass may seem simple, but it can also be incredibly complex and interesting. But what I have learned over time, is that what you do is only part of it; who you work with is also important. What I love about the glass industry are the people, both within SageGlass and Saint-Gobain, and within the industry as a whole. Within the industry organizations I am part of, I can clearly see the sharing of knowledge across the industry, and [a focus on] mentoring new professionals. It truly is a small world and we are all working together to move the glass industry forward.
Read on for links and video of the week…



Max Perilstein is founder of Sole Source Consultants, a consulting firm for the building products industry that specializes in marketing, branding, communication strategy and overall reputation management, as well as website and social media, and codes and specifications.E-mail him at MaxP@SoleSourceConsultants.com.
The opinions expressed here are those of the individual author and do not necessarily reflect those of the National Glass Association, Glass Magazine editors, or other glassblog contributors.