From the Fabricator: Great Look!

One of my favorite things is getting latest industry trade magazines and reading them cover-to-cover. I love the news and the advertisements, and I always want to see who may have switched jobs without me knowing. Plus, for the last few years I have been faithfully reviewing the latest issues of Glass Magazine here on the blog, so that added to the enjoyment.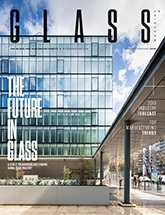 This week, my excitement was brought to a whole new level with the release of the new look and feel of Glass Magazine. Switching up a look or a brand is always a challenge—I have been a part of a few re-branding efforts and I know it's not easy. On this one the Glass Magazine team nailed it. The look is incredible. Modern and sleek. The color scheme really works nicely, and I'm not sure how they changed the layout, but the stories and ads pop off the page more. It really is a beautiful piece, and full congrats to the team at Glass Magazine who I am sure worked tirelessly on it. So now not only can you get incredible insight and information, but it's laid out in such an advanced way. Next week I'll do my ad of the week and story review, but for now I just wanted to pay homage to the new look! Well done!
Elsewhere…
This was a week filled with big moves: aside from the launch of the updated Glass Magazine we had two major industry figures announce new employment. First Tracy Rogers, past Glass Industry MVP, joined up with OmniGlass out of Canada as their new director of US sales and marketing. He will do a fabulous job and I hope that position gets him back involved in the overall industry scene.

Next was the news that Gus Trupiano was going to GGI as national sales manager for its specialty division. Gus is a very good friend of mine and I am excited to see what this next chapter brings. GGI has amassed some serious talent in the last handful of years, and so Gus just adds to that overall firepower. Like Tracy coming back into the national industry scene, I hope Gus is able to still be active for the industry in his new role, though I know he'll have his hands full getting up to speed with this new position. In any case I loved seeing two excellent people land in great places. Congrats to both!
I was a big follower of the Amazon HQ2 search and when they picked New York City as one of the sites, I was honestly stunned. To me it made no sense. Terrible fit on so many levels. In the end I was right, as Amazon decided after various levels of pushback to reverse field and not make New York City a site. It will be interesting to see what happens now because since Amazon had picked New York, many competing proposals were made more public. Will other cities, now knowing what all the bids were, step up their approach? This one will still be a fun one to watch.
Just a reminder that BEC is coming, and a quick story on that. So I am a big fan of Steven Brooks of SmartLift Equipment. He is an absolute media/marketing machine. He reached out to me because he had an interest in BEC and wanted to learn more. After we went back and forth, Steven will attend the conference. He saw that the value of learning and networking is an absolute must-have in our world. So, if you are on the fence, hop off and register today! And by the way I must admit that I was thrilled to help push Steven's decision to a yes as I may be the worst sales guy ever. (My brother got every single sales gene in our family)
For my dynamic and blinds between glass folks, this news on "corded window coverings" being phased out has to be positive news right?
Last this week: is anyone headed out to the International Builders' Show show this week? I'd love a recap if you are. I did see though that Las Vegas jumped the prices for hotel rooms this week. When there's a captive audience, supply and demand change, "poof," welcome to $400 a night rooms. Anyway, those that are going, enjoy and feel free to drop me some insight please!
Read on for links and video of the week...

The author is founder of Sole Source Consultants, a consulting firm for the building products industry that specializes in marketing, branding, communication strategy and overall reputation management, as well as website and social media, and codes and specifications.
E-mail him at MaxP@SoleSourceConsultants.com. The opinions expressed here are those of the individual author and do not necessarily reflect those of the National Glass Association, Glass Magazine editors, or other glassblog contributors.