From the Fabricator: Growth Areas, by Population

I am a sucker for lists of all types and this one really got me going. The latest report from the U.S. Census Bureau was released and it featured the fastest growing cities by population from 2016 to 2017. The great state of Texas keeps growing. Three of the top five growth areas were from the Lone Star state. Here's the top 10 with some comments:



1. San Antonio: I would've bet Austin; they were 12th
2. Phoenix
3. Dallas
4. Ft. Worth: I seriously always just considered Dallas and Ft. Worth as one.
5. Los Angeles: I guess we'll see if all of the reports of people fleeing California this year is true when updated reports come out.
6. Seattle
7. Charlotte
8. Columbus: Grads from Ohio State have to live somewhere I guess.
9. Frisco, Texas
10. Atlanta
Elsewhere…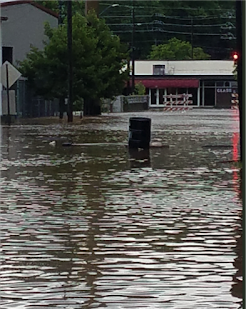 Congrats to all of you out there who have high school and college graduation celebrations happening right now. Exciting and nerve-wracking times for parents and kids alike!
Kudos out to the team at Britt & Tilson Glass in Asheville, North Carolina. They do not let things like horrible weather and massive floods slow them down. Billy Britt posted this picture on Twitter from outside of their shop, but also posted an awesome kitchen and shower enclosure just completed. That's what I love about so many in our industry: nothing can stop them from getting the work done!

Big 3 interview series, week 2
Syndi Sim, vice president marketing & business development, DFI
I am truly touched at the reaction I got from last week's interview. I believe everyone I have lined up will keep that momentum going. This one features Syndi Sim of Diamon-Fusion International. Syndi has this incredibly positive and upbeat approach that truly is something to admire. And I especially loved her last answer; such a great lesson there.
You have been in marketing for what looks like a majority of your professional life. How is marketing in the glass and glazing world different than other areas?
Marketing in the glass and glazing world is not much different than other products/services I have marketed. The key is truly connecting with people, in ways they want to be communicated with. People engage and receive messaging in various forms: some like to use LinkedIn while others prefer phone calls or face-to-face conversations. If you can find out what is important to your audience, how they want to receive information, and most importantly, learn how to connect on a human level, then you will begin to develop solid relationships. This will inevitably open the door to more honest, conductive conversations.
What do you feel is your greatest accomplishment to date at DFI?
Having worked at DFI for almost five years, my greatest accomplishment has been strategizing with new and current customers about the marketing leverage DFI's FuseCube offers. My team and I have worked tirelessly on creating various marketing models that have differentiated the recipient's glass coating business. In my eyes, not only is the glass fabricator receiving … [the] application system, but a team that will stop at nothing to help them succeed.
We don't believe in a one-size-fits-all strategy for our customers, but instead take the time to learn about each company's marketing/sales demands, then formulate a tailored model that best fits those goals. This concept has really positioned us as a reliable business partner.
You are very active with shows and also customer visits (I see you on LinkedIn all over the world). From being out there so much and seeing so many different ways of doing things, what are some takeaways you can share that we as an industry should be doing more of to become better?
This is an exciting time to be in the glass industry. People are sharing ideas and glass is becoming more ingenious. My best piece of advice would be to just spend time with customers. Ask questions. Learn. And above all, listen. You wouldn't believe how effective having an open, honest conversation really is.
My passion and, coincidentally, my success have come from face-to-face opportunities—whether it is attending shows, meeting with customers at their fabrication facilities or, at the very least, sharing successes/stories via LinkedIn. For many years, the industry really did not market or interact as much as they are doing now. Seeing and talking with the customer at their plant is a great educational process and opportunity to find out firsthand the customers' needs and wants.
Read on for links and video of the week…
The author is founder of Sole Source Consultants, a consulting firm for the building products industry that specializes in marketing, branding, communication strategy and overall reputation management, as well as website and social media, and codes and specifications. E-mail him at MaxP@SoleSourceConsultants.com.
The opinions expressed here are those of the individual author and do not necessarily reflect those of the National Glass Association, Glass Magazine editors, or other glassblog contributors.