Getting the Next Generation to Dig Construction

Finding skilled labor is the number one challenge for most construction companies. Despite offering apprenticeships and partnering with trade schools and high schools, the industry is still struggling to recruit the next generation. However, one emerging segment is trying to raise awareness of opportunities in the industry and put the fun into construction: construction-themed amusement parks.
The parks provide a hands-on construction experience with real, heavy-duty equipment that grown-ups and young people can explore, including everything from excavators to dump trucks.
While the purpose is to have fun, at least some of the park owners also see this is as an opportunity to raise awareness about the industry with the future workforce. Randy Stenger, founder of Extreme Sandbox, says on the website that the venture's participants have "had the opportunity to be advocates for the construction industry." Though Stenger does not have a background in construction, Extreme Sandbox has hosted tours for high schools and camps who are interested in working in the field.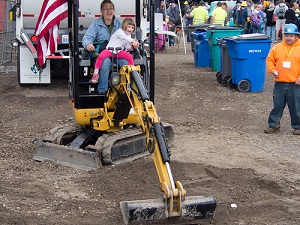 Participants at Dozer Day 2013. Photo by Dolanh at Flickr.
Dozer Day, though not an amusement park per se, is an annual event that "seeks to educate children of all ages about building sustainable communities, industry opportunities and public safety," according to a statement on the organization's website. An annual charity event hosted in five locations across the United States, Dozer Day allows children to experience driving heavy-duty equipment under the supervision of a professional operator. Part of the organization's stated mission is to increase interest in construction and change perceptions of the industry. "As families interact with professionals in these industries, they become aware of the incredible possibilities and industry stereotypes are redefined," reads a statement on the organization's homepage.
Do these parks and experiences elevate awareness of construction and inspire interest in the industry? Do they have potential to attract the next generation to join the industry? Find some information below about these facilities if you would like to make up your own mind.
(Note: all parks and experiences have specific age restrictions and height requirements. See websites for more details)
DIGGERLAND
Location: West Berlin, New Jersey
Activities: Over 25 attractions, including opportunities to drive a back-hoe, operate a digger, and maneuver a dumper truck.

EXTREME SANDBOX
Location: Hastings, Minnesota; Roseville, Minnesota; Pottsboro, Texas
Activities: Visitors can operate Komatsu equipment, including a wheel loader, bulldozer and excavator.

DIG THIS VEGAS
Location: Las Vegas
Activities: Visitors can drive bulldozers and excavators, mini-excavators and skid steer track loader.
DOZER DAY*
Location: Vancouver, Washington; Yakima, Washington; Seattle; Eastern, Washington/Northern Idaho; Kansas City, Missouri
Activities: With a professional operator, children are invited to experience what it's like to drive bulldozers, dump trucks, excavators and other heavy equipment.
*This is an annual event – see website for details of locations and dates.